• Fans Help Kevin Nash Fulfil His Late Son's Wish
Tristen Nash, son of 2-time WWE Hall Of Famer Kevin Nash, passed away in October. He was 26 years old.
Nash tweeted the following yesterday:
"I never ask for anything. But I'm asking anyone that is willing to subscribe to my podcast 'Kliq This'. My son passed away 6 weeks ago and he wanted to 100k subscribers so he could get a plaque from YouTube. I want to put it next to his urn. Thank you."
Wrestling Fans helped Nash's podcast's YouTube channel reach 100,000 subscribers in a matter of hours.
2 Hours later, the former WWF/WCW World Heavyweight Champion tweeted:
"I can't thank you enough. I love you all. I know he watched this. You made my year not sting so much. It will be apart of his life. You've brought a beat down man to tears. Again with all my heart THANK YOU!!"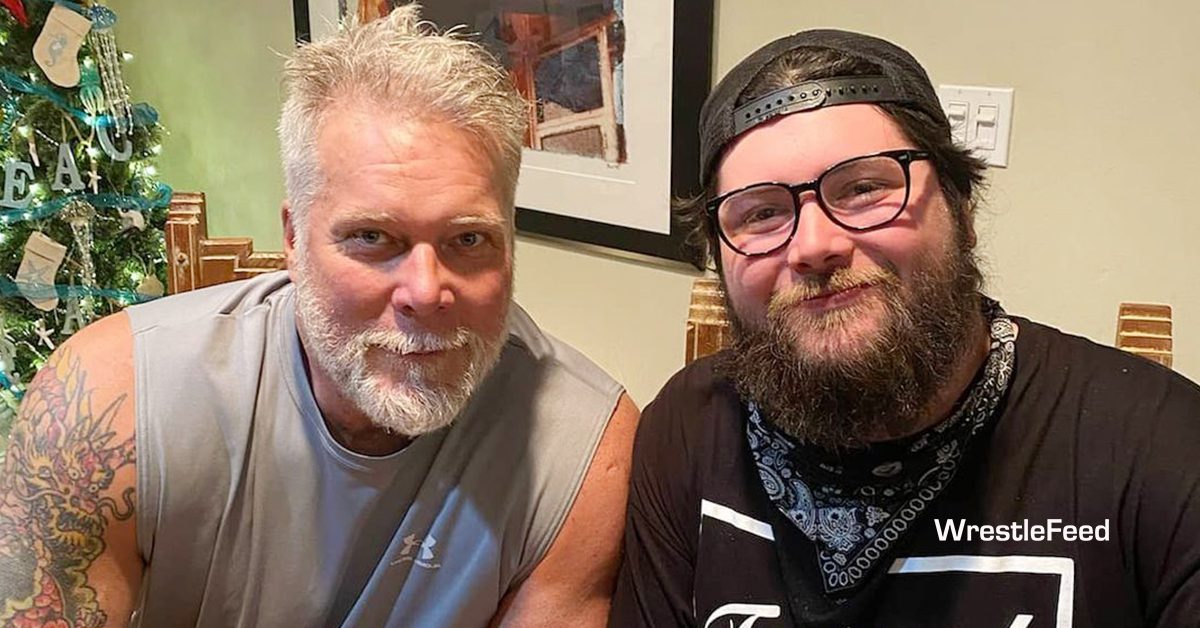 Speaking of Tristen's death, Kevin recently revealed what led to his son passing away. Below is what Nash said on his podcast:
"The seizure caused the cardiac arrest. He was basically dead in his room on the floor with the EMT working on him.
They got him back and got him in the ambulance and they tried to save his life. So to the people at Halifax hospital, doctors and nurses, I thank you.
We both decided that we were going to stop drinking, so it was a situation where we both went cold turkey.
I don't think either of us felt great because you stop drinking coffee for a day and you get a headache. I think we were both dealing with it."
Nash then revealed why they made the decision of stopping alcohol immediately:
"He had had a couple of incidents. We actually sat up here last Wednesday and in the course of the show, he drank 4 or 5 beers unbeknownst to me.
I got pissed at him because he had a situation at the beginning of the year where he was hospitalized for almost 60 days.
After the show, and a week later, he passes. When you look back at things, it's like, so he wasn't feeling good. So we were kind of, my wife and I were just kind of like waiting on him hand and foot. We knew he was trying to do this.
One of the things that if you WebMD that, one of the things of cold turkey is that you have an increased risk of having a seizure."
Kevin then talked about what the doctor told him when Tristen was taken to the hospital after the seizure & cardiac arrest:
"He said, 'Your son is not going to make it.' I said, 'I'm not going to pull his breathing tube out. I won't do that. That's not an option. You're saying that when he had the cardiac arrest, he did damage to his heart, so that's why we can't get his bottom number up.'
The bottom ventricle had been damaged to some degree because he didn't have the ability to push blood. His top number was much higher and even though they medically brought the top number down, he was like 111 over 55. He stopped putting out urine. There were so many things mounting.
My son was autistic. My son had Asperger's. My son was very, very highly educated, very, very high IQ, but my son was autistic on top of all those things."
WATCH: Lex Luger Walks Again (July 31, 2022):
• On This Day In Pro Wrestling History (December 4, 1995) – Old School Midget Wrestler Passed Away
On this day in 1995, famous WWF midget wrestler Little Beaver (Real name: Lionel Giroux) passed away at the age of 60.
Little Beaver made a name for himself in Vince McMahon Sr.'s World Wide Wrestling Federation (WWWF) during the 60s & 70s, but his biggest claim to fame was being in the 6 man tag team match at WWF WrestleMania 3, where he was destroyed by 460 lbs King Kong Bundy.
† REST IN PEACE LITTLE BEAVER
1935 – December 4, 1995