• Hall Of Famer Comments On Bobby Lashley's Look At 44 Years Old & The WWE Title Picture
On the latest episode of the Hall of Fame podcast, Booker T spoke about The Miz cashing-in the Money in the Bank contract at Elimination Chamber 2021 to win the WWE Championship for the second time, after having some help from Bobby Lashley, who in return demanded a Title match, which is going to happen on this Monday's RAW.
Here's what the 2 time WWE Hall of Famer had to say:
"I appreciate Miz doing his thing, Miz is the champ again, in a great position.
What I hate more than anything, there again are these dirt sheets, they ruin it for me, there's always a spoiler out there or something.
I was reading today in the dirt sheet that Miz has got the title and he's going to lose it before WrestleMania 37 to such and such.
This is just done because, that story right there, if that happens, it totally killed everything that they built up for The Miz to actually do just last night.
I wonder myself because I thought Bobby Lashley, Drew McIntyre at WrestleMania, that's a hell of a build, you got fans that will actually witness it.
Drew McIntyre has his fans, they're going to follow him, they're going to support him. Bobby Lashley, never being in that position.
Can Bobby crack through at WrestleMania? The news clipping, people would've been talking about that right there big time.
For me also, I'm thinking about the time we got to really put some steam behind this thing between now and WrestleMania, not hot shot it or anything like that.
I thought Bobby was making his claim last night and then The Miz came in and totally dropped the curtain on me. They got me on that one.
I'm like a fan, I'm wondering where it's going to go. Lashley is looking better than I've ever seen any man that has ever stepped inside in that squared circle at 44 years old right now.
His mind is triggered as far as working a certain way. When Bobby works, you think someone is getting killed, you think he definitely could be the World Heavyweight Champion.
You wonder if he gets Drew McIntyre in that Hurt Lock, is Drew McIntyre going to be able to come out of it?"
WATCH: Hot Valet From New Japan Pro Wrestling:
You can download our official WrestleFeed mobile app to check out more Wrestling news & Divas content. Tap here to download.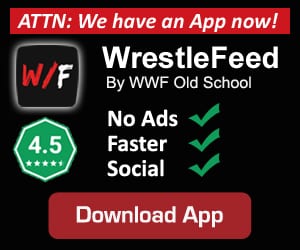 • Old School WCW Veteran Celebrates His Birthday
Old School WCW Veteran "Screamin" Norman Smiley celebrates his 56th birthday today.
Smiley wrestled for Ted Turner's World Championship Wrestling from 1997 till it was sold to Vince McMahon in 2001.
In 2007, he joined the WWE as a trainer for its developmental promotion Florida Championship Wrestling, a job that he continued after FCW folded in 2012 and NXT took over as the developmental promotion, and is still working as a coach in the Florida based Performance Center to this day.
HAPPY BIRTHDAY NORMAN SMILEY!