• Layla On Why She Retired From WWE
Former WWE Diva Layla El made an appearance on the Wrestling Inc podcast, where she revealed the circumstances and reasons behind her retirement from the WWE and professional wrestling in general.
Layla won the 2006 Diva Search and wrestled for the WWE until she left in 2015.
She's now married to former WWE Superstar Ricky Ortiz, who wrestled on ECW on Scyfy (2008) and SmackDown (2009).
Here's what the former WWE Divas & Women's Champion had to say:
"I took a break. I needed a break for myself. I was with WWE for about 9 years, I was supposed to do these appearances and backed out. I wasn't sure. I kind of got scared of being in the public eye. I didn't want attention.
I did my first appearance, and it was just fun, lighthearted. I thought, 'Why not?' Plus I wanted to see the fans again.
Fans would ask on social media why I didn't do appearances. Are you going to come back to wrestling?
No, but maybe appearances. It just naturally happened, which I'm glad it did. It's so nice to see the fans again and feel the warmth from fans and the support.
I miss that, but I also like the idea that I can go in for a couple of hours and leave again.
I was getting older. I'm mid-life right now. Those days are gone, you get to a point as a woman, it's really hard to age in the public eye.
It really is. I didn't want that for myself. I didn't want to go out there. I stayed too long. I think I should have maybe retired 3 years before I did.
That was the thought process for me. I didn't want to get hurt. I didn't want to get injured. In my head, I was kind of nervous. My time was gone.
I loved it. I appreciated it, but my time has passed. You have to accept that and move on.
Traveling, running around like a chicken that just lost its head because you didn't know what was next. It was great. I loved it, but I also enjoyed not having to do that.
I left London when I was 18 years old. I auditioned for Carnival. Got that job and had a good time. I got to travel the world dancing on these eight months contracts. Then you get a month off and then back again. It was great. I did that for 5 years. I had a blast, moved to Miami.
The Miami Heat was awesome. It wasn't the most financially beneficial job, but it was great. I loved it and had a great time. I sat courtside and watched games.
Sometimes I would only be home for one day. Sometimes we'd be gone for 18 days internationally. I loved it. I was young enough.
It was a great moment in my life, it has a lot of wear and tears on you. The older you get, speaking for me personally, I was finding it hard to recover and stay in shape.
You need sleep to stay in shape and certain foods. It was hard to maintain."
WATCH: Layla Had The Best Buns In WWE:
ALSO WATCH: Former WWE Diva Layla Shakes Her Knockers:
You can download our official WrestleFeed mobile app to check out more Wrestling news & Divas content. Tap here to download.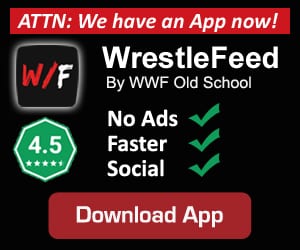 • Old School WWF Veteran Celebrates His Birthday
Old School World Wrestling Federation Veteran The Brooklyn Brawler (Real name: Steve Lombardi) celebrates his 60th birthday today.
Lombardi was under WWF/WWE contract from 1983 until he was released from World Wrestling Entertainment 33 years later, in 2016.
He also portrayed several other characters on WWF TV over the years, such as Kim Chee, The Red Knight, Doink (one of many) & 'MVP' Abe "Knuckleball" Schwartz.
HAPPY BIRTHDAY BROOKLYN BRAWLER!