The next game in line of the WWE 2K Series, WWE 2K20, will be hitting the shelves on October 22nd this year. The game will be available on PlayStation 4, Xbox One and PC. Nothing about its availability on Nintendo Switch is confirmed as of yet.
2K has revealed a lot of new information about the game, which includes the multiple editions, game modes and wrestlers on the roster. As reported earlier, Roman Reigns and Becky Lynch will be the cover stars of WWE 2K20 this year.
Like every year, WWE 2K20 will have the Standard and Deluxe editions, but this year, there will also be a SmackDown edition to celebrate SmackDown's 20th anniversary.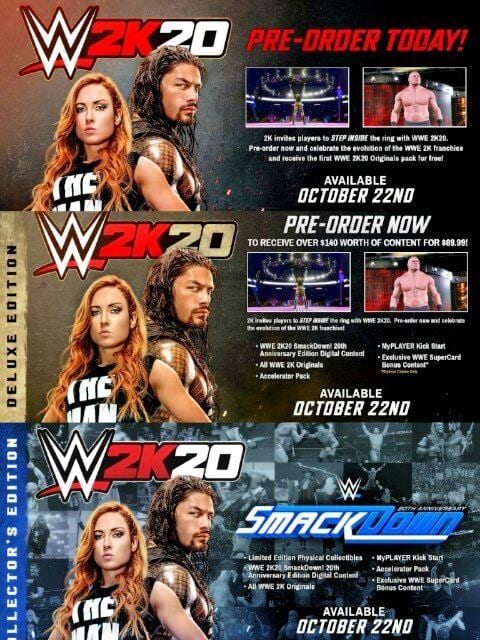 Xavier Woods has confirmed that the Mixed Match Challenge will be returning to the game. WWE 2K20 will also feature a Women's Showcase Mode, which will include the storylines of Becky Lynch, Charlotte Flair, Bayley and Sasha Banks. A female MyCareer mode will also be added to the game. A new feature called "2K Originals" will also debut in the game. 2K Tower Mode will again be playable this year.
WWE 2K20 will feature a mega roster like all WWE 2K games. Here's the list of confirmed wrestlers from the trailer and coat-rack teaser:
– Andre The Giant
– Bayley
– Becky Lynch
– Big Boss Man
– Braun Strowman
– Brock Lesnar
– Brutus Beefcake
– Charlotte Flair
– Dusty Rhodes
– Eddie Guerrero
– Goldberg
– John Cena/Retro Cena
– King Booker
– Mick Foley/Mankind
– The Miz
– Paul Heyman
– Randy Savage
– Razor Ramon/Scott Hall
– Ric Flair
– The Rock
– Roddy Piper
– Roman Reigns
– Shawn Michaels
– Sheamus/ King Sheamus
– Stone Cold Steve Austin
– Sting
– Triple H
– Velveteen Dream
3 Major legends are also returning to the WWE 2K Series after a long time. Let's take a look at them.
*Go to the NEXT page to continue reading this article