The next game in line of the WWE 2K Series, WWE 2K20, will be hitting the shelves at a date known to 2K only for now. It will most probably be by the end of this year.
However, we won't have to wait too much, because 2K just announced that the first information reveal for WWE 2K20 will be coming out next Monday, on August 5th. The information reveal will include the name of the cover star for the game, and several details regarding the game-play.
Two screenshots were also released during the announcement, which included WWE Universal Champion Brock Lesnar and SmackDown Women's Champion Bayley. Judging by the screenshots, we're sure 2K has worked hard on the graphics this year as well.
#WWE2K20 First Info August 5! pic.twitter.com/Yql9wlP5sX

— #WWE2K20 Info August 5 (@WWEgames) July 31, 2019
The game will be out on PS4, Xbox One and PC like every year. It's availability on the Nintendo Switch still remains a question until August 5th. We can expect it to come out by fall this year, however, the release date can move ahead, because 2K is revealing information later than they usually do every year.
There are several wrestlers who have been on top of the game in WWE this year, so we can expect a tough competition for the selection of the cover star this year.
In this article, let's take a look at 3 possible wrestlers who can be on the cover of WWE 2K20.
3. Kofi Kingston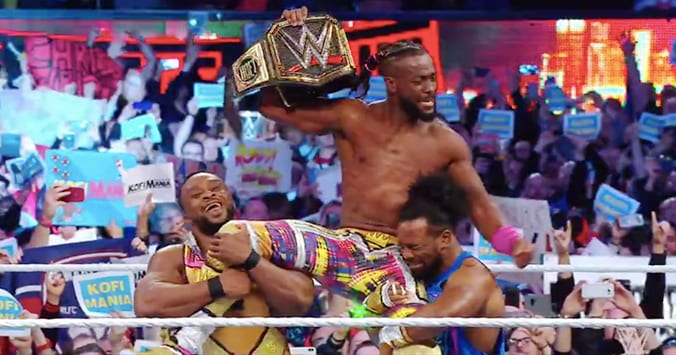 Kofi Kingston being on the cover of WWE 2K20 will be history in the making. Kingston has been on a roll in 2019. He won his first WWE Championship at WrestleMania 35, earlier this year, against Daniel Bryan.
Kingston being on the cover of the game will make him the first black wrestler to be featured as the cover star of a WWE game. Moreover, Kingston is hardcore gamer, so WWE 2K20 will have someone who is into gaming as their face.
Given the way the WWE Champion has been received by the WWE Universe since his feud against Daniel Bryan, his face being on the cover of WWE's marquee game will be a popular choice.
However, it looks like Kingston could be set for a spell away from the WWE Championship scene with the way the company's booking appears to be taking them beyond WrestleMania, which could count against Kingston being the face of this year's game.
*Go to the NEXT page to continue reading this article