The biggest party of the summer, WWE SummerSlam 2019, is less than a week away. After holding four consecutive SummerSlam events in New York City, WWE will be moving to Toronto, Ontario in Canada for the event.
Like every year, WWE plans to make the match-card as star-studded as possible. One of the matches which is going to take place at this year's PPV is Goldberg vs. Dolph Ziggler.
Former World Heavyweight Champion Goldberg was last seen in a match at WWE Super ShowDown in Saudi Arabia, where he could not live up to the hype of the match against The Undertaker. The match ending was pretty lacklustre, and left the fans disappointed.
However, the fans won't mind seeing Goldberg back in the ring again (the pop he got on RAW is a proof of that). After all, everyone has a bad day at work, and someone who has been in the business for more than a decade, it's normal.
In this article, we'll discuss four reasons why Goldberg has returned to face Dolph Ziggler at SummerSlam 2019.
4. To Make Up For His Performance At WWE Super ShowDown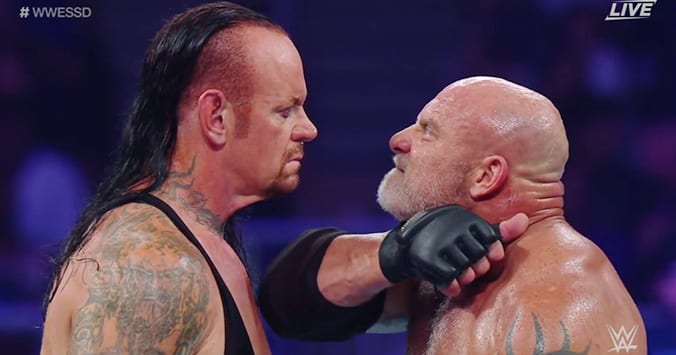 Goldberg was set to compete in at WWE Super ShowDown, two years after he lost the Universal Championship to Brock Lesnar at WrestleMania 33. Fans were pretty excited about his clash with The Undertaker, as it was a dream match for many old school fans, but once the match began, fans realized they wouldn't be able to see what they could've seen during the Attitude Era.
A few minutes into the match, Goldberg accidentally knocked himself out when he ran full-speed into the ring post. Following that, the match didn't go according to plan for both men.
Following the match, Goldberg went on to Twitter to apologize to the fans, and also aimed to make up for the match in the future, while answering a fan's question.
The only thing I need to accomplish is to erase the feeling I have from my last performance ? https://t.co/2HH1Ax2cDO

— Bill Goldberg (@Goldberg) July 2, 2019
Now, it looks like the former Universal Champion has a good opportunity ahead of him to "erase" the feeling. Dolph Ziggler has been taking shots at the WCW legends for the past couple of weeks, for his performance at the Saudi PPV. WWE can use this angle to setup a match between the two at SummerSlam.
Fans know that Goldberg is one of the greatest of all time, and it was just a bad day at work for him, but he'll come back stronger. Squashing The Show-Off at SummerSlam will be a good way to make for his performance at Super ShowDown.
*Go to the NEXT page to continue reading this article