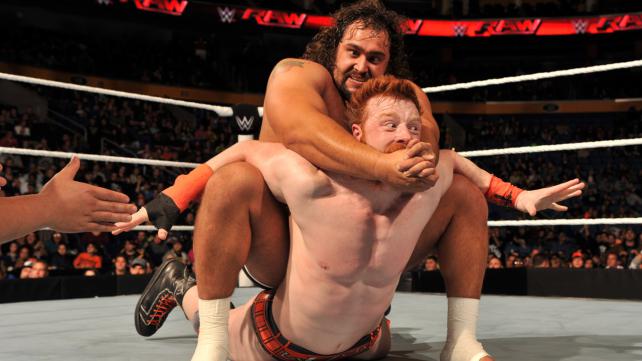 After Raw went off the air last night, Rusev defeated Sheamus to become the new United States Champion. The match was shown live exclusively on the WWE Network as soon as Raw went off the air.
Sheamus tweeted the following after the match:
"#NeverTapOut"
Lana also tweeted on Rusev's big win:
"We have defeated your patriots, #CRUSHED your giants, and now have taken #USTitle! Mother Russia & @RusevBUL is the greatest !"
"WE WIN ! Russia is truly better then you STUPID Americans !"
Finally Hulk Hogan also expressed his views with his tweet:
Sad day for America and WWE Universe,Rusev as US Heavyweight Champion makes me sick,John Cena where are you when we need you brother. HH

— Hulk Hogan (@HulkHogan) November 4, 2014

On a related note, last night's post show opened up with Randy Orton being streched out of the arena after he was brutally attacked by the Authority and was on the receiving end of the most devastating Curb Stomp from Rollins till date. Orton's forehead was busted open.
WWE.com posted the following update on Orton's condition:
BUFFALO, N.Y. — WWE.com has learned that Randy Orton was injured following an attack at the hands of The Authority, during which he suffered two consecutive Curb Stomps from Seth Rollins; one atop the announce table and another on the steel steps. The extent of the former WWE World Heavyweight Champion's injuries is unknown at this time, however, as all medical evaluations of The Apex Predator were done behind closed doors. WWE.com was unable to get official comment from medical staff as to the nature of Orton's injuries, though locker room speculation is that The Viper had suffered a concussion.
WWE.com hopes to have an official update on Orton's condition tomorrow.
With this WWE has written Orton off from WWE TV for a few weeks so that he can film The Condemned 2.