• Alexa Bliss Responds To A Fan Who Threatened To Shoot Her & Her Husband
After the Sonya Deville stalker incident from 2020, WWE Superstars have been vary cautious of threats sent to them on Social Media.
Former WWE Women's Champion Alexa Bliss was recently threatened by an Instagram user "jpeak5402".
This user apparently wants Alexa to stay away from AEW wrestler Buddy Matthews (fka Buddy Murphy in WWE, real name: Matthew Adams) and RAW Superstar Rhea Ripley, who are dating. Buddy is the ex-boyfriend of Alexa.
Alexa replied the following to him on Instagram:
"I do have something to say – I saw the DM you sent to people saying you were going to shoot me and my husband yourself. Those screen shots have been turned in."
You can read some of the comments this user made on Alexa's Instagram post in the screenshots below: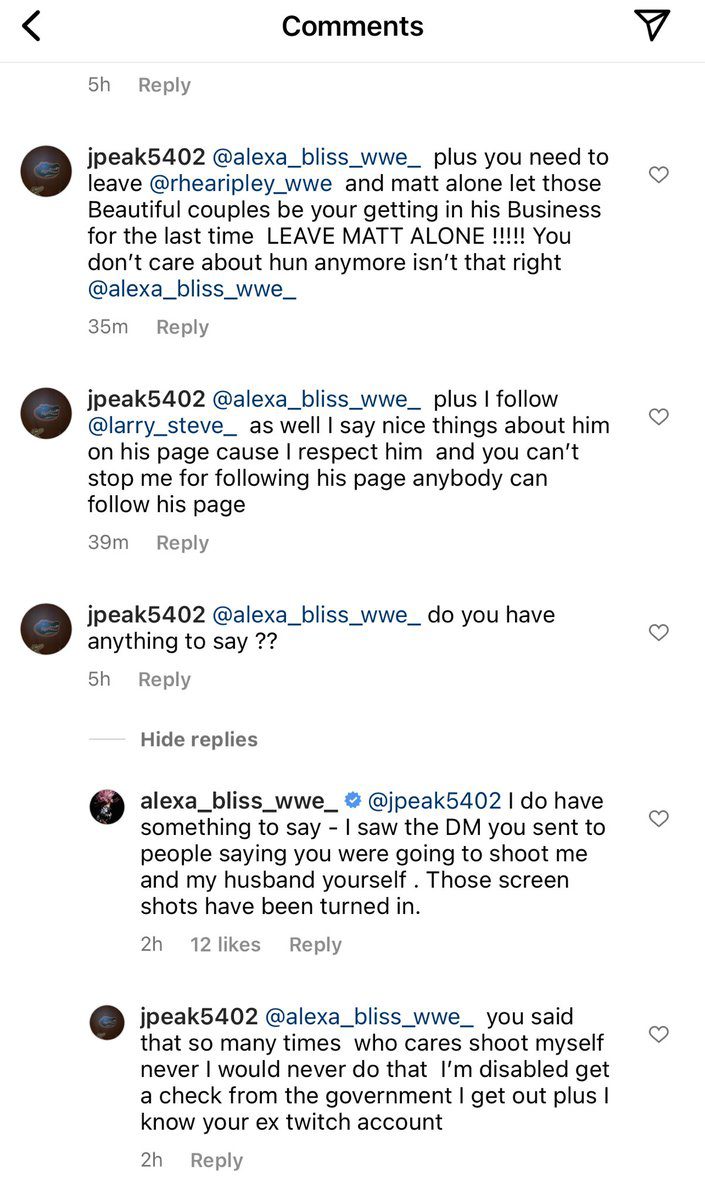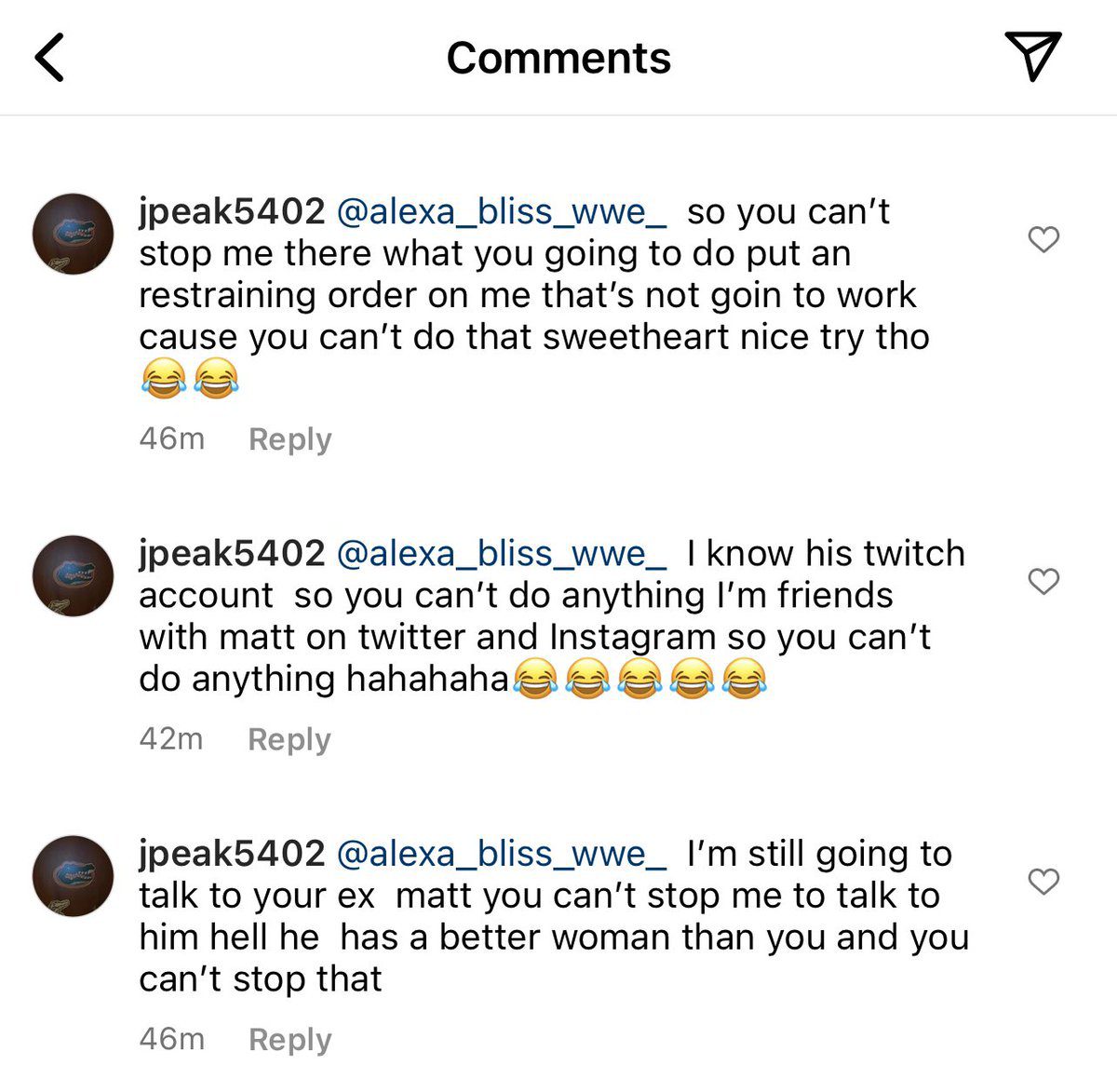 This user also wrote:
"Plus for your information I took my daughter bliss stuff including that dumbass doll of yours I burned everything of your merchandise my daughter doesn't know and you can't stop that I should have sent you the video hahahaha"
Also Check Out: Alexa Bliss & Her Husband Ryan Cabrera Get Matching Tattoos (Photo)
WATCH: Fan Slaps Alexa Bliss' Buns:
• On This Day In Pro Wrestling History (May 24, 2009) – TNA Sacrifice 2009
On this day in Pro Wrestling history on May 24, 2009, Total Nonstop Action aired 'TNA Sacrifice 2009' LIVE on PPV from the TNA Impact! Zone at the Universal Studios in Orlando, Florida.
This was the 5th Sacrifice pay-per-view out of 9, that aired between 2005 and 2014. From 2016 onwards it became simply a TV special / Impact Plus special.
Here are the results:
Lethal Consequences & Eric Young defeated The Motor City Machine Guns & Sheikh Abdul Bashir
Monster's Ball: Taylor Wilde defeated Daffney
TNA X Division Championship: Suicide (c) wrestled Christopher Daniels to a draw
TNA Women's Knockout Championship: Angelina Love (c) vs Awesome Kong
Samoa Joe defeated Kevin Nash
Team 3D Invitational Tag Team Tournament: Beer Money Inc. defeated British Invasion
I Quit – TNA Legends Championship: AJ Styles (c) defeated Booker T
Ultimate Sacrifice: Sting defeated Mick Foley and Kurt Angle and Jeff Jarrett