Below are the top Pro-Wrestling news stories of the day:
• "Are we under attack here?" – WWF Referee On Horrifying Moment During Tribute To The Troops In Iraq
Old School WWF Referee Jimmy Korderas was recently interviewed by WrestlingInc, where he talked about a horrifying moment he experienced during a Tribute To The Troops event in Iraq.
Here's what he said:
"During the show, I got to referee the match between Eddie Guerrero and Chris Benoit, which was amazing. What we didn't expect was as we are going to the commercial break spot, all of a sudden here come these planes flying overhead. That we didn't know was going to happen.
So, I started to go, 'oh my goodness, what's going on here?' Then I looked at Chris and Eddie and they were like, 'what's going on here?' And we all kind of thought, 'are we under attack here, are we in trouble?'.
Somebody from ringside had to get up and told me, 'Listen, we are all good, we're okay this was planned.' Nice if you would have told us about it. Because all three of us in the ring are like, 'are we under attack here? Should we duck under the ring?'
So we didn't know about it. I guess they wanted the natural reaction. They got one anyway and they almost got more than they bargained for."
WWE went to tape Tribute To The Troops in Iraq from 2003 until 2009, except for 2005 when they went to Afghanistan.
WATCH: Footage Of Former WWE Diva Emma's Hot Buns:
🔥
• Original Plan For The Infamous Katie Vick Storyline
On a recent episode of his House of Hardcore podcast, Old School ECW Legend Tommy Dreamer revealed what was originally planned for the infamous Katie Vick Storyline.
This storyline is largely considered one of the worst storylines in WWE history, as it featured 'The Game' Triple H (being dressed as Kane) performing a sexual act on a (kayfabe) dead body.
Here's what Dreamer said:
"The whole Katie Vick, narcolepsy (Necrophilia) angle, that all came about through Vince and the payoff of all that was going to be Sick Boy Scott Vick was going to wrestle Triple H at WrestleMania to avenge his sister, who was dead.
That all came about when Sick Boy Scott Vick had a dark match tryout and Vince just liked the name Scott Vick because they couldn't call him Sick Boy. This horrible angle with Kane and Triple H was going to be the caveat to headlining WrestleMania with Scott Vick avenging his sister Katie Vick.
I remember Johnny (John Laurinaitis) having to tell Vince, 'That's great, but he's not employed here.' He was on a tryout. People have gotten hired on a lot weirder things but I think after that, it was just, 'Oh,' and we lost that amazing WrestleMania to avenge [Sick Boy's] sister's horrible degradation of her grave.
That's sometimes how these crazy things happen in WWE."
WATCH: Lana Spanks Carmella In A Bikini:
• "You never admit you got your a$$ kicked, much less being horrified or terrified" – Ric Flair To Seth Rollins
During the latest episode of his podcast, 2-time WWE Hall Of Famer Ric Flair discussed the recent attack on Seth Rollins by a fan.
Flair wasn't happy with how Rollins said during an interview with TMZ that the attack was terrifying.
Here's what The Nature Boy said:
"In all fairness, I could say a lot of cute things, but I'm not going to. Every time I say something, I have to involve other people and they have to endure the consequences, so I'm just going to say this. I've seen that happen, but I've never seen it where I recall the mark, the fan, clearly was getting the better of the individual.
My problem with Seth is if you're a top guy in this business, and you know anything about the psychology of what the fans think and feel, which they really do, you never, ever, ever, get off an airplane in L.A. and say, 'I was terrified.' Terrified of what? Terrifying is being in an airplane crash.
You were terrified or horrified by a wrestling fan? Come on, man. What I would have done if I was Seth, which everybody should learn from this, is that even if the referees had him, I would have jumped back on him, even if I never got a shot at him. I know your answer is going to be, 'Well, there's lawsuits and all of that'. The WWE would have covered the lawsuit. Seth never would have got to him.
If you're a heel, you never admit defeat. You just don't do it. Do you think I've ever beat anybody? No, but in the minds of most people, I didn't lose because I kept lying about it even though it was a work. You never admit you got your a$$ kicked, much less being horrified or terrified. Please.
You got to be tough to be in this business, period. Even today. These kids are tough. I'll tell you right now and I can't help but bring her in, Ashley (Charlotte Flair's real name) can kick anybody's a$$…second generation kids are taught to be tough. Roman Reigns, The Usos. I'm such fan of kids that had to really be tough and just survive in life.
If you've been a real athlete and really competed at a tough level you're tough. You're mentally tough, you're physically tough and you're honed and trained – if that same thing happened to Ashley hypothetically, I don't know if the guy could have taken Ashley down. She's tough, man.
You don't think Tamina's tough, or Nia Jax, or, Nattie Neidhart, are you kidding me? They came up in families where you had to be tough."
Also Read: "My Plan Was To Help Finn Balor" – Seth Rollins' Attacker
WATCH: Charlotte Flair Grabs Bayley's Buns:
🔥
• Next Guest On Steve Austin's Broken Skull Sessions
Former WCW World Heavyweight Champion Diamond Dallas Page will be the next guest on Steve Austin's Broken Skull Sessions.
This episode will be available on the WWE Network / Peacock on December 19.
Below is the list of guests that have been interviewed on the Broken Skull Sessions so far:
– The Undertaker
– Goldberg
– Kane
– Big Show
– Bret Hart
– Ric Flair
– Mark Henry
– Jerry Lawler
– Kurt Angle
– The Undertaker (One More Round)
– Drew McIntyre
– Bayley
– Sasha Banks
– Randy Orton
– Chris Jericho
– The Godfather
– Mick Foley
– Kevin Nash
– Bobby Lashley
– Seth Rollins
– Jeff Hardy
– Diamond Dallas Page
John Cena was also interviewed on Broken Skull Sessions, but his interview was pulled for some reason. It will most likely be released in the future.
Also Read: "I got busted for getting pills illegally" – Jeff Hardy On Broken Skull Sessions
WATCH: Maria Kanellis' Knockers Groped By Shelton Benjamin:
• Condition Of Cody Rhodes' Back After Fire Spot On AEW Dynamite (Photos)
In the main event of last night's AEW Dynamite, Cody Rhodes defeated Andrade El Idolo in an Atlanta Street Fight.
In the final spot of the match, but Cody and Andrade went through a Table that was set on fire.
You can watch the ending moments of the match below:
You can check out the condition of Cody's back in the photos below: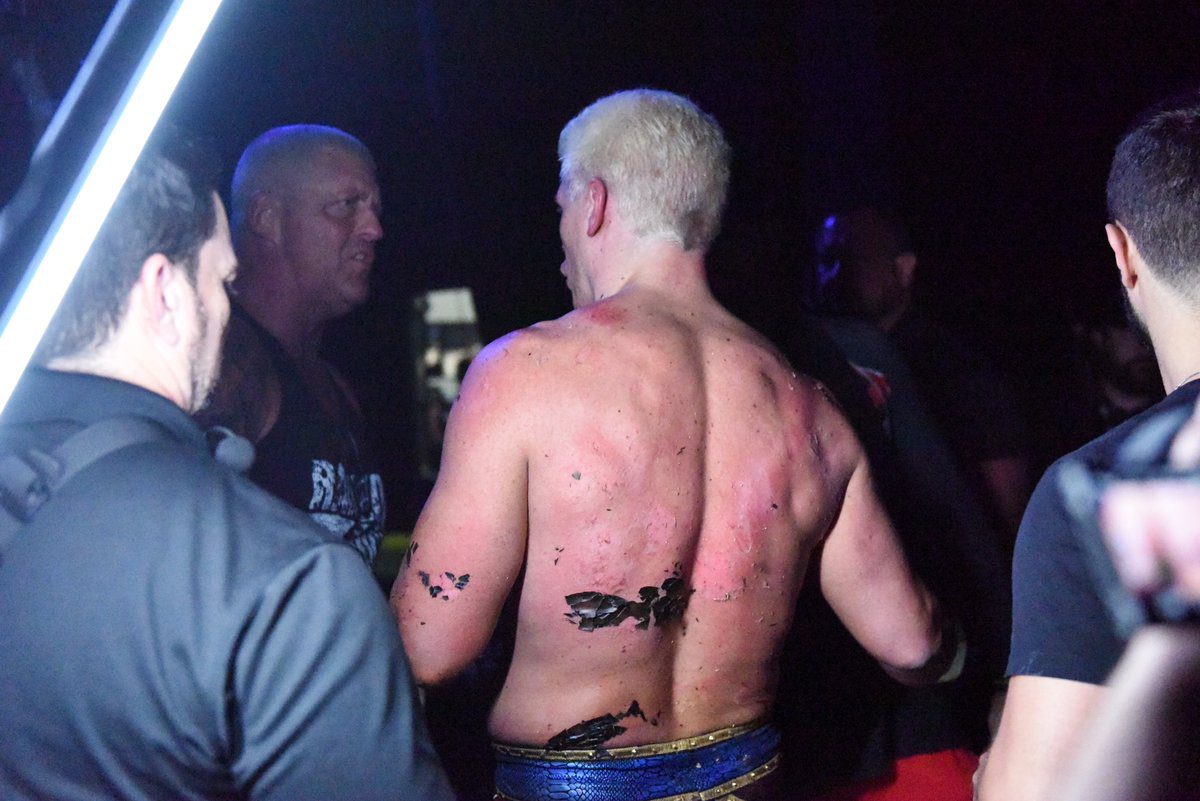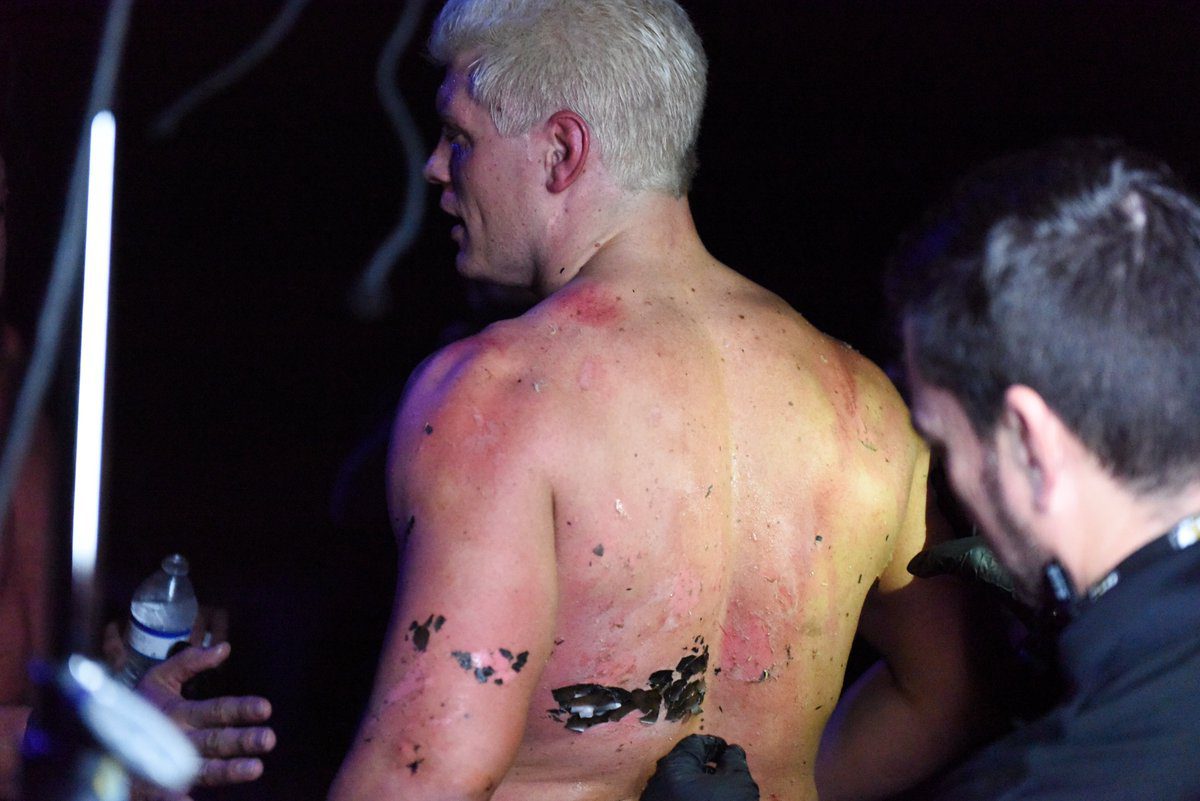 • WWF Veteran Comments On Sting's Latest AEW Dynamite Match
On AEW Dynamite, the team of Sting & Darby Allin defeated Gunn Club (Billy Gunn & Colten Gunn).
This was Sting's 5th match in All Elite Wrestling and he's 5-0. You can watch clips from this match below:
HERE WE GO…@Sting taking the fight right to @RealBillyGunn! Watch #AEWDynamite LIVE everywhere on @tntdrama NOW! pic.twitter.com/wm47xcqWR5

— All Elite Wrestling (@AEW) December 2, 2021
The Icon @Sting is on fire in Atlanta! Watch #AEWDynamite LIVE everywhere on @tntdrama NOW! pic.twitter.com/yJGFujq6Pa

— All Elite Wrestling (@AEW) December 2, 2021
It's over! The Icon @Sting and @DarbyAllin end the #GunnClub's undefeated streak. Watch #AEWDynamite LIVE everywhere on @tntdrama NOW! pic.twitter.com/9bOVtCuMGk

— All Elite Wrestling (@AEW) December 2, 2021
WWF Veteran & current AEW wrestler Matt Hardy tweeted the following about Sting after this match:
"No one deserves this current run in pro wrestling more than Sting. Sting is the best. I have a great respect for him & I am grateful he gets to finish his career properly in AEW."
On the other hand, Billy Gunn's other son Austin Gunn (who wasn't in the match) tweeted the following:
"Colten's first loss…in the history of his wrestling career…was by Sting.
Not even mad about it cause me and Colten Gunn are still undefeated…
Oh WAIT…me and Billy Gunn are also undefeated."
WATCH: Maria Kanellis Was So Hot:
• Complete Spoilers For This Week's AEW Rampage
All Elite Wrestling taped this Friday's episode of Rampage after tonight's Dynamite went off the air.
Below are the results:
– Sammy Guevara (c) def. Tony Nese to retain the TNT Championship
– Jade Cargill def. Janai Kai (Jade kept attacking Janai after the match and Thunder Rosa made the save)
– AAA Tag Team Champions FTR def. Pac & AEW World Tag Team Champion Penta El Zero Miedo
• "If you are close enough to hug Carmella, don't even think about it" – WWE Employee Gives Instructions To Seat Fillers
When a fan in attendance at WWE's TV Shows & PPVs goes to the bathroom or leaves their seat to buy food & drinks, their seat is filled by a 'seat filler', in order to ensure that empty seats don't appear on camera.
A video of a WWE employee giving instructions to seat fillers has been released.
Here's what the employee said:
"Somebody who hopefully paid a lot of money for the seat you're sitting in comes back and is every confused as to why you are sitting there. Kindly and politely explain, 'Hey, listen, I'm a seat filler. I'm with WWE. I'm only sitting here until you get back. Most of the time, that will solve all problems."
"Fellas, if you are close enough to hug Carmella, don't even think about it. Ladies, if you are close enough to touch Finn's abs, do not think about it. Please don't touch the talent. Please don't throw anything at our talent."
You can watch the complete videos below:
"Dont touch the talent" pic.twitter.com/IWgo341C6x

— The Macho Beard (@Machobeard4life) December 1, 2021
WATCH: Fan Slaps Alexa Bliss' Buns:
ALSO WATCH: Fan Tries To Touch Sasha Banks' Buns: