• Babyface Turn Coming At WrestleMania 38?
At WrestleMania 38, YouTuber & Boxer Logan Paul will make his WWE in-ring debut.
He will team up with The Miz to take on the father-son duo of Dominik & Rey Mysterio in a Tag Team Match.
This match will take place on Night 1 of WrestleMania 38 on April 2, also known as WrestleMania Saturday.
Logan posted a rough sketch of his WrestleMania ring gear on his Instagram story.
You can check it out below: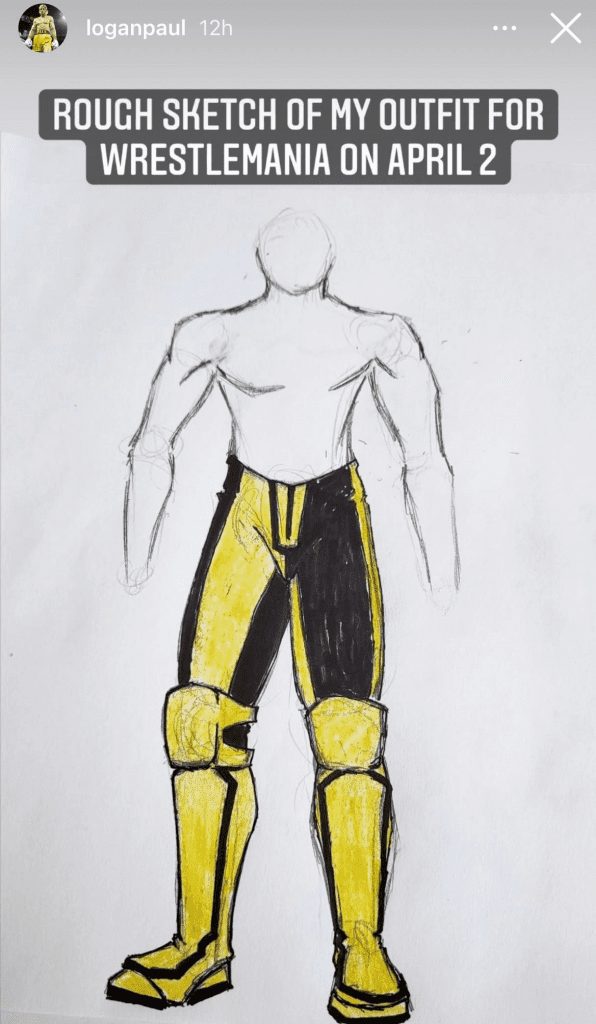 According to the Wrestling Observer, WWE might turn Logan babyface at this Saturday night:
"I could see Dominik losing the match easily. When The Miz was getting beat up (on Monday's WrestleMania RAW), Logan Paul just stood there. He didn't break it up. I think that's where it's going.
But that would mean that they're trying to make Logan Paul a babyface, which they tried before. They are. There's no doubt from this storyline that Logan Paul's going to be the babyface in the feud with The Miz.
Even in his hometown, when Miz was out there in his hometown, everyone's cheering Miz. Logan Paul's out there, and they all expect everyone to cheer Logan Paul, and everyone booed Logan Paul in his hometown of Cleveland."
Also Read: WWE Is Bringing Attitude Era Veteran To WrestleMania 38 Weekend
WATCH: Revealing Video Of Aliyah's Buns:
• Old School WWF Legend Celebrates His Birthday
Old School WWF Legend "I.R.S." Irwin R. Schyster (Real name: Lawrence Michael Rotunda) celebrates his 64th birthday today.
As Mike Rotundo he won the WWF World Tag Team Championship in 1984 with Barry Windham as "The U.S. Express", before losing it to The Iron Sheik & Nikolai Volkoff at WrestleMania I.
After some time in Jim Crockett Promotions / World Championship Wrestling, where he was known as Captain Mike Rotunda and Michael Wallstreet, he returned to the World Wrestling Federation in 1991 as the evil tax collector from Washington D.C., Irwin R. Schyster.
With his new Tag Team Partner The Million Dollar Man Ted Dibiase he former "Money Inc." and they won the WWF Tag Team titles multiple times, before Dibiase retired due to an injury and former his own Heel Stable "The Million Dollar Corporation", which I.R.S. was a member of, till he left the WWF for WCW in 1995.
He has yet to be inducted into the WWE Hall of Fame, but it's safe to say, that it's only a question of "when" and not "if".
HAPPY BIRTHDAY IRWIN R. SCHYSTER!