• Backstory Of What Happened Before & After The Undertaker's WrestleMania 18 Match
During Undertaker's second appearance on Steve Austin's Broken Skull Seasons on the WWE Network, they looked back at Taker's battle with Ric Flair at WrestleMania 18.
At the start of 2002, Vince McMahon called Taker and told him that he hasn't figured out anything for him for WrestleMania 18. Taker didn't find that shocking as WrestleMania programs for other top stars had already begun, and there was nothing definite for him yet.
Vince then gave Taker two options for his opponents at WrestleMania X8:
– Rob Van Dam
– Ric Flair
Taker chose Flair even before Vince could finish saying Ric's name. Vince was shocked that Taker didn't want to face the young guy.
Taker said he's got plenty of time to work with RVD, but he wants to face Flair right now.
After their match at WrestleMania, Flair thanked Taker for restoring his confidence.
Taker didn't understand it back then as he thinks Flair is "The G.O.A.T", but he understood it 12 years later in 2014, when he suffered a concussion during his WrestleMania 30 match with Brock Lesnar, which completely destroyed his confidence and made him feel vulnerable for the first time in his career.
WATCH: Sara (Undertaker's Ex-Wife) In Bikini – Part 3:
You can download our official WrestleFeed mobile app to check out more Wrestling news & Divas content. Tap here to download.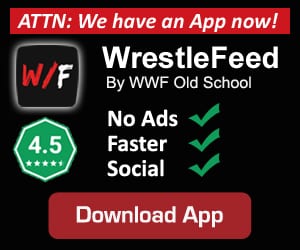 • Old School WCW Veteran Celebrates His Birthday
Old School WCW Veteran Nick Dinsmore celebrates his 45th birthday today.
He wrestled for Ted Turner's World Championship Wrestling promotion in 1998 and 1999, but was mainly used as a 'Jobber To The Stars'.
Most wrestling fans nowadays will remember him as the mentally disabled (storyline wise) nephew of RAW General Manager Eric Bischoff, Eugene, which he became later on.
As Eugene, he had a pretty good mid-card run in the WWE between 2004 and 2007.
He also portrayed the famous 'Doink The Clown' character on two occasions, first as a participant in the APA Bar Room Brawl at the WWE Vengeance 2003 PPV, and then in a match against Chris Benoit on SmackDown a few days later.
HAPPY BIRTHDAY NICK DINSMORE!