• On This Day In Pro Wrestling History (December 30, 1985) – WWF MSG House Show
On this day in Pro Wrestling history on December 30, 1985, the World Wrestling Federation held a televised house show in the world's most famous arena, Madison Square Garden in New York City, New York.
This event was headlined by WWF World Heavyweight Champion Hulk Hogan defending his title against "The Macho Man" Randy Savage, but also featured other great, legendary names like Bret Hart, Big John Studd, Brutus Beefcake, Hercules & Tony Atlas.
Here are the results:
– Special Delivery Jones defeated Ron Shaw
– Jim Neidhart wrestled B. Brian Blair to a time limit draw
– Hercules defeated Jose Luis Rivera
– Adrian Adonis defeated Lanny Poffo
– WWF World Heavyweight Championship: Randy Savage defeated Hulk Hogan (C) via count-out
– Big John Studd defeated Tony Atlas
– The Haiti Kid defeated Butch Cassidy
– Jim Brunzell defeated Bret Hart
– WWF Tag Team Championship: The Dream Team (C) defeated Hillbilly Jim & Uncle Elmer
• Batista Makes An Interesting Comment After Looking At Sasha Banks' A$$
Former WWE Champion Batista is a fan of kadunkadunks. For those who don't know what that means, you can read the definition below:
"Someone who has a wide juicy, thick scrumptuous fat a$$. Remember this person has a fat a$$. They are not a fat a$$ person…there's a big difference!"
As we have noted before, Batista was impressed by Bayley's a$$ earlier this year and posted the following comment on Instagram:
"Damn! Bayley's got a kadunkadunk! Good for her! Get it girls!!"
Below is a screenshot of this: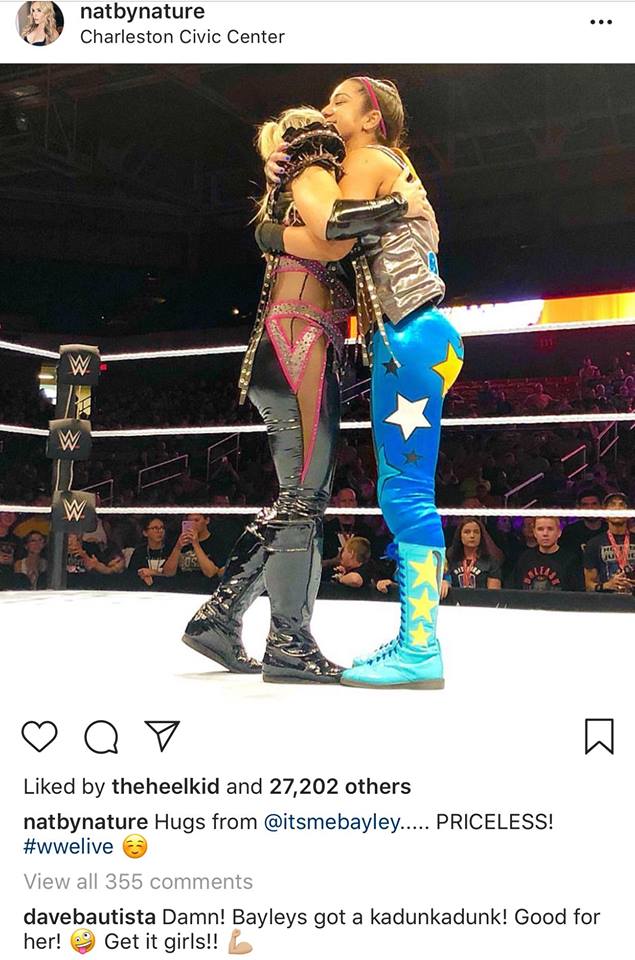 Well, now we know that Batista is a fan of former RAW Women's Champion Sasha Banks' a$$ as well!
Natalya posted the following photo on Instagram:
Batista made an interesting comment under this post and tagged Sasha in it. You can read it below:
"Sasha Banks step into my office. I need to talk to you about something. ? #gogirls"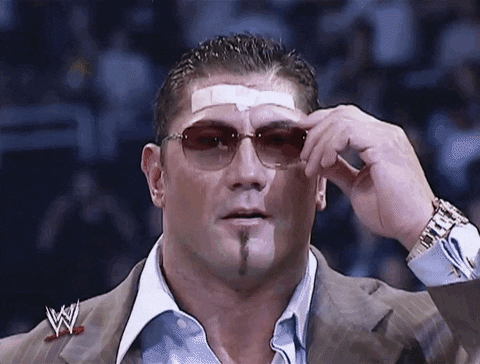 Below is a screenshot: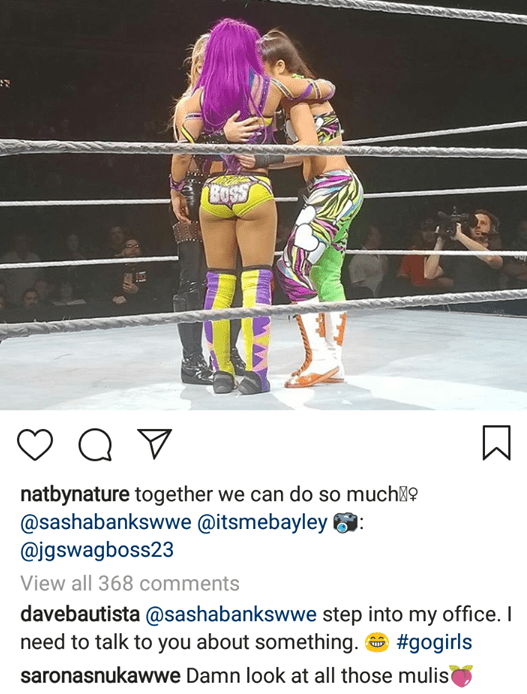 It looks like Batista wants to unleash "The Animal" on "The Boss"!
Well, we hope Batista reads this article because he wouldn't want to miss the following video of Sasha Banks twerking during a match: