• On This Day In Pro Wrestling History (November 20, 1993) – WCW Battlebowl
On this day in Pro Wrestling history on November 20, 1993, Ted Turner's World Championship Wrestling aired 'WCW Battlebowl' LIVE on PPV from the Pensacola Civic Center in Pensacola, Florida.
The pay-per-view had the tagline "Ready! Set! Battlebowl!".
The results are here:
Vader & Cactus Jack defeated Charlie Norris & Stevie Ray
Brian Knobs & Johnny B. Badd defeated Erik Watts & Paul Roma
The Shockmaster & Paul Orndorff defeated Ricky Steamboat & Lord Steven Regal
King Kong & Dustin Rhodes defeated The Equalizer & Awesome Kong
Sting & Jerry Saggs defeated Ron Simmons & Keith Cole
Ric Flair & Steve Austin defeated 2 Cold Scorpio & Maxx Payne
Rick Rude & Shanghai Pierce defeated Tex Slazenger & Marcus Bagwell
Road Warrior Hawk & Rip Rogers defeated Davey Boy Smith & Booker T
Big Van Vader won the 16-man BattleBowl battle royal
• Braun Strowman Takes A Shot At Jon Moxley Leaving WWE For AEW
Below is a recent exchange between SmackDown Superstar Braun Strowman and a fan on Instagram:
Strowman: When you laugh in the face of competition cause you know you are baddest mother fu**er in the business regardless what the pencil does!!!! #MyLegacy #MyLife #MyRules #IFuckingMadeThis #ItsMine #TryMe #IllEatYouAlive
Fan: Moxley is the baddest in the biz…but ok dude.
Strowman: I drug that dude so bad he had to go to another promotion.
Below is a screenshot: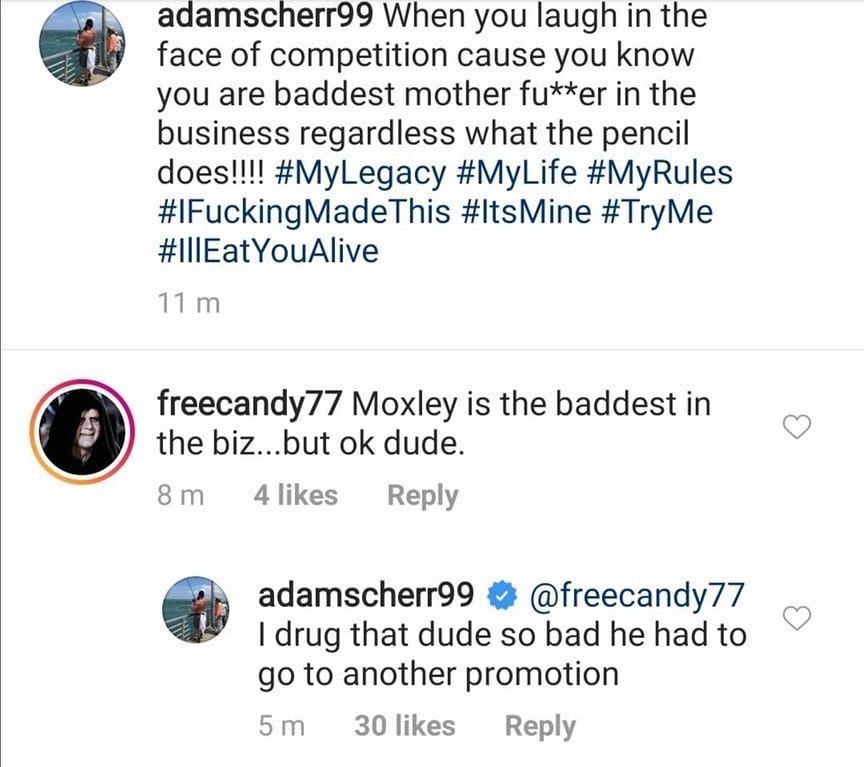 WATCH: Hot Valet From New Japan Pro Wrestling Shows Off Her Buns: