• ON THIS DAY IN PRO WRESTLING HISTORY (July 9, 2000) – WCW Bash at the Beach 2000
On this day in Pro Wrestling history on July 9, 2000, Ted Turner's World Championship Wrestling aired 'WCW Bash at the Beach 2000' LIVE on PPV from the Ocean Center in Daytona Beach, Florida.
This was the 7th and final annual 'Bash at the Beach' pay-per-views WCW aired from 1994 to 2000.
Here are the results from that night:
– WCW Cruiserweight Championship: Lieutenant Loco (c) defeated Juventud Guerrera
– WCW Hardcore Championship: Big Vito (c) defeated Norman Smiley & Ralphus
– Wedding Gown match: Daffney defeated Ms. Hancock
– WCW World Tag Team Championship: KroniK defeated The Perfect Event (c)
– Chris Kanyon defeated Booker T
– WCW United States Heavyweight Championship: Mike Awesome defeated Scott Steiner (c) by DQ
– Graveyard match: Vampiro defeated The Demon
– Shane Douglas defeated Buff Bagwell
– WCW World Heavyweight Championship: Hollywood Hogan defeated Jeff Jarrett (c)
– Goldberg defeated Kevin Nash
– WCW World Heavyweight Championship: Booker T defeated Jeff Jarrett (c)
• Bray Wyatt Getting Insane Ring Gear, Lacey Evans' Push To Continue
As we have noted before, former WWE Champion Bray Wyatt is scheduled to return to WWE programming soon.
According to Brad Shepard, Wyatt's new gimmick will feature an insane ring gear. No word yet on what it exactly is, but one would imagine it would be something that matches his new mask.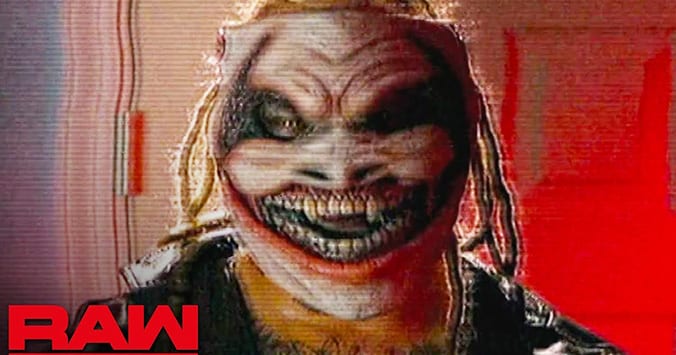 Brad Shepard also gave an update on Lacey Evans' push in WWE. While Baron Corbin and Lacey Evans will most probably lose to Seth Rollins & Becky Lynch this Sunday in their 'Winner Take All' match at Extreme Rules 2019, Lacey's singles push in WWE is expected to continue as Vince McMahon is very high on her.
Announcement: Please download our official "WrestleFeed" app for the latest WWE News & Extreme Rules 2019 updates!
Below are the download links for our Android/iOS app:
Android – http://bit.ly/2IVQ3yU
iOS – https://apple.co/2Oido0R