• OLD SCHOOL VIDEO HISTORY (April 6, 1987) – WWF Prime Time Wrestling
On this day in 1987, the World Wrestling Federation aired an episode of their weekly TV show 'WWF Prime Time Wrestling'.
It included pre-taped matches, interviews & storyline segments featuring the 1987 WWF Superstars.
The card can be found right here:
– Blackjack Mulligan vs. Tiger Chung Lee
– A Post Wrestlemania 3 Report
– The First Part Of The Ken Patera Story
– The Honky Tonk Man vs. Koko B. Ware
– Interview w/ Jim Duggan
– Fuji Bandito w/ Don Muraco & Mr. Fuji
– Ron Bass vs. Salvatore Bellomo
– Interview w/ Mr. Fuji, Sika, Kamala & Kim Chee
– Demolition vs. The Islanders
– The Rougeau Brothers vs. The Hart Foundation
• BREAKING: Bret Hart Attacked By A Fan At WWE Hall Of Fame
During tonight's WWE Hall of Fame Class of 2019 ceremony, two time WWE Hall of Famer Bret Hart was attacked in the ring by a fan.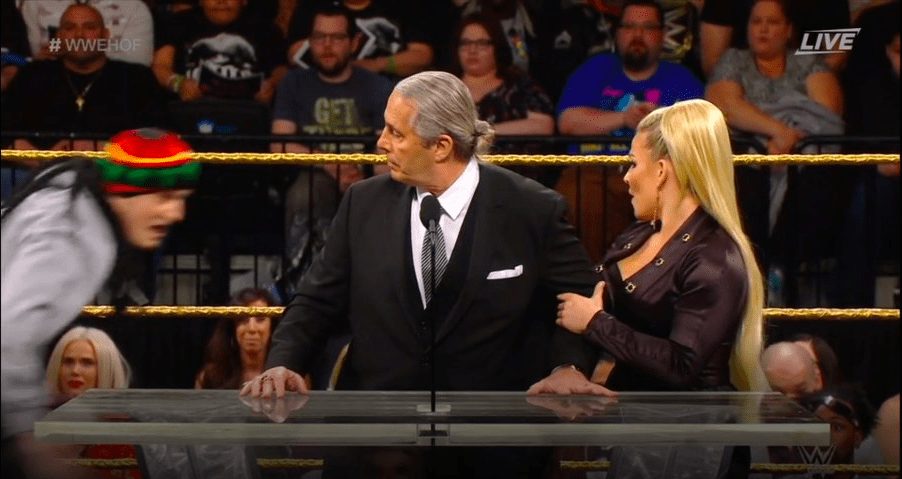 The cameras cut to the crowd and security took the fan down. The crowd chanted "a$$hole" while the fan got taken away.
Wrestlers entered the ring to check on Bret and the speech continued.
You can watch the clearest footage of this incident below:
Everyone is ok. But fuck that asshole!!!! And thank you to my brother for running in and knocking that prick out. Cannot believe that happened

— Georgia Smith (@georgiasmith87) April 7, 2019
Also Check Out: RAW Tag Team Champion Dash Wilder Knocks Out Fan Who Attacked Bret Hart (Video)