While for some fans this is a sad news, for some it is great news. But we all can agree that it's the end of an era.
The CEO of WWE, Vince McMahon, will finally be stepping down from his duties and an official retirement ceremony will be the main event of Night 2 of WrestleMania 36 this Sunday.
During an interview with WWE's staff, McMahon said it's going to be an emotional night as he's moving away from something he has loved for so long.
Below is what McMahon said during the interview:
"I can't describe how I'm feeling right now. I'm been the driving force behind this company for so long I can't even remember, I think it's been 40 years.
For 40 years, I've been an absolute genius and unbeatable. Even at the age of 74 I haven't lost a step!
But I think it's time to step down. Looking at how sports entertainment sucks now, I think it's the right time to step away.
You know what the best part about this is? I get to give my retirement speech in front of 0 sports entertainment enthusiasts at the greatest spectacle in Sports Entertainment, WrestleMania, from the WWE Performance Center.
No more stupid chants from the stupid people, HA-HA-HA."
With Vince stepping down, "The Game" Triple H has been appointed the new CEO of WWE.
Triple H had the following to say about this new major role for him in WWE:
"I couldn't be more proud of what Vince has accomplished over the years and the decision he has made.
From beating WCW, putting them out of business, buying them out, surviving the steroid scandal, buying out all the territories to making billions of dollars – Vince has done it all. But you know what Vince's biggest accomplishment is?
I'll tell you what it is – having his daughter marry me. Having his daughter marry the greatest of all time – The Game, The Cerebral Assassin, The King of Kings, the 14 Time World Champion!
I can't wait to show you what I'm gonna turn this company into. I have my eyes some of the shortest, lightest, charisma vacuums who can do 100 moves in a match! I'm gonna sign them to deals and I'm gonna turn them into Superstars!
My biggest goal as the CEO of WWE is to make WWE a part of NXT, and rename it as NXT WWE (similar to NXT UK…). Also, I plan to buy out AEW and rename it to NXT AEW.
We are all N X T."
After hearing Triple H's comments, the WWE staff went back to Vince to get his comments on HHH's ideas, but Vince didn't say anything. The only thing the WWE staff got was this reaction from Vince: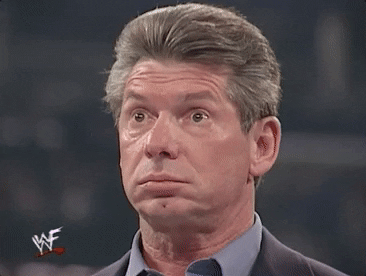 Oh, by the way, happy 1st of April.
UPDATE: For those who didn't get it (despite the above line), this was an April Fool's joke.
WATCH: Alexa Bliss Booty Shake: