• ON THIS DAY IN WWF HISTORY (November 12, 1983) – WWF Championship Wrestling
On this day in 1983, the World Wrestling Federation aired an episode of their weekly TV show 'WWF Championship Wrestling'.
This episode was pre-taped at the Agricultural Hall in Allentown, Pennsylvania and featured matches, interviews & storyline segments involving the 1983 WWF Superstars.
Here's the card:
The Iron Sheik vs. Dick Tessier
Sgt. Slaughter vs. Steve Lombardi
Tony Atlas & Rocky Johnson vs. Charlie Fulton & AB Carson
The Wild Samoans vs. SD Jones & Israel Matia
Tito Santana vs. Tony Russo
The Masked Superstar vs. Tony Rico
Iron Mike Sharpe vs. Rudy Diamond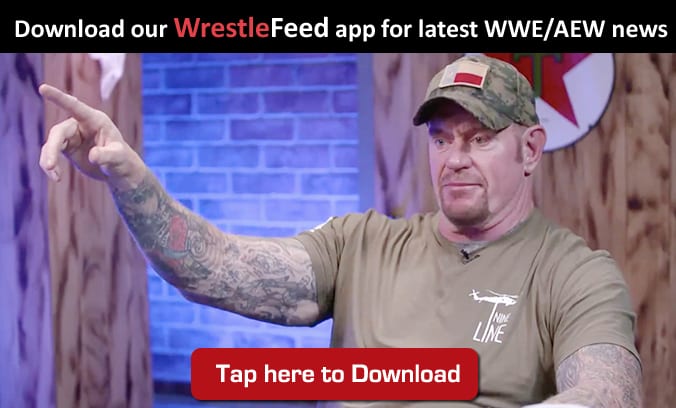 • Brock Lesnar Grants Make-A-Wish For Kid Diagnosed With Blood Disorder (Photos)
WWE Champion "The Beast" Brock Lesnar is WWE's top bad guy right now. However, if you think he's a bad guy in real life as well, then you couldn't be more wrong.
Lesnar recently granted 'Make-A-Wish' for 11 year old Charlie, who has been diagnosed with blood disorder.
Charlie considers Lesnar his hero and you can read his story below:
"Charlie, an 11-year-old who has been diagnosed with a blood disorder, eats, sleeps, and breathes WWE. He spends time watching videos, studying WWE Superstars' each and every move, and even memorizes facts about his favorite WWE Superstars.
The past year has been especially challenging for Charlie, as he spent much of his time in the hospital and in doctor's appointments. "I realized I had never seen Charlie so sad. Usually during his hospital stays, Charlie would be joking with the doctors and nurses, wanting to go to the play room or outside to the play area but not this time.
Charlie stayed in his room the whole time and had no interest in venturing out of his hospital room," Charlie's mom, Kelly, says. "Charlie is so full of life and very social that it broke my heart to see him so sad and down."
No matter what life brought his way, Charlie continued to be inspired by his favorite activity: watching WWE Superstars. When wish granter volunteers met with Charlie to discuss his one true wish, Charlie shared that his wish was to meet his favorite wrestler, WWE Superstar Brock Lesnar.
Charlie had spent countless hours watching Brock's matches, and shared with his mom that he had made his pick because he looked up to Brock Lesnar the most.
Charlie's wish granter volunteers carefully planned a wish reveal for Charlie, hoping that it would be a complete surprise. Just a few nights before his scheduled wish reveal, Charlie, unaware that his wish was already in the works, saw a commercial featuring Brock Lesnar and mentioned to his mom how much he hoped his wish to meet his hero would come true.
When it was revealed that his wish would be granted in just a few short days, he could hardly contain his excitement and began counting down the days.
The day of Charlie's wish arrived, and it couldn't have been more perfect. Charlie was simply in awe as he had the opportunity to meet the WWE Superstar he had watched on television dozens of times, and, of course, he had come prepared with plenty of questions for Brock!
Almost immediately, the pair acted like old friends. Brock even had Charlie practice some of his favorite moves on him; all of the studying Charlie had done of WWE Superstar moves over the years really paid off! The magic continued throughout the day as Charlie enjoyed watching the match with his family.
Charlie's mom, Kelly, shares that the worry-free time spent together was truly invaluable, and helped strengthen their family. "This wish gave us the time together we needed," Kelly says. "I cannot express how grateful I am to Make-A-Wish, WWE, and especially Brock Lesnar for helping Charlie smile again. I could never say thank you enough! The smile on Charlie's face, to me, says it all"."
Below are the photos: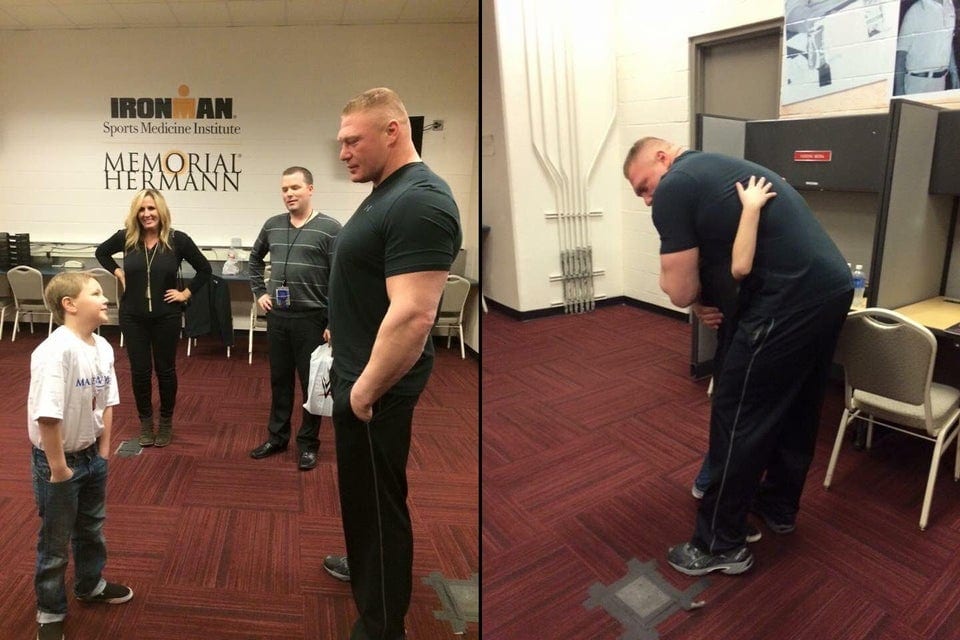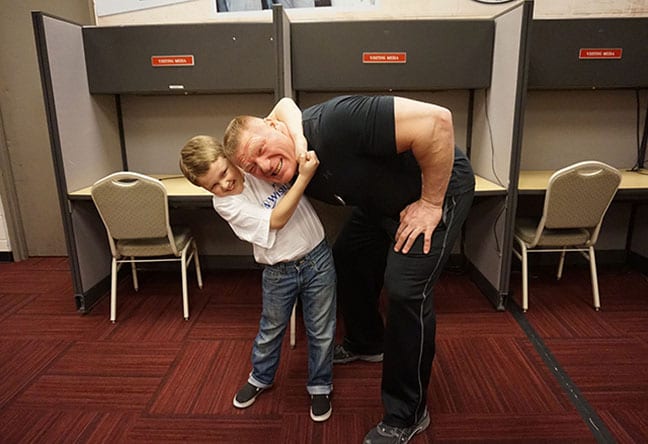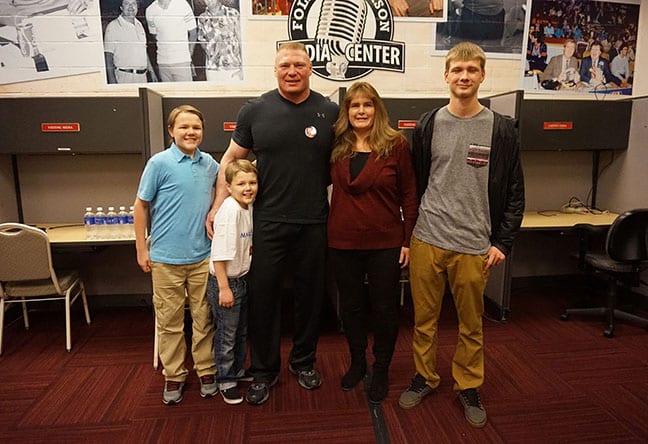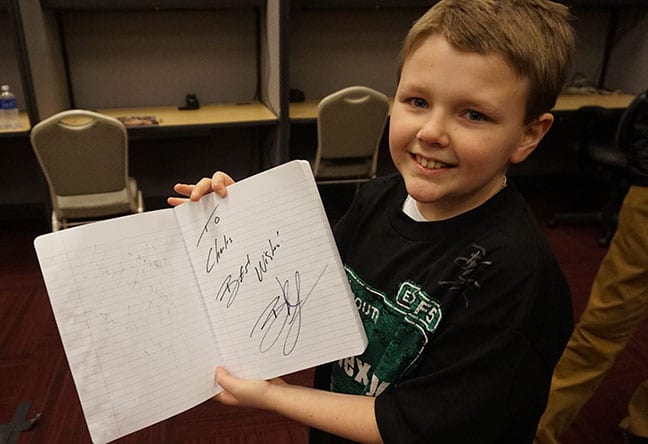 WATCH: Mandy Rose's Hot New Photos From Maxim Shoot: