• OLD SCHOOL VIDEO HISTORY (August 23, 1999) – WWF Jakked / WWF Metal (1st Episode)
On this day in 1999, the World Wrestling Federation aired the first ever episode of their weekly syndicated TV show 'WWF Jakked' (night version) aka 'WWF Metal' (afternoon version).
It featured matches on the road to the 'WWF Unforgiven 1999' PPV.
The match-card can be found right here:
– Ken Shamrock vs. Prince Albert
– Ivory vs. Jacqueline
– Droz vs. Chaz
– Stevie Richards & The Blue Meanie vs. Derrick Dukes & Scotty Zappa
• Chris Jericho On AEW's Live Crowds vs. WWE ThunderDome: "I think we did it right"
WWE introduced virtual fans at their events from last week with their move to the ThunderDome. On the other hand, AEW is set to welcome back live crowds at a small capacity from this week.
While speaking on his Saturday Night Special on Facebook, Chris Jericho compared WWE and AEW's decisions. He said that the ThunderDome looks better than the Performance Center, but AEW still did the better thing.
"I loved it, the presentation looked great. I think it's great that the WWE got out of the Performance Center, it was really killing their vibe, it just looks like a warehouse, it has nothing to do…at least dress it up a bit or darken it. The ThunderDome looks cool.
They (the fans) weren't making a lot of noise, or maybe they couldn't make noise or whatever that they may be. But it looked cool, but it's also a bit weird out of like The Running Man or something you would see like on Black Mirror.
You know, all of these faces behind you but they're all on TV screens. You know, nothing takes the place of real fans and I'm really excited to have real fans at our show next week next Thursday, and we did it right. We spaced everybody in Pods if you were with three people, you can buy a Pod of four, if you're with two people, you can buy a Pod of two or six, and you stay in that area. And you're socially distanced from everyone.
Everyone's going to be wearing masks, and you know, I think people are ready for it. It's time to at least, give it a try and do it safely."
Also Read: "It was like a Zoom call" – Top AEW Star Takes A Shot At WWE ThunderDome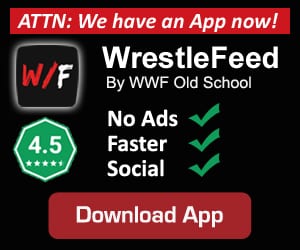 WATCH: Nia Jax Secretly Records Alexa Bliss' Fine Butt:
You can download our official WrestleFeed mobile app to check out more Wrestling news & Divas content. Tap here to download.