• On This Day In Pro Wrestling History (October 6, 1999) – Old School WWF Legend Passed Away
On this day in 1999, we lost Old School WWF Legend Gorilla Monsoon (Real name: Robert Marella) at the age of 62 due to complications of diabetes.
After his career as an active WWWF/WWF Superstar came to an end during the early 80s, Gorilla Monsoon became an announcer and will always be remembered as one of the two greatest play-by-play commentators in professional wrestling history, with the other one being "Good Ol' J.R." Jim Ross.
In 1994, Monsoon was inducted into the WWF Hall of Fame (now known as WWE Hall of Fame) by his colleague & friend Jim Ross.
The last time we saw him on TV was during the 'WWF WrestleMania XV' PPV, where he received standing ovations.
† REST IN PEACE GORILLA MONSOON!
June 4, 1937 – October 6, 1999
• Chris Jericho Takes A Shot At Cain Velasquez's Physique, WWE Title Plan
As seen on this week's episode of SmackDown, former two time UFC Heavyweight Champion Cain Velasquez made his WWE debut and attacked new WWE Champion, Brock Lesnar.
You can watch it below:
Paul Heyman posted photos of new WWE Champion Brock Lesnar and Cain Velasquez from SmackDown on his Instagram page and AEW World Champion Chris Jericho commented the following under it:
"Who's the skinny fat guy?"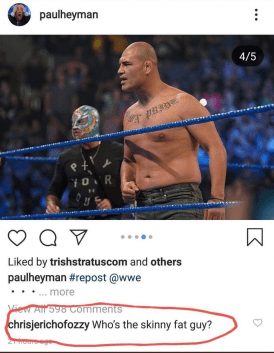 Speaking of Cain, he's expected to receive a shot at the WWE Championship in his very first match in WWE at WWE Crown Jewel 2019 PPV, where he'll face Brock Lesnar in the main event of the show.
Also Read: Cain Velasquez Reacts To Fighting Brock Lesnar On SmackDown