• On This Day In Pro Wrestling History (July 8, 2002) – Kevin Nash Tears His Quad On RAW
On this day in Pro Wrestling history on July 8, 2002, one of the most infamous injuries took place when Kevin Nash tore his quad on WWE Raw.
This was Nash's first match since he suffered a torn biceps injury and he ended up tearing his left quadriceps.
Nash tripped over Booker T's foot following a big boot to Booker, landing awkwardly on his left leg. Nash didn't know he was booked for a match until he got to the building that day, as it was originally planned for him to return that weekend. Below are the results from that episode of WWE Raw:
– Booker T def. Eddie Guerrero
– Chris Benoit def. Bubba Ray Dudley
– Bradshaw & Trish Stratus def. Christopher Nowinski & Jackie Gayda
– Ric Flair def. Steven Richards
– Jeff Hardy def. William Regal to become the new WWE European Champion
– Chris Benoit, Eddie Guerrero, Kevin Nash, The Big Show & X-Pac def. Booker T, Bubba Ray Dudley, Goldust, Rob Van Dam & Spike Dudley
"Kevin Nash tore his quad" became one of the most popular wrestling meme on the internet. Below is an example: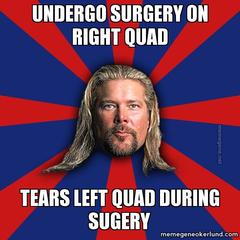 You can watch Kevin Nash tearing his quad during the match below:
• Current Rumored Date For Brock Lesnar vs. Daniel Cormier – UFC Heavyweight Title Fight
As we all know by now, WWE Universal Champion Brock Lesnar will be getting a UFC Heavyweight Title shot against the new champion Daniel Cormier.
According to Dave Meltzer of the Wrestling Observer, the current rumoured date for Brock Lesnar vs. Daniel Cormier – UFC Heavyweight Title fight is December 29, 2018. This is will be the UFC 232 PPV.
This comes after UFC President Dana White noted on the UFC 226 post-fight press conference that Lesnar began the process to get in the USADA drug testing pool last week.