• Old School Midget Wrestler Would Have Celebrated His Birthday
Today would have been the 91st birthday of Old School Midget Wrestling Veteran Lord Littlebrook (Real name: Eric Tovey).
During his career, he worked for pretty much all big promotions in the United States, including the AWA, World Championship Wrestling & the World Wrestling Federation.
His most famous appearance was when he teamed with King Kong Bundy & Little Tokyo at WWF WrestleMania III to take on Hillbilly Jim, Little Beaver & The Haiti Kid.
The last time we saw Lord Littlebrook on TV was when he managed The Royal Family (Jack Victory & Rip Morgan) in WCW during the late 80s.
HAPPY BIRTHDAY & REST IN PEACE
January 3, 1929 – September 9, 2016
• Drew McIntyre Wants Chris Jericho To Send Him A Little Bit Of The Bubbly To Celebrate His Wife's Birthday
RAW Superstar Drew McIntyre wished his wife a belated happy birthday on Instagram and then asked AEW World Champion Chris Jericho for some help.
Below is what McIntyre posted on Instagram:
"I'm not a fan of writing sentimental posts on social media (& I'm a little late to the party) but seeing as this is the start of a new decade, I want to give credit to someone who I admire and has inspired me to be a better man. Happiest of birthdays to the incredible @anthonyhopkins . You're a real legend.
On a side note- Happy belated birthday to my wife, Kaitlyn. You're cool too sometimes."
McIntyre then had the following exchange with Jericho in the comments:
Jericho: Haha well played!
McIntyre: I actually forgot a gift also if you could do me a solid & send a little bit of the bubbly it would be much appreciated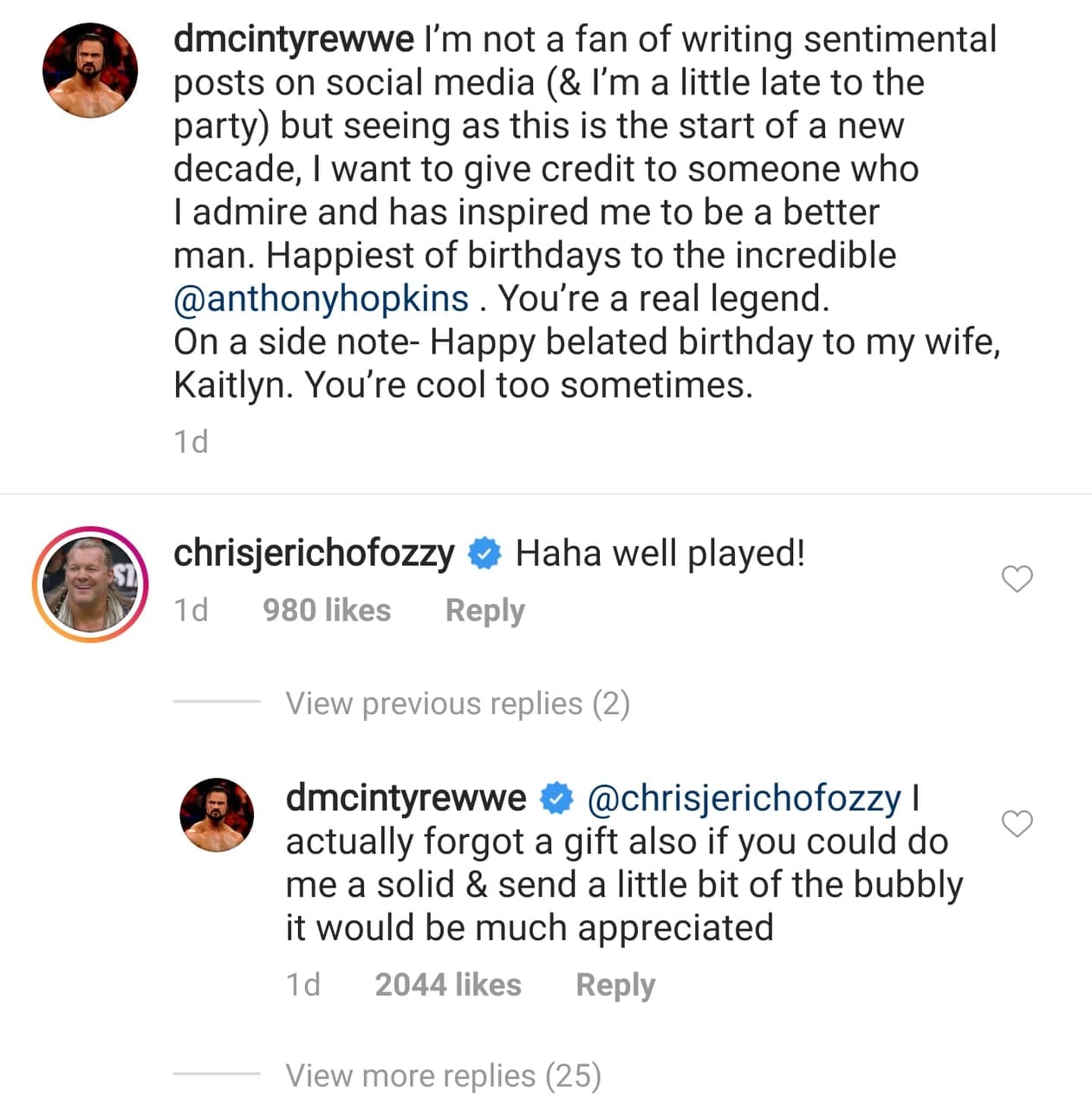 WATCH: Hot Video Of New WWE Diva Scarlett Bordeaux's Bare Buns: