• Old School Wrestling Veteran Would Have Celebrated His Birthday
Today would've been the 72nd birthday of Old School Wrestling Veteran Alexis Smirnoff.
Smirnoff wrestled for the World Wrestling Federation from time to time in 1983, 1984, 1985 & 1986 and otherwise spent most of his career touring Japan & Canada, as well as working for Verne GagneÕs AWA and Jim Crockett Promotions.
The 'Alexis Smirnoff' character was portrayed by French-Canadian Wrestler Michel Lamarche from Saint-Lin, Quebec, who lives in Fremont, California.
HAPPY BIRTHDAY & REST IN PEACE
(February 9, 1947 – January 5, 2019)
WATCH: Paige Kisses Her New Boyfriend:
• Fans Turned Away At Roman Reigns Signing Due To Huge Crowd (Video)
Former Universal Champion "The Big Dog" Roman Reigns appeared at World Of Wheels in Pittsburgh yesterday for a signing session and drew a huge crowd.
Fans noted that some people were turned away by the huge crowd that came to meet Roman.
@WWERomanReigns is signing in Pittsburgh at @HotRodShows from 6pm-8pm today. This is the current line situation.#WWE #BIGDOG #AUTORAMA #WORLDOFWHEELS #PITTSBURGH #SCX #SQUAREDCIRCLEEXPO pic.twitter.com/1BCrEAcPEB

— SquaredCircleExpo (@SquarCircleExpo) February 8, 2019
They're turning people away at #WorldofWheels because it's too crowded. Roman Reigns y'all.

— Ah Yezzir: #YouGotThisRoman (@AhYezzir) February 8, 2019
Just a lil' meet up at #WorldOfWheels, y'all be killing it Pittsburg today. pic.twitter.com/1eRAbapJ9e

— Roman Reigns. (@OwnsTheYard) February 8, 2019
Reigns received a big ovation when he got on the stage and people went crazy as well. You can watch it below:
Crowd goes crazy for #RomanReigns pic.twitter.com/pU5luAx33g

— World Wrestling News (@WWENewsMafia) February 9, 2019
Speaking of Reigns, WWE posted the following regarding Reigns' next TV role:
Roman Reigns to appear on Nickelodeon's "Cousins for Life"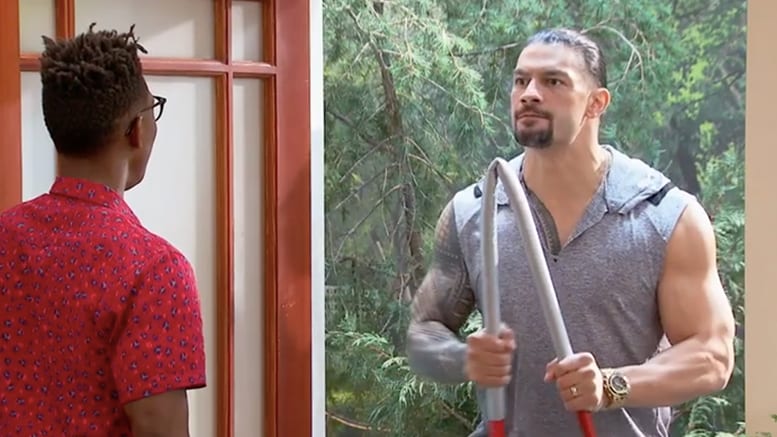 "As first reported by Sports Illustrated, former Universal Champion Roman Reigns will be appearing on an upcoming episode of Nickelodeon's hit show, "Cousins for Life."
Scheduled to air on Saturday, March 2 at 8:30 p.m. ET, The Big Dog plays Leaf's neighbor Rodney who is angry that Leaf's pet pig dug up his vegetable garden. However, Stuart, Ivy, and Leaf discover there's more to the story and come up with a plan to save their pig.
"Cousins For Life" tells the story of 12-year-old cousins and best friends Stuart and Ivy as they learn to navigate life under one roof with their families in Portland, despite being from very different backgrounds.
Don't miss Roman Reigns' guest appearance on Saturday, March 2 at 8:30 p.m."
You can watch the promo for Reigns' appearance below: