• Daniel Bryan Says He's Currently Working On That Part Of Pro Wrestling Which He Doesn't Like
During a recent interview with Peter Rosenberg, retired WWE wrestler Daniel Bryan talked about WWE not clearing him to return to in-ring action. Below is what he said:
"Oh, so I've had too many concussions according to WWE. They have outright said, 'no, you're not wrestling again.' Yeah, yeah, yeah. We're still at the 'no you're not wrestling again' part of that conversation. But I have presented them with my case, which is a lot of testing and that kind of stuff that shows, 'hey, I'm fine.' And so, it's interesting.
I've worked with some of the best people in the country. I've been cleared by specialists at UCLA that I did not choose, right? WWE sent them to me because they're the best. A whole team of people who work with concussions on a daily basis and they said to me, 'you are fine to wrestle.' And we're also at this stage where all my brain EEGs, my MRIs, my neuropsychological tests have been positive.
I love professional wrestling, but I don't love all of it, right? The hard part of wrestling is the travel and going here and there and being away from your family. The part that I love is being in the ring and wrestling. Yeah, being in there and doing it. So now, I've got the job that's the part of wrestling that I don't like.
I also had post-concussion seizures and I had hidden that. And WWE is not wrong in this. One of the things that was bad about what I had done myself is that I hid things from the doctors, so if your doctors can't trust you, this is another thing about high school kids and college kids and all that kind of stuff if they get concussions, if you start hiding things from your doctors because you're afraid of what will happen to you, that is not good for you in the long run and that breeds this situation of mistrust.
I didn't tell WWE about the seizures until my last concussion in 2015 and I hadn't had a seizure since 2012, but I never told them that I had any seizures."
• Former WWE Divas Champion Returning To Wrestling
Former WWE Divas Champion Kaitlyn (a.k.a Celeste Bonin) is returning to Professional Wrestling after 4 years in February 2018 at a Coastal Championship Wrestling event.
Below is the announcement:
"The women's wrestling revolution that is sweeping the nation has come to Coastal Championship Wrestling, as we present our first ever women's main event! We're bringing fans something never seen before, with the return of Celeste Bonin, a.k.a. former WWE Diva's Champion Kaitlyn after 4 years away from the ring!
The night will also see the CCW debut of the legendary Al Snow and the insane luchador Super Crazy, as well as all your CCW favorites. Tickets are on sale now and start at just $10. We'll see you Saturday, February 10th at 8 PM at Coral Springs Charter School for BREAKING CHAINS!"
Below is the poster for the event: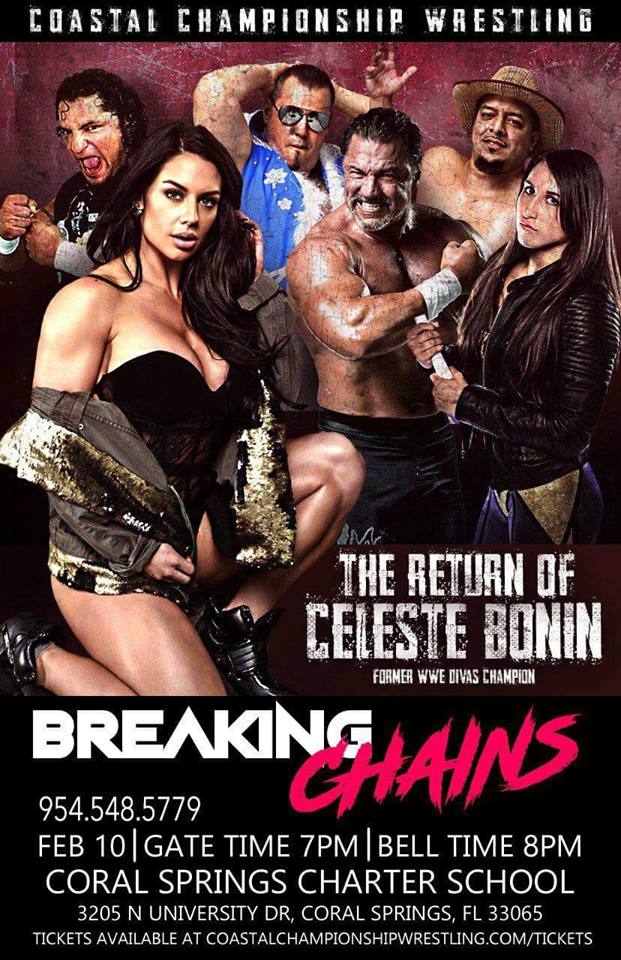 Below is a video of Kaitlyn saying goodbye to WWE fans back in 2014: