• Chael Sonnen Comments On Tension Between WWE Women's Roster & Ronda Rousey
During a recent edition of You're Welcome! with Chael Sonnen podcast, former UFC fighter Chael Sonnen said the following about the tension between WWE Women's roster & Ronda Rousey:
"Ronda's getting all sorts of problems from the locker room at the WWE. Now she can deal with them, she's a big girl, it's going to go that way, but there should be. There should be when an outsider comes in and all of a sudden get that huge push.
So, a cool thing to do if you're an outsider that respects the business, you come in and you put somebody else over. But WWE are not going to do that. So now you gotta go in the back and explain to Charlotte and the rest of the girls that are packing their bags from airport to airport, making towns, getting taxis, why not?
Well, why not is because I'm the boss, I write the check, and you do what I tell you to do. It's as simple as that. This isn't real."
• Top Indian Newspaper Trolled By Fake Hulk Hogan
Top Indian Newspaper "Times of India" was recently trolled by an indy wrestler who told them that he was "The Immortal" Hulk Hogan and then got interviewed by them.
The story has now been deleted from their website, but below is a shot of the interview from their newspaper: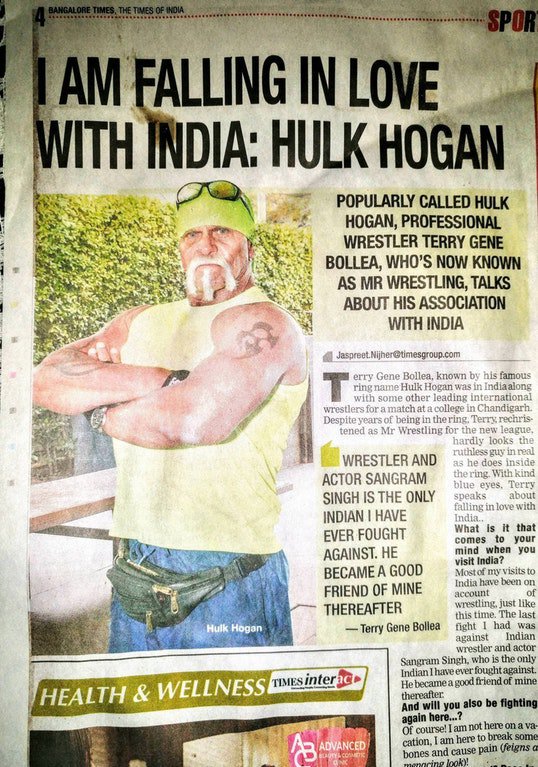 • Former WWE Star Says He Could Return To The Company In The Very Near Future
In the video below, Ted DiBiase Jr. teased a return to WWE and asked if the fans want to see him back. He talked about having unfinished business in the WWE and said he could return in the very near future or down the line.
A possible @WWE comeback? Unfinished business? In this new video from "Five Reasons to Watch #ThePriceOfFame" series, @TedDiBiase has an interesting message and question for the #WWE Universe. See our film on @iTunes at https://t.co/eqt1ZQ97DG pic.twitter.com/gxfKjekVCd

— Ted DiBiase (@MDMTedDiBiase) February 14, 2018