• "He knew we're going to push him?" – Vince McMahon Was Shocked When Jeff Hardy Quit WWE
On the newest episode of his weekly podcast "Grillin' JR", Jim Ross spoke about Jeff Hardy leaving the WWE in 2003 after some drug related issues and refusing to go to rehab.
Less than a year later, Hardy showed up in Total Nonstop Action (TNA, now known as Impact Wrestling), where "The Charismatic Enigma" feuded with the likes of Jeff Jarrett, Scott Hall, Kevin Nash, Abyss, Raven and Monty Brown.
Here's how Good Ol' J.R. remembers Jeff's 2003 exit from World Wrestling Entertainment:
"Jeff was in total denial, like a lot of substance abusers, he just didn't perceive he had a big problem.
I remember sitting down talking to him after the drug tests and him appearing to be affected, not in the right frame of mind on whatever pills he was taking and I said, 'We have this theory here Jeff that we either solve problems or eliminate them. The way we're going to solve your problem, if you agree, is we're going to send you to rehab and help you. Why are you doing this? Why are you purposely valuing getting high over your career? You can't make any money getting high, you can make a lot of money as Jeff Hardy the superstar.'
But he said, 'I'm not going to rehab'. I said 'Is that your final answer, do you want to think about this and get back to me later today?', 'Nope, I'm not going.' Alright, then you're basically telling me you're done because we can't continue this way, it's not an option.
He was wrecking corvettes and missing death multiple times. He was so well liked there, Jeff is such a lovable guy and I'm so happy he's got that sh*t under control. That's a blessing for him and his family but he didn't believe he had a problem.
When I told Vince, Vince was incredulous as well, 'You mean he's going to walk away? He knew we're going to push him? You know he's got a great opportunity?' Apparently he'd rather get high then come to work. Luckily for everyone involved he's climbed that mountain but man, he was primed. There's no reason that Jeff Hardy would not be a great WWE Champion. He just wasn't reliable and how do you put your championship on somebody you don't have full confidence that they're going to be okay.
Can they take the pressure of being the champion? Can they take the pressure of going on last night after night? Can they take the pressure of putting the company on their shoulders and marching forward? At that time, that was not what everybody thought.
They just didn't think Jeff would hold up in that scenario. If he raised his hand and said I'm going to get help, we would've brought him right back. It was a tough time, I felt bad about that because now you look back and say he wasted some time there that he can't retrieve. He was hard headed as hell."
WATCH: Lana Spanks Carmella In A Bikini:
You can download our official WrestleFeed mobile app to check out more Wrestling news & Divas content. Tap here to download.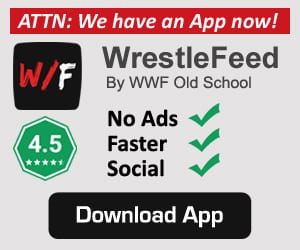 • Old School WWF Referee Celebrates His Birthday
Old School WWF Referee Jim Korderas (Real name: Demetrius Korderas) celebrates his 59th birthday today.
Korderas used to be referee for the World Wrestling Federation (later known as World Wrestling Entertainment) from 1987 until he was released 22 years later in 2009.
The highlight of his career as a professional wrestling referee was refereeing the WWE WrestleMania 24 main event between World Heavyweight Champion Edge and Old School WWF Legend The Undertaker.
HAPPY BIRTHDAY JIM KORDERAS!