• Heath Slater Wanted To Punch Brock Lesnar After The "I don't give a sh*t about your kids" Line
Speaking on WWE Hall Of Famer D-Von Dudley's Table Talk podcast, IMPACT Wrestling talent Heath Slater recalled his segment with Brock Lesnar on RAW when he was doing the free agent storyline.
Heath said that he pitched to punch Lesnar after he would say he didn't give a sh*t about his kids, but his idea wasn't accepted.
Here's what Heath said:
"That segment put me on the map, but slapped me in my face too, literally. The whole, 'I don't give a sh*t about your kids' was supposed to be 'I don't give a damn about your kids.' I guess the crowd was into it.
I got a shirt out of that segment because if you give me bullet points and tell me the ending, I can come up with the right words to where my fans can translate and be with me.
When you hand me a four page script and you're changing it every hour and 20 minutes before I go out, you give me a new script, I'm like 'what the hell is going on?' I was literally like, 'I'm just gonna go out there and do my sh*t.'
I'm out there with Paul and Brock, I damn near forgot my next line and was shooting off the hip. I said, 'Damnit, all these people know I'm gonna get my a$$ kicked. I know it, but I have to do this. I have kids! I need this job!' Next thing I know, I catch Vince in the back and he's like, 'Woah, I got kids, I need this job. Print that out!'
I just wanted to give Brock one punch, that was it. Paul was like, 'If you hit Brock, you really have to hit him.' Dude, whatever. I know how to throw a punch, I'll make it look good. He says, 'I don't give a damn about your kids,' BOOM! And then he kills me. The fans would have loved it. That's all I pitched."
You can watch this segment below:
WATCH: Sable Gets Stripped Unforgiven 1998 (Part 2):
You can download our official WrestleFeed mobile app to check out more Wrestling news & Divas content. Tap here to download.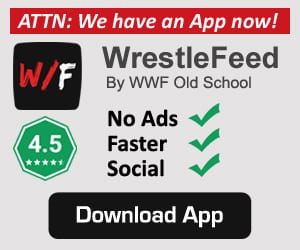 • Old School Wrestling Legend Celebrates His Birthday
Old School NWA/WWF Legend Tully Blanchard celebrates his 67th birthday today.
Whenever you think of Tully Blanchard, you think of The 4 Horsemen, the legendary faction he was a member of from their foundation in late 1985 till he left for the World Wrestling Federation in September 1988.
In the WWF, Blanchard teamed up with his fellow 4 Horsemen buddy Arn Anderson as The Brain Busters, managed by Bobby "The Brain" Heenan, and together they won the WWF Tag Team Championship in 1989, after they had already won the NWA World Tag Team Championship twice (in 1987 & 1988).
In 2012, he was inducted into the WWE Hall of Fame together with other Horsemen members "The Nature Boy" Ric Flair, Arn Anderson, Barry Windham & J.J. Dillon.
"The American Dream" Dusty Rhodes inducted them.
HAPPY BIRTHDAY TULLY!