• Roman Reigns Says Defeating The Undertaker At WrestleMania Was Very Emotional
During an appearance on the first episode of "Straight To The Source" with Corey Graves on the WWE Network, below is what Intercontinental Champion "The Big Dog" Roman Reigns said about defeating The Undertaker at WrestleMania 33:
"Being out there with him was incredible. I'll never forget those things I felt. They didn't teach us that. They didn't tell you how to potentially retire The Undertaker or how to take that emotionally, how to accept that responsibility.
Obviously, it was a great responsibility and I'm always up to the task, but it was emotional, man. It was way more emotional than I thought it was going to be, to be honest. It was a roller coaster of emotions.
I've been calling it 'heavy' as far as the emotions and stuff. It was more than I expected it to be. I want to stand out and be on the very top, but he just plugged in so much time and earned so much respect.
It was cool to be able to feel that. I want to achieve that. I've never felt that level of respect from an audience."
Below is a photo of Reigns backstage at WrestleMania 33 after his victory over The Undertaker:
• Huge Update On Ronda Rousey's Possible WrestleMania 34 Match
As we noted before, USA Today is reporting that former UFC Women's Bantamweight Champion Ronda Rousey signing with WWE is imminent.
She recently posted a video promoting the launch of her official website and it included footage of her training for WWE.
You can check it out below:
Our launch date is getting closer every day! Here's the latest preview for https://t.co/PsLSibFNz9 #RondaRouseyDOTcom pic.twitter.com/8T4RPxfANw

— Ronda Rousey (@RondaRousey) December 1, 2017
Word going on is that WWE might be planning to do a match between Ronda Rousey and the undefeated Asuka at WrestleMania 34. This could be the reason behind Asuka using an Armbar to submit her opponents as of late instead of the Asuka Lock.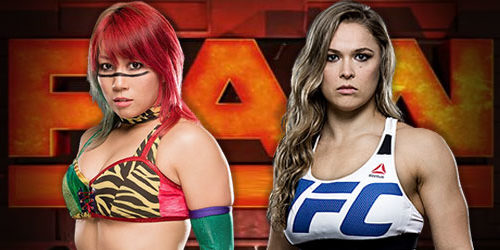 For those who don't know, the Armbar is one of Ronda's most special submission moves as she used it to submit many opponents in the UFC.
With that being said, WWE could do an "Armbar vs. Armbar" angle during their match.