• "I didn't like it from the beginning" – Kane On Vince McMahon's Original Plan For Him
Old School WWF Legend and the Mayor Of Knox County, Glenn "Kane" Jacobs, was the guest on "Taking You To School" podcast with Dr. Tom Prichard and John Poz.
During the conversation, Kane talked about his reaction to being told that he would be Dr. Isaac Yankem when he signed with the WWF.
Here's what the former WWF Champion said:
"I'll never forget, I went into J.J. Dillon's office. Vince came in and we were talking and he pulled out the Isaac Yankem thing for me. I was literally deflated but not trying to show how deflated I was.
I was trying to figure out how I was going to make this thing work and realizing I didn't like it from the beginning and I wasn't going to be able to make it work. It probably isn't good when you make that decision when it is presented to you.
A lot of the failure of that character is really due to me and the fact that I just couldn't get into it. Nevertheless, as things progressed, and I did not have the best of attitudes at times, I remember one day Mark Calaway, The Undertaker, took me aside and was telling me that I better basically get myself in gear because if I didn't, I wasn't going to have a job there very long.
He said he liked me and Vince liked me and all that stuff, but I had to prove that I belong. That's when I decided really, that yeah, I didn't necessarily have what I wanted, but if I kept moping around, I was never going to get what I wanted.
So, I had to do the best with what I had and that's what I tried to do. Even though initially it was not my dream character by any stretch of the imagination, it allowed me to get my foot into the door and give myself another chance."
He also gave his thoughts on the late Pat Patterson.
"I was very fortunate to know Pat. Of course, he was very influential in my career as a booker, a mentor, and in-ring stuff with him and Gerry Brisco when they were together which was always a lot of fun. Pat really is a legend. I think sometimes we use that term a little too loosely, but definitely, in his case, it applies."
Also Read: Kane Comments On Luke Harper's Death
WATCH: Maria Kanellis' Juggs Groped By Shelton Benjamin:
You can download our official WrestleFeed mobile app to check out more Wrestling news & Divas content. Tap here to download.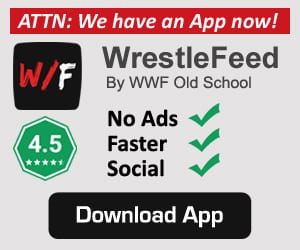 • Legendary Old School WWF Commentator Celebrates His Birthday
Legendary Old School WWF Commentator "Good Ol' J.R." Jim Ross (Real name: James William Ross) turns 69 today.
Ross started to make a name for himself as an announcer and on commentary in Bill Watts' UWF Mid-South Wrestling Territory and came to Jim Crockett Promotions when they bought the promotion in 1987.
In 1993, Vince signed J.R. to a World Wrestling Federation contract and Ross made his TV debut at the 'WWF WrestleMania 9' PPV.
Him and Jerry "The King" Lawler are considered the voices of the legendary Attitude Era, which is why they got inducted into the WWE Hall of Fame in 2007.
HAPPY BIRTHDAY J.R.!