• "I might even get on top of my wife tonight" – Brock Lesnar Said This 13 Years Ago Today At UFC 100
UFC 100 took place 13 years ago. This pay-per-view drew 1.6 million buys and was the most bought UFC PPV at that time (the record was then broken at UFC 202 by Conor McGregor vs. Nate Diaz 2 and that record was also broken later).
This PPV was main evented by UFC Heavyweight Champion Brock Lesnar facing Interim Heavyweight Champion Frank Mir. Lesnar beat Mir via TKO to become the Undisputed UFC Heavyweight Champion.
This was the second fight between Lesnar and Mir. Their first fight took place at UFC 81, which was Lesnar's debut UFC fight (and his second MMA fight overall).
In the 1st fight, Lesnar was dominating Mir and even busted him open, but the veteran Mir picked up the win after Lesnar made a rookie mistake and got caught in a kneebar submission.
Mir later went on to disrespect Lesnar and mocked his past in the WWE, saying things like "this isn't the WWE".
Lesnar was very angry heading into UFC 100, and it was pretty visible after the fight.
After brutalizing Mir and winning the fight, Lesnar immediately got in Mir's face and shouted "talk all the sh*t you want now, motherf***er".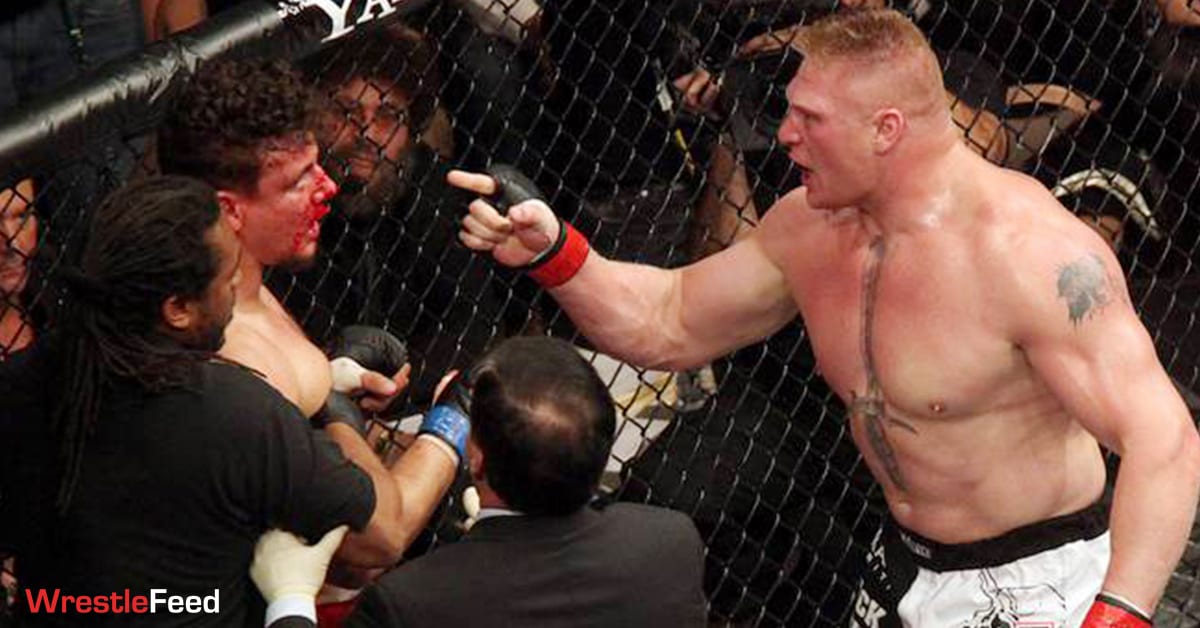 You can watch his post-fight interview below (which also shows the finish of the fight):
Lesnar also took a shot at UFC's sponsor Bud Light in the post-fight interview, but that was edited off in the above video.
You can watch Lesnar promote Coors Light instead of Bud Light below:
During the post-PPV press conference, Lesnar apologized for this comment (as Coors Light is the rival of Bud Light).
Below is the transcript for this iconic post-fight interview:
"Frank Mir had a horseshoe up his a$$! I told him that a year ago. I pulled that sumb*tch out and I beat him over the head with it! WOOOOOOO!
I love it…I love it. I'm going to go home tonight. I'm going to drink a Coors Light. That's a Coors Light because Bud Light won't pay me nothing.
I'm going to sit down with my friends and family. And hell, I might even get on top of my wife tonight. See you all later."
ALSO CHECK OUT: Brock Lesnar Destroyed Former Tag Team Champions On Tonight's RAW
WATCH: Sable (Brock Lesnar's Wife) Gets Stripped At WWF Unforgiven 1998:
• ON THIS DAY IN WWF HISTORY (July 11, 1994) – WWF Monday Night RAW
On this day in 1994, the World Wrestling Federation aired another episode of their weekly TV show 'WWF Monday Night RAW'.
It was broadcasted from the Fernwood Resort in Bushkill, Pennsylvania and featured matches, interviews & storyline segments on the road to the 'WWF SummerSlam 1994' PPV.
Here's the match-card:
1. Bret Hart vs. The 1-2-3 Kid
2. Crush vs. Matt Hardy
3. Razor Ramon vs. Barry Horowitz
4. Irwin R. Schyster vs. Ray Hudson