• ON THIS DAY IN WCW HISTORY (June 2, 1997) – WCW MONDAY NITRO
On this day in 1997, Ted Turner's World Championship Wrestling aired another LIVE episode of their weekly TV show 'WCW MONDAY NITRO'.
It was broadcasted from the Hara Arena in Dayton, Ohio and featured matches & storyline segments on the road to the 'WCW The Great American Bash 1997 PPV.
The card can be found here:
Glacier vs. Alex Wright
Buff Bagwell vs. Joe Gomez
Prince Iaukea vs. Hugh Morrus
The Great Muta & Masahiro Chono vs. The Steiner Brothers
Dean Malenko vs. Michael Wallstreet
Damian & Ciclope vs. Harlem Heat
Chris Benoit vs. The Barbarian
Ric Flair vs. Scott Hall
• Jaxson Ryker Said "Black Lives Matter" Movement Is Garbage, His Sister Calls Him Out
Jaxson Ryker (Chad Lail) of The Forgotten Sons from WWE SmackDown got a lot of heat from WWE and AEW wrestlers for the tweet he shared in support of President Donald Trump last night.
A fan has now found out a post he wrote on Facebook a year ago, where he shared his opinion on the Black Lives Matter movement. The privacy settings have now been changed on his account so the post cannot be accessed anymore.
You can read it below:
"Pretty touchy subject but all this black lives matter garbage baffles me. I challenge anyone of any color or race to go watch 12 years a slave, the movie and realize how good you all actually have it. Learn heritage. Christ, Gandhi, Budda; they all Taught love and caring for others. This is getting out of hand. I Pray for this nation daily."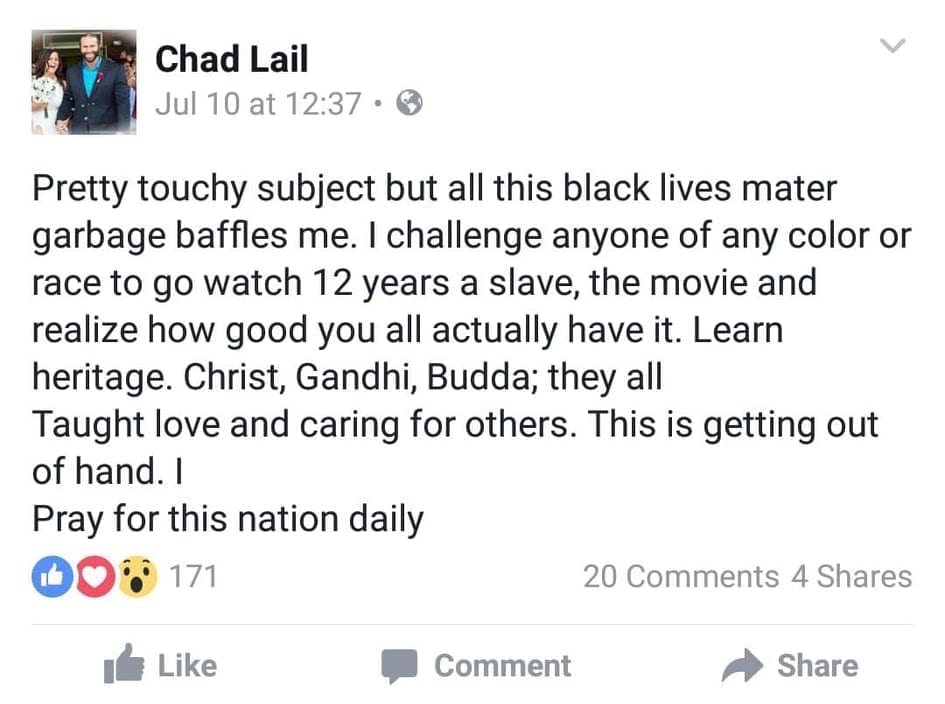 Also, Ryker's sister was surprised to find out what he posted on Twitter last night and expressed her disappointment about it.
It's sad I had to get on Twitter and see that my own biological blood brother agrees with the BS that comes out of Donald Trump's shythole of his mouth. I am officially ashamed. Same mother different father…I stand with my black brothers and sisters on this. #thishurts

— Qxyn34 (@Tre34qxyn) June 2, 2020
On top of 8 black nieces, nephews, as well as a black brother-in-law. Trump and the Gov't need to be broken down and this Gov't needs to fall and change for the better.
I now know where you stand and where you will be when the fight breaks out. You'll be on the other side.

— Qxyn34 (@Tre34qxyn) June 2, 2020
Also Read: More WWE & AEW Wrestlers React To Jaxson Ryker's Tweet About Donald Trump