• Jim Cornette Thinks Tony Khan Is Going To F**k Up "AEW's Goldberg" With Current Storyline
At Double Or Nothing 2022, Wardlow defeated MJF to become an official AEW Superstar, who is no longer employed by MJF.
Now, "Smart" Mark Sterling has started a Class Action Lawsuit against Wardlow for attacking Security Guards.
On this week's Dynamite, Sterling gave Wardlow two choices – face him in court or face 20 AEW Security Guards.
So on next week's AEW Dynamite: Road Rager special episode, the following match will take place:
Plaintiffs vs. Wardlow in a 20-on-1 "Class Action" Handicap Elimination Match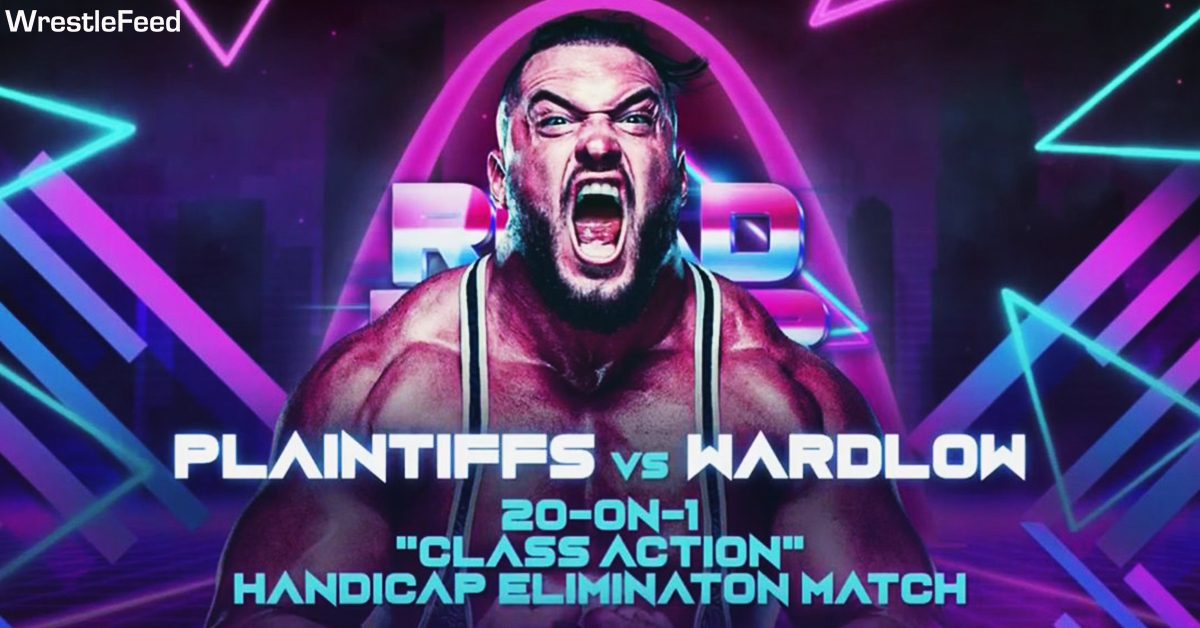 According to Jim Cornette, AEW President Tony Khan will f**k up Wardlow with this current storyline and instead of becoming the next Goldberg, Wardlow will end up becoming Tomko.
Here's what Cornette said on his podcast:
"Wardlow's free. He's not tethered to a heel that has taken advantage of him. He doesn't have an antagonist. So now, Tony Khan is going to start booking him.
This could be Goldberg or this could be Tomko. As you know, remember Tomko when he was gonna be the biggest babyface in TNA Wrestling in 2007 until sh*t-stain figured out a way to do it even better and killed him and the whole deal.
That would have helped instead of what they did here because after the 'one, two, three', Tony Schiavone gets in the ring to interview Wardlow, who doesn't get the chance to speak one word before here comes Mark Sterling, the fake lawyer with the fake security.
And Sterling does a fake promo where he has filed a fake class action suit on behalf of a fake security company that are mad because their fake security guards have been getting beat up by Wardlow.
Wardlow powerbombs one of them it's Gaga. Keep Wardlow out of the comedy. Keep Wardlow out of interacting with f**king underneath preliminary and middle card talent.
They've not learned a goddamn thing. Now they're gonna make him silly and the people are gonna go okay, well. Yes, it was silly.
The idea that he would be an indentured servant to MJF and then he'd have to do all these things, jump through these hoops to get out of his contract, but at least you had a guy like MJF that could verbally carry this thing and make it plausible. And had such charisma, personality, heat getting ability that he could get people into the thing and they wanted to see the the big Wardlow break away from his evil captors blah blah blah.
But now if you're putting this guy with Mark Sterling's of the world and comedy underneath figures and doing fake sh*t with him without an MJF there and for what? For no real goal you've just, it's f**king him up. They've got him this far.
And like you said, boy, they could have smashed him over for the TV Title. Or he could have done something to make some impact in some other way or just give him wins and be done with that into you've got something but don't give him a win and then put him in phoney bullsh*t. And people just go ah f**k."
Also Read: AEW Rampage Spoilers: 4 In-Ring Debuts Took Place
WATCH: Charlotte Flair Accidentally Exposed By Lana:
• ON THIS DAY IN WWF HISTORY (June 8, 1998) – WWF RAW IS WAR
On this day in 1998, the World Wrestling Federation aired another LIVE episode of their weekly TV show 'WWF RAW IS WAR'.
It was broadcasted from the Metro Centre in Chicago, Illinois and featured matches, interviews & storyline segments on the road to the 'WWF King of the Ring 1998' PPV.
Here's the match-card:
1. King Of The Ring Qualifying Match: Ken Shamrock vs. Kama Mustafa
2. Faarooq & Steve Blackman vs. Jeff Jarrett & Marc Mero
3. King Of The Ring Qualifying Match: Owen Hart vs. 2 Cold Scorpio
4. Chainz vs. Darren Drozdov
5. Mark Henry vs. Vader
6. King Of The Ring Qualifying Match: Dan Severn vs. D'Lo Brown
7. Dustin Runnels vs. Val Venis
8. WWF World Tag Titles – Three Way: New Age Outlaws vs. D.O.A. vs. LOD 2000