• Jim Ross Recalls Intense Fight Between Shawn Michaels & Bret Hart Backstage After Michaels Implied That Hart Was Cheating On His Wife
During a recent edition of his Grilling JR podcast, WWE Hall Of Famer Jim Ross recalled a fight backstage between Shawn Michaels and Bret Hart on RAW.
Ross first compared Vince McMahon's treatment of Michaels and Hart.
"There was only one guy that could pull those guys back in line and get them refocused on the business at hand and that was Vince. Vince was walking around Bret like he's on pins and needles and Shawn was Vince's boy in that era."
Ross then recalled Michaels showing up drunk on RAW, where he implied live on TV that Hart had been cheating on his wife with WWE Hall Of Famer Sunny. Shawn said, "Everyone knows you've been having Sunny days."
"That should not have been included in a promo. The topic was too personal, too close to home. The main issue is that the talent may say 'I was just trying to make it real.' Okay, your point can be made but it's still not the right thing to do. Your reasoning is stupid. Bret had children that were religious viewers of Monday Night RAW. Young influential kids.
I give a sh*t about that. I really do. Being in the talent relations role you have to deal with all those issues. How do I tell Bret how to make his wife calm down? I don't know. You're putting me in a position I can't address well and I can't solve your problem.
I wish I could but I can't this time. All because somebody wanted to be reality based and be able to pop the boys, especially their boys. I'm sure nobody laughed louder at that 'Sunny days' remark than Kevin [Nash] and Scott [Hall] down in Atlanta.
We knew there was no way [Shawn] could wrestle. He seemed to be impaired. It was no secret because Shawn was getting attention. He was isolated in a locker room, he was moving around the general population. We knew he couldn't wrestle. I wasn't crazy about the interview because I knew he was going to use it to forward his own agenda.
He had to dance to the beat of his own drum. He had to create his own content. All of those things are good in theory, but sometimes the execution of those theories is just detrimental to the team effort, but that never seemed to bother Shawn at that time."
Ross then talked about Michaels and Hart getting into a fight backstage.
"I got there about 30 seconds after it ended. [Pat] Patterson was deep in it. Patterson loved those two guys like sons. Pat would say Shawn Michaels is as close to Ray Stevens as anybody he's ever seen. Before there was Ric Flair, there was Ray Stevens.
I remember Shawn lost a lot of hair. Bret was ripping and tearing at anything he could get ahold of. Lawler was in there, Patterson was in there, they took Patterson down. Nobody really got hurt, it wasn't a fight that saw teeth pulled out and noses broken. It wasn't that extreme but it was intense. Then you have to handle all of this sh*t. Shawn wanted to go home and Bret stuck around. Shows you the difference of mentality."
WATCH: Sunny Shows Off Her Bare Buns:
You can download our official WrestleFeed mobile app to check out more Wrestling news & Divas content. Tap here to download.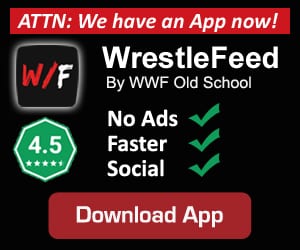 • Old School WWF Veteran Celebrates His Birthday
Old School WWF Veteran Sniper (Real name: Luc Poirier) celebrates his 59th birthday today.
Most of us remember Poirier as Sniper, who was a member of the World Wrestling Federation faction 'The Truth Commission' in 1997 & 1998, but he was also a pretty big star in Europe, where he was known as Rambo.
While he didn't achieve much success, if any at all, during his WWF days, Rambo did become a 4 time CWA World Heavyweight Champion in AWA Legend Otto Wanz's Catch Wrestling Association, which used to be Europe's biggest promotion back in the day.
HAPPY BIRTHDAY SNIPER!