• Joe Rogan Accuses Conor McGregor Of Doing Steroids, McGregor Responds (Photo)
Ever since he broke his leg last year during his 3rd fight against Dustin Poirier, former 2-division UFC Champion Conor McGregor has been training hard in the gym.
He has put on a lot of muscle mass and recently teased joining the UFC's Welterweight Division (170 lbs), where he has competed before.
You can check out his recent photo below: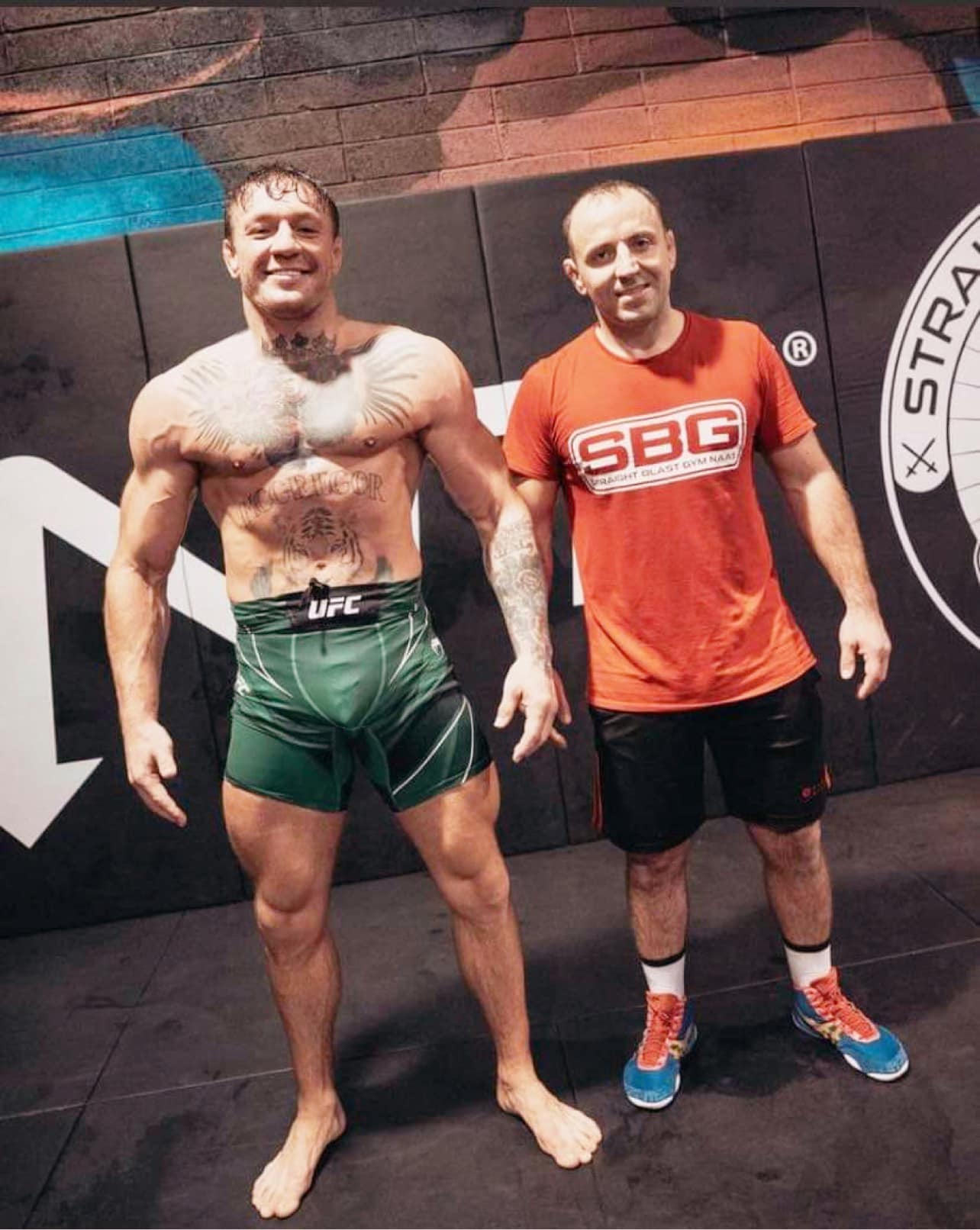 Many fans and fitness industry experts have speculated that McGregor has used PEDs to achieve his above shown physique, as it's a high possibility that he was medically prescribed some stuff by the doctors to heal from his injury, and he made the most of it by working out hard and eating right.
It looks like McGregor indirectly confirmed PED use when he tweeted the following about his UFC status:
"I am clear for (drug) testing in February. I will complete my two tests per USADA and we are booking a fight."
UFC Commentator Joe Rogan said the following about McGregor on his podcast:
"He's taking his shirt off and posing constantly, and he looks like his piss would melt that USADA cup. Like, it would just like burn a hole right through the bottom of that USADA cup.
The weird thing is that there is a loophole in USADA that allows you to get out of the testing pool. You can get out of the testing pool and just juice up."
Derek from More Plates More Dates (who is an expert on PEDs) was a guest on Rogan's podcast, and Rogan asked him what McGregor could have used.
Here's what Derek said:
"HGH, peptides, androgens are very restorative – they'll reinforce bone mineral density. Like, there's certain stuff that's going to stay in the system for a long time he could never use.
But on the bio-identical side, anything pro-bone integrity, infrastructure enforcing, I would be highly incentivized. If I was him and I wasn't being tested, I'd be pushing that vector hard."
McGregor heard Rogan's comments and took to Twitter to share photos of Rogan's physique over the years and wrote:
"Joe looks like his piss melts his knickers, in the company that long and never took a fight hahaha @UFC oh tae kwon do competition, call the cops hahahahaah"
He later deleted this tweet, but below is a screenshot: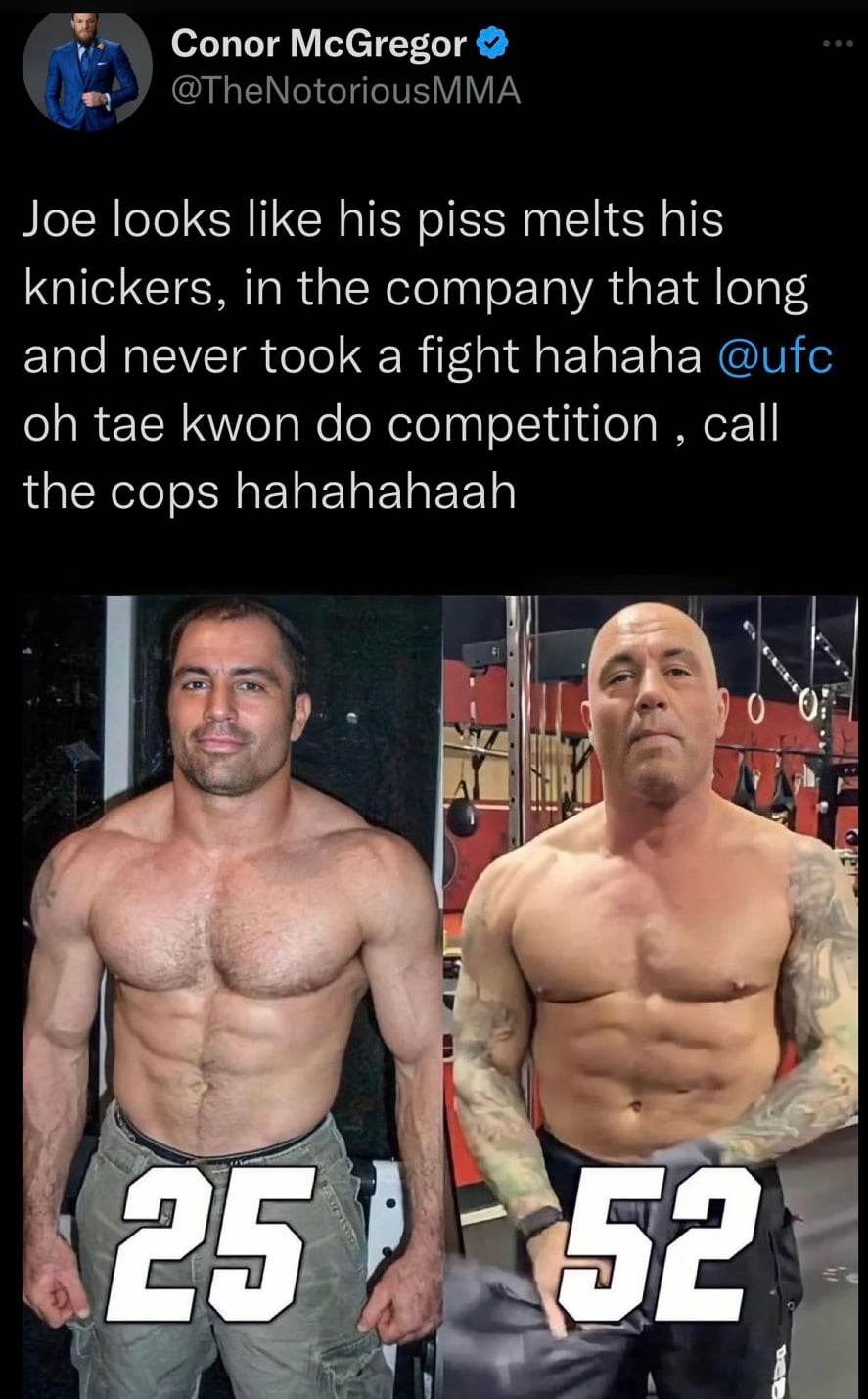 Also Read: Joe Rogan Wants The Rock To Come Clean About Steroid Use
New Video: Stacy Keibler Exposed By Trish Stratus:
• ON THIS DAY IN WCW HISTORY (December 6, 2000) – WCW Thunder
On this day in 2000, Ted Turner's World Championship Wrestling aired an episode of their weekly TV show 'WCW Thunder' on TBS.
This episode was pre-taped at the Pershing Auditorium in Lincoln, Nebraska and featured matches & storyline segments on the road to the 'WCW Starrcade 2000' PPV.
The card of the show can be found here:
Mark Jindrak & Sean O'Haire vs. Jamie Noble & Evan Karagias
Hardcore Match: Sgt. AWOL vs. Bam Bam Bigelow
The Cat & Jung Dragons vs. Lance Storm & Elix Skipper & Jim Duggan
WCW Cruiserweight Title: Chavo Guerrero Jr. vs. Mike Sanders
Bryan Clark vs. Big Vito
Goldberg vs. Shane Douglas