• Old School Wrestling Veteran Would Have Celebrated His Birthday
Today would have been the 47th birthday of "No Gimmicks Needed" Chris Candido (Real name: Christopher Candito).
Candido was in a lifelong relationship with his high school sweetheart Tammy Sytch and together they joined the World Wrestling Federation in 1995 as "The Body Donnas" with Chris becoming "Skip" and Tammy became "Sunny", before both were joined by "Zip" (Dr. Tom Prichard).
In 1996, The Body Donnas won the vacant WWF World Tag Team Championship, but Chris left the promotion before the year was over and jumped ship to Paul Heyman's Extreme Championship Wrestling, where he wrestled until 1999 and then joined Ted Turner's World Championship Wrestling for a brief run in 2000.
HAPPY BIRTHDAY & † REST IN PEACE!
March 21, 1972 – April 28, 2005
• John Cena Takes A Shot At Baron Corbin Ahead Of WrestleMania 35
As seen on this week's episode of RAW, WWE Hall of Famer Kurt Angle announced that he'll be facing Baron Corbin in his retirement match at WrestleMania 35.
This didn't sit well with wrestling fans as most of them wanted Angle's final opponent to be 16 time WWE World Heavyweight Champion John Cena.
Below is what WWE Hall of Famer Jim Ross tweeted regarding this match:
Underwhelming. https://t.co/BzUZL4Ip1A

— Jim Ross (@JRsBBQ) March 19, 2019
Angle's wife, Giovanna Angle, tweeted the following response to JR's tweet: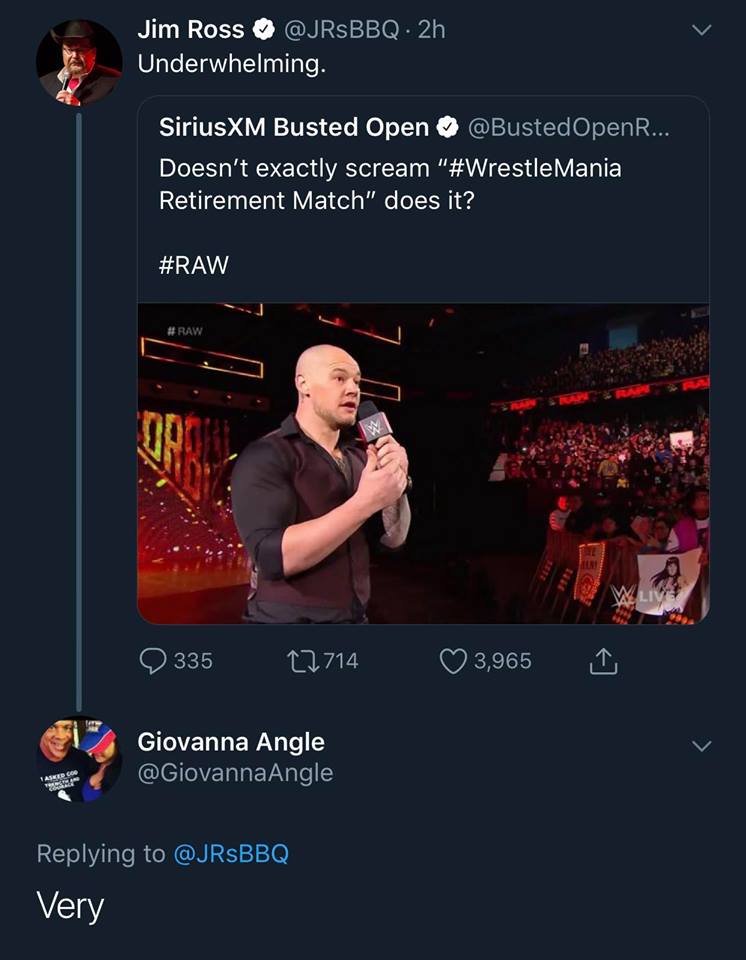 Giovanna later deleted this tweet and then tweeted the following:
Guys, it's pro wrestling. Its like watching a movie. I'm no way upset with my husband wrestling Corbin. Lol I love having fun with yall. But It is really nice to see how many fans support Kurt on how he should be sent off. ❤ #AllLove

— Giovanna Angle (@GiovannaAngle) March 19, 2019
According to PWInsider, Angle wanted a high profile farewell match at WrestleMania 35 (which would've been against someone like John Cena or The Undertaker), but it looks like WWE has better plans for Cena and Taker.
Angle & Corbin have faced off in singles matches before as well and Corbin beat Angle in those matches.
Speaking of Angle vs. Corbin, John Cena posted the following regarding Baron Corbin on Instagram:
View this post on Instagram