It's September 12th 2023 and Endeavor now officially owns WWE. Vince McMahon is no longer in full control of the company that he ran for 40 years.
Endeavor issued the following press release today:
BEVERLY HILLS, Calif. & STAMFORD, Conn.–(BUSINESS WIRE)–Endeavor Group Holdings, Inc. (NYSE: EDR) ("Endeavor") and World Wrestling Entertainment, Inc. (previously NYSE: WWE) ("WWE") today announced the close of their previously announced agreement and the launch of TKO Group Holdings, Inc. (NYSE: TKO) ("TKO").
TKO brings together UFC, the world's premier mixed martial arts organization, and WWE, an integrated media organization and the recognized global leader in sports entertainment, to create a new premium sports and entertainment company serving more than one billion young and diverse fans1, reaching viewers in 180 countries, and producing more than 350 annual live events. Through this combination, TKO will leverage Endeavor's expertise in areas including domestic and international media rights, ticket sales and yield optimization, event operations, global partnerships, licensing, and premium hospitality to drive revenue growth.
"The creation of TKO marks an exciting new chapter for UFC and WWE as leaders in global sports and entertainment," said Ariel Emanuel, CEO of Endeavor and TKO. "Given their continued connectivity to the Endeavor network, we are confident in our ability to accelerate their respective growth and unlock long-term sustainable value for shareholders. With UFC and WWE under one roof, we will provide unrivaled experiences for more than a billion passionate fans worldwide."
"This is the culmination of a decades-long partnership between Endeavor and WWE across strategic initiatives including talent representation and media rights. Given our collaborative, trusted relationship and Endeavor's incredible track record of success growing UFC, we believe WWE is optimally positioned for future growth and success as part of TKO," said Vince McMahon, Executive Chairman of TKO. "Our focus remains on delivering for our fans across the globe as we take the business to the next level alongside UFC and Endeavor."
Below is the view outside of the New York Stock Exchange this morning, where you can see the logo for TKO: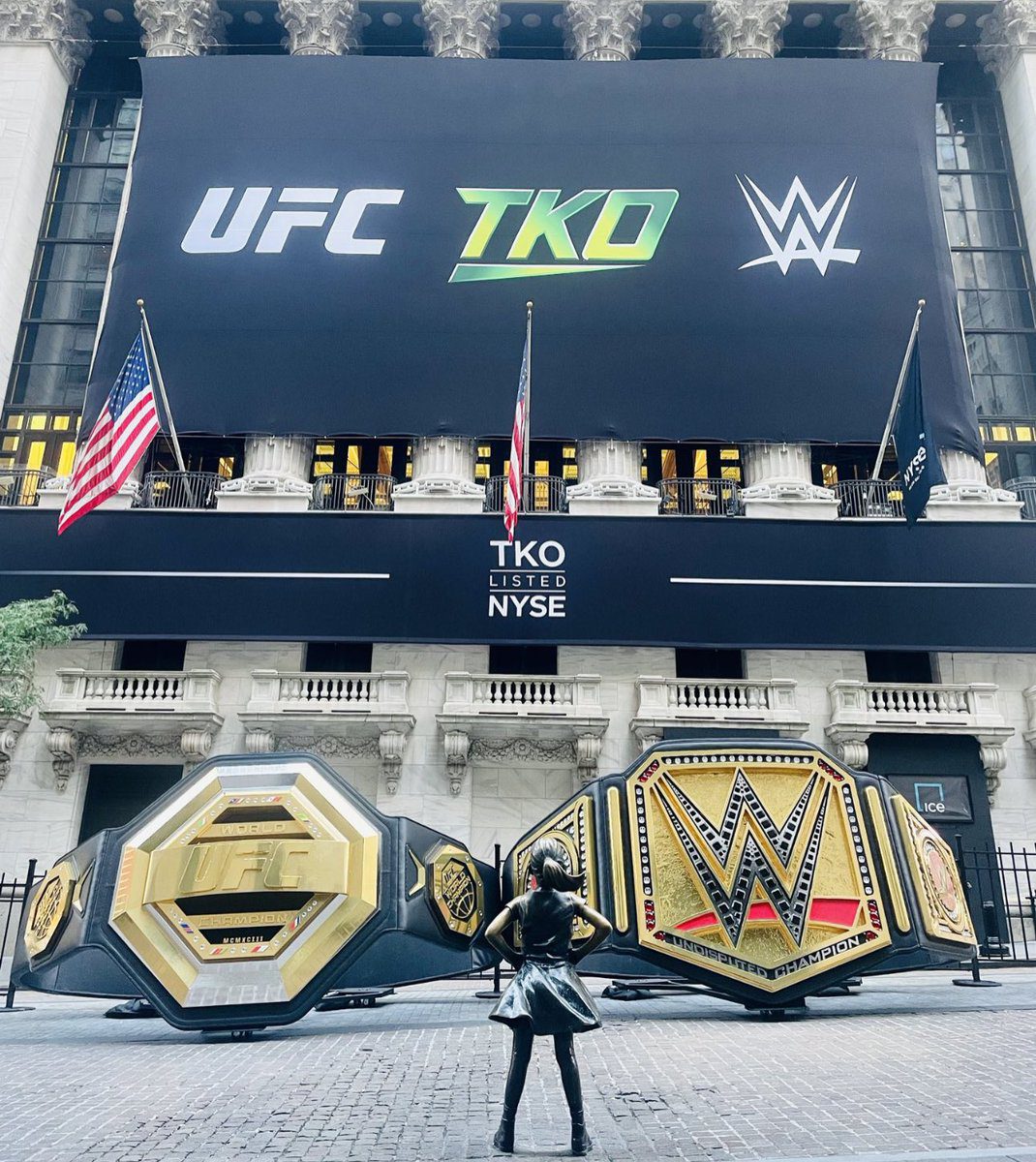 Also Read: Vince McMahon Is Back (Details)
WATCH: Vince McMahon Kisses Candice Michelle (Part 1):