• Major Update On Alberto Del Rio Sexual Abuse Incident, Ex-Girlfriend Issues Apology
As noted before, former WWE wrestler Alberto Del Rio, was accused of sexual abuse by his ex-girlfriend back in May, which led to Del Rio being arrested in San Antonio, Texas.
She has now issued an apology to Del Rio's family on Instagram.
You can read it below:
"An apology to the Rodriguez del Rio family for the damages caused by my mistakes." (Translated from Spanish)
View this post on Instagram
Del Rio's brother, Hijo De Dos Caras, responded to the post with the following statement on Facebook:
"Well gang, as everyone knows the truth always falls under its own weight. After so many and so many months, finally the garbage person who accused my brother of something totally false spoke with the truth admitting her lie and, although she apologized in such a mean way, after all that she caused my brother already my family both personally and professionally.
I hope it serves so that those people who destroyed my carnal open their eyes and so that those people who supported him and did not turn their back on him do justice because in the end he, like many other celebrities, was the victim of an advantageous and greedy person like so many who abuse the reflectors and try to profit at the cost of whatever … The truth will set you free." (Translated from Spanish)
This statement from his ex-girlfriend doesn't change Del Rio's situation legally, as he's still facing those charges and will have trial in January.
As of now, the girl hasn't dropped charges against Del Rio, and it should be noted that she only apologized to his family and not him.
WWF Old School/WrestleFeed will keep you updated regarding the situation.
Also Check Out: Fans Discover Video Of A WWE Wrestler Without Clothes
WATCH: The Undertaker's First TikTok Video:
You can download our official WrestleFeed mobile app to check out more Wrestling news & Divas content. Tap here to download.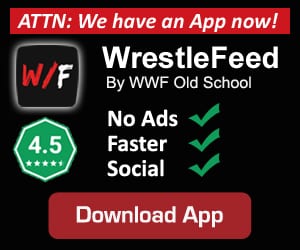 • Old School Wrestling Veteran Celebrates His Birthday
Old School Wrestling Veteran Rob Conway celebrates his 46th birthday today.
After doing several jobs on World Wrestling Federation TV in 1999, 2000 & 2001, Rob Conway became a regular member of the full time (now World Wrestling Entertainment) roster in 2003 when he joined the team of La Résistance.
He was released from his WWE contract in 2007 and eventually ended up winning the NWA World Heavyweight Championship on the indies in 2013.
HAPPY BIRTHDAY ROB CONWAY!