Matt Riddle made his WWE main roster debut in the summer of 2020, and got a big win over then Intercontinental Champion AJ Styles in a non-title match on his first night as a SmackDown Superstar.
The Original Bro rubbed many people like Brock Lesnar, Goldberg, Randy Orton and Seth Rollins the wrong way during his early days in WWE.
Riddle also made Undisputed WWE Universal Champion Roman Reigns unhappy during his early days on the main roster when he said in an interview that he could beat him in a real-life fight.
Despite all that, Riddle still managed to survive on the main roster for a few years.
In 2021, Riddle won the United States Championship and went on to win over Orton and form RK-Bro with him later that year. The two won the RAW Tag Team Championship twice within a year.
RK-Bro was one of the most over acts, but it unfortunately ended abruptly when Orton suffered a back injury and was written of WWE programming in May 2022.
Riddle's WWE career started to go downhill while he also faced problems in his real life.
He and his ex-wife Lisa got divorced last year and Riddle stated on WWE's After The Bell podcast that his personal life was "in shambles" when Seth Rollins brought up his divorce during their feud last year.
The former United States Champion was a part of many other controversies as well. He was alleged of sexual assault soon after his main roster debut during the Speaking Out movement in pro-wrestling, which started in 2020.
His private videos also got leaked earlier this year, which happened soon after his return from rehab after violating WWE's Wellness Policy at the end of 2022.
According to the Wrestling Observer, several people in WWE noted that Riddle probably would have been among the top stars in the company, but because of the constant negative stuff that had come out about him, they were not going to push him past mid-card-level anymore.
Riddle was released by WWE last month alongside several other wrestlers.
Now, Riddle is launching his own cannabis strain titled "Riddle OG". Below is what he posted on his Instagram story: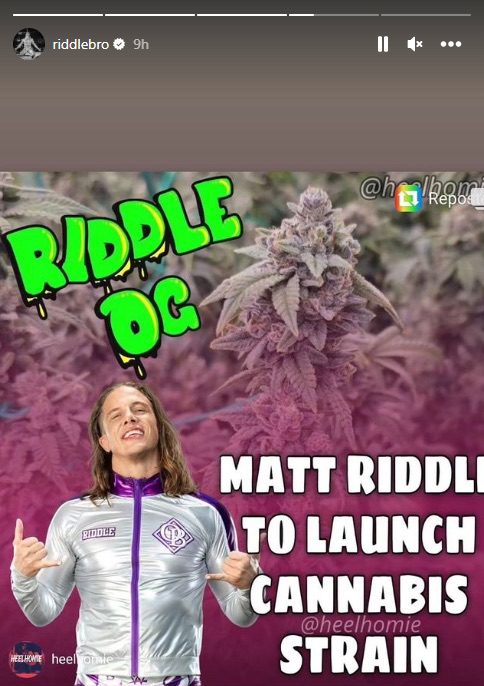 Also Read: Matt Riddle Reacts To Updated Controversial Story Of Him Stripping In A Women's Locker Room
New Video: Attitude Era Fan Exposes Herself Live On RAW (Uncensored Version):