• OLD SCHOOL VIDEO HISTORY (November 30, 1991) – WCW Power Hour
On this day in 1991, Ted Turner's World Championship Wrestling aired an episode of their weekly TV show 'WCW Power Hour'.
This episode featured pre-taped matches & storyline segments on the road to the 'WCW Starrcade 1991' PPV.
The card can be found below:
– Rick Steiner vs. John Faulkner
– Rick Rude vs. Johnny Rich
– Terry Taylor, Tommy Rich & Ricky Morton vs. Larry Santo, Lynn Fields & Joey Maggs
– El Gigante vs. Doug Somers
– Larry Zbyszko vs. Fire Breaker Chip
– Lex Luger & Harley Race Interview
– Dustin Rhodes & Bobby Eaton vs. Arn Anderson & Steve Austin (Eaton joins the Dangerous Alliance)
• More Women Show Proof Against James Ellsworth Ahead Of Allegations Against Him
Former WWE wrestler James Ellsworth has been accused by an underage fan of sending her inappropriate photos & videos of his private parts.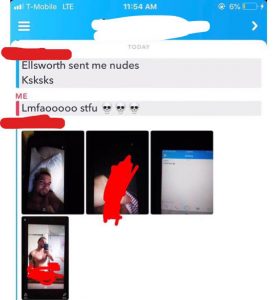 After hearing about these allegations, Ellsworth issued the following statement:
My client, James Morris, known publicly and professionally as James Ellsworth has become aware of a number of baseless allegations. Mr. Morris has the utmost respect for women and categorically denies these inflammatory and despicable accusations. Bates & Garcia, Attorneys at Law

— James Ellsworth (@realellsworth) November 16, 2018
The underage girl, Kenzie, later shared a video where she opened up about this incident and said the following:
"He is a celebrity, so obviously he's going to bring an attorney into this, but my family and I are considering pressing charges."
Ellsworth was scheduled to work a Big Time Pro Wrestling event in Raleigh, North Carolina, but he was told to leave when he arrived at that event due to these allegations.
Following these allegations, Ellsworth also got fired from Grim's Toy Show on YouTube:
Guys thank you all for the concern be assured we feel the SAME way. We will no longer have Ellsworth as part of our youtube show. More information here: https://t.co/Tk6LyFG3pR https://t.co/PTRddXb3Dh

— GTS GRIM (@GrimsToyShow) November 17, 2018
After losing a lot of work on the indy scene, Ellsworth finally issued a statement where he noted that his legal team has found concrete evidence of his innocence.
Below is the statement:
"Recently, allegations of misconduct have been lodged against me which I categorically deny. I never have, nor will I ever engage in any activity that could be deemed as inappropriate or disrespectful.
My delay in publicly commenting on this situation was based on the advice of my legal team which has just completed a thorough investigation. My attorneys have pinpointed a trusted witness who is willing to testify on my behalf.
In addition, they have uncovered concrete evidence that supports my innocence and proves that without a shadow of a doubt the social media accounts alleged to be mine are fake and the messages from the account were fraudulently created without my knowledge or consent.
My only hope is to restore my reputation as I, along with my family, friends, and supporters have suffered because of a social media stunt devised to end my professional wrestling career.
My team and I are prepared to pursue legal action against any party that persists with the promotion of these lies."
Thanks for the love and support .. pic.twitter.com/BuFXPMu907

— James Ellsworth (@realellsworth) November 29, 2018
After Ellsworth issued his statement, more women have come forward and posted proof against him.
You can check it out below:
"I never have, nor will I ever engage in any activity that could be deemed as inappropriate or disrespectful"

This ain't it chief @realellsworth

(More screenshots I've got sent)#WWE #WWENXT #JamesEllsworth #ImpactOnPop #NXTUK #NXT #WatchROH pic.twitter.com/HPzBJSZzLr

— Kenzie ? (@Kliqkid) November 30, 2018
More evidence of @realellsworth being an online creeper of women with sexual harassment. Is this also fake James? @ryansatin @WrestlingInc @ProWrestlingMag @myringsidenews @ENOKNATION @davemeltzerWON @SeanRossSapp @lordsofpain @nodqdotcom pic.twitter.com/BeGJfejLZY

— GTSBackstageBuzz (@BuzzGts) November 30, 2018
@myringsidenews @RajahNews here is @realellsworth being a big creep to me since 2012. Tell me is this fake??? #JamesEllsworth #jamesellsworthiscancelled #fuckjamesellsworth pic.twitter.com/v2d0zSxDkk

— Lindsey Bartlett (@lindseyrbhair) November 29, 2018