• OLD SCHOOL VIDEO HISTORY (January 26, 1985) – NWA World Wide Wrestling
On this day in 1985, Jim Crockett Promotions aired an episode of their weekly TV show 'NWA World Wide Wrestling'.
This episode included pre-taped matches, interviews & storyline segments featuring the 1985 NWA Wrestling Superstars.
The card can be found below:
Buzz Tyler vs. Doug Vines
Magnum T.A. vs. Mike Fever
Ron Bass & Black Bart vs. Denny Brown & Frank Lang
Wahoo McDaniel vs. Sam Houston
Superstar Graham & Barbarian vs. American Starship
Mike Davis & Tommy Lane announce their retirement (WTF?)
Ivan Koloff vs. Lee Ramsey
• New Champions Crowned At NXT TakeOver: Phoenix
In the opening match of tonight's NXT TakeOver: Phoenix event, The War Raiders defeated The Undisputed Era to become the new NXT Tag Team Champions.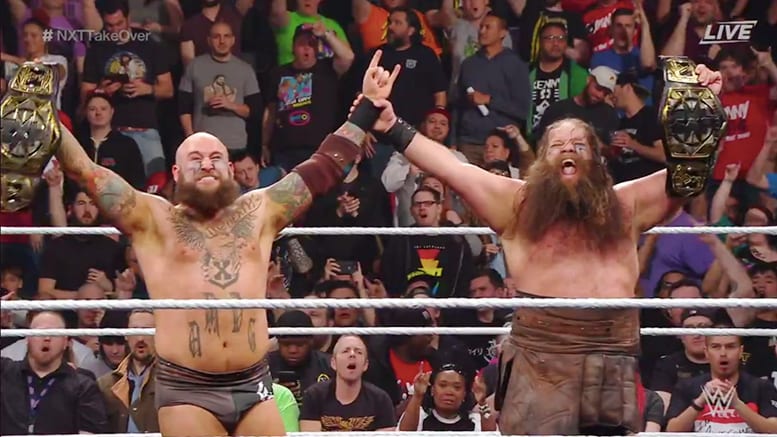 Below are some GIFs from the match (including the finish):
.@WarBeardHanson with the help of @RAYMONDxROWE takes down Roderick and Kyle. #NXTTakeOver pic.twitter.com/Ld0htO81CD

— Italo Santana ?? (@BulletClubIta) January 27, 2019
.@RAYMONDxROWE is not impressed. #NXTTakeOver pic.twitter.com/u82j9I8w6S

— Italo Santana ?? (@BulletClubIta) January 27, 2019
.@WarBeardHanson CRASHES AND BURNS. #NXTTakeOver pic.twitter.com/sAY8dzyxoI

— Italo Santana ?? (@BulletClubIta) January 27, 2019
Sick Explodet Suplex by @RAYMONDxROWE! #NXTTakeOver pic.twitter.com/8tjb8C4Vcg

— Italo Santana ?? (@BulletClubIta) January 27, 2019
Pop-Up Powerslam followed by a Tope Suicida from @WarBeardHanson! @RAYMONDxROWE #NXTTakeOver pic.twitter.com/AB3F9ht14n

— Italo Santana ?? (@BulletClubIta) January 27, 2019
Superplex from @roderickstrong followed by a King Kong Knee Drop by @KORcombat! #NXTTakeOver pic.twitter.com/FEqJOtwAgj

— Italo Santana ?? (@BulletClubIta) January 27, 2019
LOOK AT @WarBeardHanson #NXTTakeOver pic.twitter.com/kcyqaJf1yA

— Italo Santana ?? (@BulletClubIta) January 27, 2019
FALLOUT!!! @WarBeardHanson & @RAYMONDxROWE ARE THE NEW NXT TAG TEAM CHAMPIONS!!!! #NXTTakeOver pic.twitter.com/MTWxstckMB

— Italo Santana ?? (@BulletClubIta) January 27, 2019
WATCH: Amazing Video Of Charlotte Flair's Juggs: