• WCW & WWF Veteran Comments On WWE Firing Him After Naked Stinkface Incident
During an interview with The Hannibal TV, WCW & WWF Veteran Bill DeMott talked about someone telling naked stinkface incident (that led to his WWE firing) differently.
Below are the highlights:
On someone telling naked stinkface incident differently:
"They made a deal, they didn't want to train. They made a deal. What's the deal? 'I'll give somebody a squisher bare-a**ed with a jelly doughnut in their mouth.' I look around at 40 people and I went, 'Deal!' Guy gets naked, other guy sits in the corner with a jelly doughnut in his mouth, he runs across the ring, hits the Rikishi a** bump, squishes it all over the face.
Funniest thing I've ever seen in my life. Everybody goes, 'OK, we're done, everybody can go home, no training, no nothing.' That was the deal. Six years later, that picture comes out on the internet: 'Bill DeMott makes students train naked.'… Now, was it the smartest deal I ever made? No. But it was funny as hell. You're in a room with a bunch of people, all on the same page, they're tired for the week. Give me a deal and we're out. They made a deal, we stuck to the deal.
Six years later somebody who was let go from the company and wasn't satisfied told a different story: 'DeMott makes people train naked.' I'm an internet sensation overnight… There was no malice, there was no nothing, it was a story innocent with a bunch of men and women who trained together every day, that when things weren't going their way, turned around and handed it to somebody else."
On doing the same exact thing if he had to:
"To be honest I probably would do the same exact thing, but letting them know the repercussions… You start to feel entitled: 'Now you're paying me and now I don't want to do it so you have to find a way to make me feel better about myself.' So that was on me.
That's the one thing I would tell myself now: stick to what you know. Not, don't worry about hurting people's feelings or make them feel better about themselves, help them realize early on of what's needed and what it is."
• No Backstage Incident Involving Brock Lesnar – Vince McMahon – Shane McMahon At WrestleMania 34, Upcoming Plan For Lesnar – Reigns Feud Revealed
Pro Wrestling Sheet reported this week that there was an incident backstage at WrestleMania 34 where an angry Brock Lesnar threw the Universal Championship at Vince McMahon after his match and that this led to Shane McMahon almost fighting Lesnar.
Pro Wrestling Sheet also reported that Lesnar might have went off-script during the ending moments of the match.
However, that is NOT the case.
According to DirtySheets.Net, the source that has exclusively reported correct stories for over a year now, there was no backstage incident at WrestleMania 34.
They are reporting that Lesnar & Paul Heyman agreed to new deals on Friday and also agreed to work the Greatest Royal Rumble event on April 27th.
The match between Brock Lesnar & Roman Reigns at the Greatest Royal Rumble was originally supposed to be Lesnar's rematch for the Universal Championship (as Reigns was originally scheduled to win the Title at WrestleMania 34).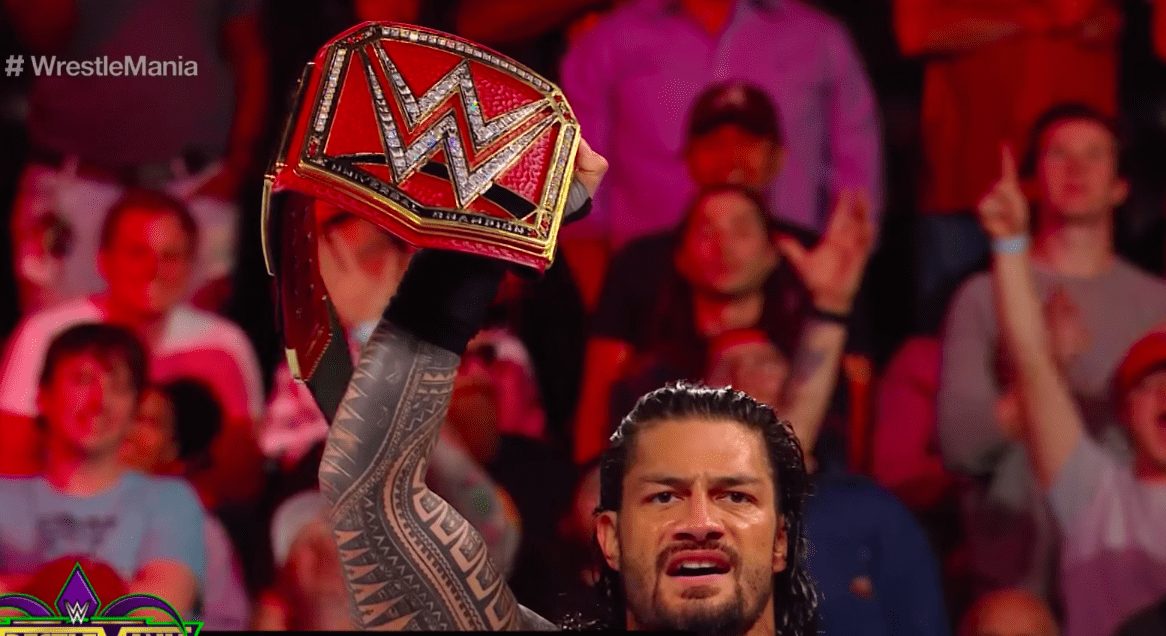 Vince changed his mind over the weekend and decided to book Lesnar to pin Reigns and shock the wrestling world.
Another reason behind this change was that Vince McMahon thinks Reigns would get a very good reaction in Saudi Arabia (similar to how he received thunderous positive crowd response at WWE Live Events in India).
There were no backstage incidents related to Brock Lesnar, but it should be noted that he was annoyed that night by the following two things:
1. Crowd Response: Lesnar wasn't happy with how the crowd reacted during his match with Reigns and left immediately after the match was over. Lesnar didn't even stay for his big pyro departure and this forced WWE to show a WrestleMania highlight video before the event was over (Reigns' departure was showed after this highlight video).
2. Amount of fans sneaking into the WrestleMania after party: Lesnar attended the WrestleMania After Party held at the Hyatt Hotel for only 15 minutes, where he talked to Ronda Rousey, Travis Browne (Ronda's husband & former UFC Heavyweight fighter) & Curtis Axel. Lesnar complained about the number of fans that managed to sneak into the party as he was asked for photos twice. Steve Austin left the party early for the same reason.