– Old School WWF Legend Says Indy Diva Will Never Make It
The longest reigning Intercontinental Champion in WWF/E history The Honky Tonk Man has posted a few times on Facebook about a female Independent Wrestler called Karen Q, who apparently had a WWE Tryout a few days ago, disrespecting him.
Here's what the Old School WWF Legend had to say about her:
"This chick was the most disrespectful lady wrestler of all time to HTM. Will never play on the main stage."
"Don't even know her name. Failed tryout last week in WWE and has an attitude, never make it to the big stage."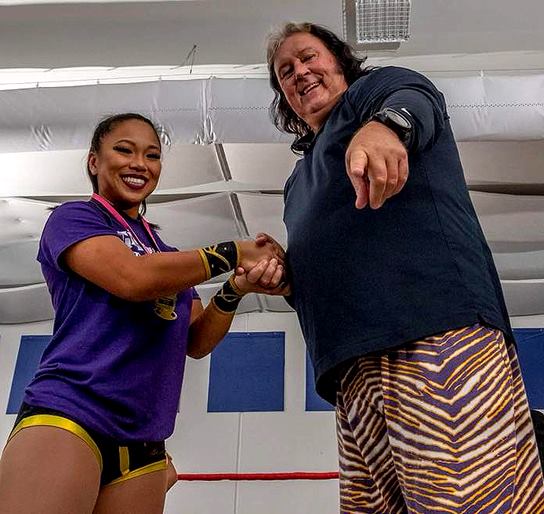 "Too bad she has an attitude after a failed WWE tryout last week. Not going to WWE now, best be humble."
"This disrespectful, smart a$$ attitude want to be a pro wrestler will never perform on the big stage. Just another smart a$$ want to be!"
At this point in time nothing else is known about this situation and what explicit incident eventually led to these posts, but we will keep you updated as soon as we got more information on this story.
– Several Old School Wrestlers Celebrate Their Birthdays Today!
Old School Territory Legend "The Universal Heartthrob" Austin Idol (Real name: Micheal McCord) turns 68 today.
Idol had his biggest success in the CWA Memphis Wrestling Territory, as well as the AWA & GCW Georgia Championship Wrestling.
HAPPY BIRTHDAY AUSTIN IDOL!
Old School Wrestling Legend "The Taskmaster" Kevin Sullivan celebrates his 68th birthday today.
After making a name for himself in a lot of different territories, Kevin Sullivan became the leader of his own faction in WCW, the infamous 'Dungeon of Doom'.
HAPPY BIRTHDAY KEVIN SULLIVAN!
Old School WWF Veteran "The Interrogator" Kurrgan (Real name: Robert Maillet) turns 48 today.
His biggest claim to fame in Pro Wrestling came in 1997/1998 as a member of the World Wrestling Federation stables The Truth Commission and The Oddities.
HAPPY BIRTHDAY KURRGAN!
Old School WWF Veteran Taka Michinoku (Real name: Takao Yoshida) celebrates his 44th birthday today.
Taka became the first ever WWF Light Heavyweight Champion when he defeated Brian Christopher at 'WWF In Your House 19: D-Generation X' on December 7, 1997.
HAPPY BIRTHDAY TAKA MICHINOKU!