• Otis Responds To Report Stating Vince McMahon Threw A Fit At Him For His In-Ring Skills
As we noted last week, it was reported by PWInsider that five WWE wrestlers will take two classes per week at the Performance Center to improve their in-ring skills as Vince McMahon thought so, and one of them was Otis.
In an interview with FOX Sports, Otis said the following about the report.
"I think it's always been there. It wasn't like, 'Hey, we were told this and that.' That Performance Center is a tool for us to get better. If another big man wants to come up to me and wants to work on stuff, or vice versa. We're always working.
So, that report was kind of funny at the same time. We're never not working. Especially now that we don't have live events, so we can't really get our stuff out. It's just bottled inside in a little bottle.
Right now it's like, we're not getting that stuff out there. So, we'll find more and more ways to get in the ring with each other. Which, nothing beats a crowd. That's the one thing I miss to this day is that crowd, man. Feeling that rush from there. The acceptance, you know what I mean? Especially my favorite towns. Milkwaukee? Good lord. Yeah, Milkwaukee. We're not getting that out so much.
But now it's time to get better. It really hasn't been set dates, there hasn't been set anything. It's just, like, when you want to come in, brother. Or I'll talk to Braun about something, so me and Braun will do curls for about thirty minutes. Then, let's talk about something over here. So, it's always been there. I don't know why it came in a big report gimmick. But, yeah, I don't know."
He also revealed that his interactions with McMahon have been very cool and funny, and both of them are big AC/DC fans.
WATCH: Sara (Undertaker's Ex-Wife) In Bikini – Part 1:
You can download our official WrestleFeed mobile app to check out more Wrestling news & Divas content. Tap here to download.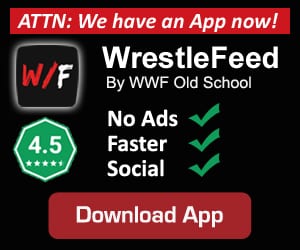 • Old School WWF Legend Celebrates Her Birthday
Legendary Old School WWF Attitude Era Diva Trish Stratus (Real name: Patricia Anne Stratigeas) celebrates her 45th birthday today.
Trish joined the World Wrestling Federation in 2000 as the valet for T&A, a tag team consisting of Test & Albert, but went on the wrestle for the Women's Championship, a title that she held 7 times over the years.
She ended up becoming the #1 diva of the famous Attitude Era and also the Ruthless Aggression Era, which is why Trish was honored in 2013, when Stephanie McMahon inducted her into the WWE Hall of Fame.
HAPPY BIRTHDAY TRISH STRATUS!