– Clarification Regarding Who Came Up The "Hell in a Cell" Name & Concept
During a recent edition of "The Brand" podcast, former WWF writer Vince Russo clarified who came up with the "Hell in a Cell" name & concept due to Bruce Prichard (f.k.a Brother Love in the WWF) having some confusion and calling out Russo for lying.
Below is what Russo said:
"When we were talking about the very first Hell in a Cell, I vividly remember, it was me, Cornette and Vince McMahon. The Hell in a Cell was Vince's vision, concept and idea and, bro, I guarantee you that came from Taker and Shawn where they wanted to do a cage match but they wanted to fight outside the cage.
So I'm sure they triggered, they got in Vince's head and Vince started thinking about this freaking structure that goes outside the ring. 1000% Vince's vision. I've said that a million times and it's me, him and Cornette talking about it. So as we're talking about it, I simply start with freaking rhyming things. That's where I always start. That's the simplest way.
So I sat there and I said Vince that's great, but he goes "we need a name for it". After thinking for a little while I threw out 'Hell in a Cell'. 100% No doubt about it and bro from what I recall Bruce Prichard was not even there. I could be wrong about that. But from what I recall …..it was…..that's when me, Vince and Cornette were booking. So Vince came up with the whole thing and all I said as the writer, "Vince, how about Hell in a Cell?" Which bro is not freaking rocket science.
Any freaking moron could have came up with that name. So while we're reviewing the show this week Hell in a Cell, I needed a headline. You're always looking for a big headline to draw people to the show and I said something about….. you know……. "The man who came up with the name of Hell in a Cell". That was my headline. Okay, bro? Immediately after that Bruce Prichard goes on his show and says:
"That's a lie. Vince Russo's lying. He did not come up with that name. Vince McMahon did"
Now I'm sitting here and I'm saying to myself let's be logical about this for a second – if I'm gonna lie about that, wouldn't it be much better if I say I came up with the whole thing?
Why would I say Vince came up with the whole entire thing. So I'm saying to myself if I'm a lawyer I would have said "Yeah bro, I came up with the whole thing like that Pat Patterson came up with the Royal Rumble. I came up."
No bro. I threw Vince a simple freaking name that anybody could have thrown him. That's it.
My point is with the freaking Prichards and the freaking Cornettes, I am just so freakin' sick and tired of both of these freaking guys not giving credit where credit is due.
I have no freakin' problem – Bruce Prichard came up with Kane, Bruce Prichard laid out the whole freaking story in and it was beautiful. I was sitting right freakin' next to him. I have no problem saying that. I am so tired of these two freaking guys. I'm freakin' sick of people not giving credit where credit is due."
– Reason Behind Roman Reigns & Bray Wyatt Being Pulled From TLC 2017
As we noted earlier, WWE issued a statement and noted that "The Big Dog" Roman Reigns and "The Eater of Worlds" Bray Wyatt will be replaced by Old School WWF Legend Kurt Angle & SmackDown Live Star AJ Styles respectively at this Sunday's TLC 2017 PPV.
Reigns & Wyatt were pulled from the PPV because they're suffering from "Mumps". According to Heathline, below is what this disease means:
"Mumps is a contagious disease caused by a virus that passes from one person to another through saliva, nasal secretions, and close personal contact.
The condition primarily affects the salivary glands, also called the parotid glands. These glands are responsible for producing saliva. There are three sets of salivary glands on each side of your face, located behind and below your ears. The hallmark symptom of mumps is swelling of the salivary glands."
WWE is currently testing the Raw roster for this disease. It should be noted that Bo Dallas is also currently suffering from this disease.
Below is the statement that WWE issued to Raj Giri of WrestlingInc:
"We have confirmed that three of our performers have been diagnosed with a viral infection. As a precautionary measure, we are ensuring in-ring performers and staff are tested and immunized in accordance with recommended medical guidelines."
Below is what Kurt Angle tweeted about wrestling his first match in WWE in 11 years this Sunday at TLC 2017:
Is it true??? Oh It's damn true! Your Olympic Hero will be wrestling along side of The Shield… https://t.co/Q6MMYO5pCA

— Kurt Angle (@RealKurtAngle) October 20, 2017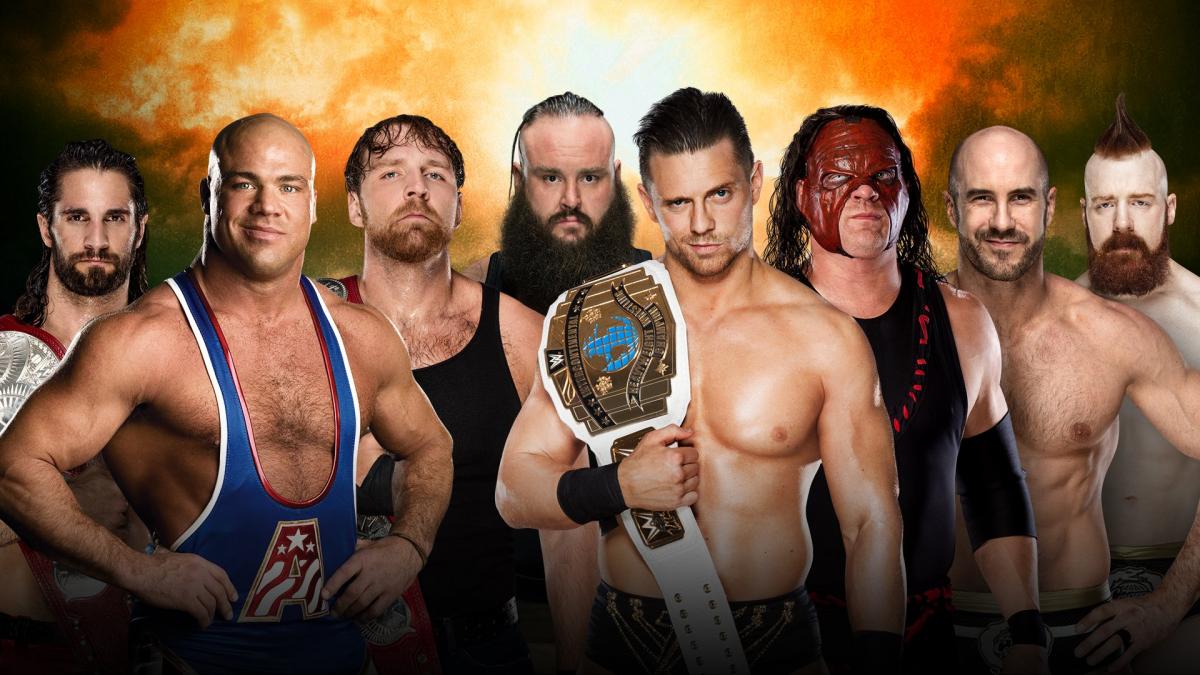 Below is the updated match-card for TLC 2017 now:
– Handicap TLC Match: Kurt Angle, Raw Tag Team Champions Seth Rollins & Dean Ambrose vs. Kane, Braun Strowman, Intercontinental Champion The Miz & The Bar (Cesaro & Sheamus)
– AJ Styles vs. "The Demon King" Finn Balor
– Raw Women's Championship Match: Alexa Bliss (c) vs. Mickie James
– WWE Cruiserweight Championship Match: Kalisto (c) vs. Enzo Amore
– Asuka vs. Emma
– The Brian Kendrick & Jack Gallagher vs. Cedric Alexander & Rich Swann
– Kickoff Show Match: Sasha Banks vs. Alicia Fox