• WWE Announces Becky Lynch's Match For Tonight's SmackDown Live
WWE has announced that former SmackDown Women's Champion Becky Lynch will go one-on-one against Peyton Royce on tonight's episode of SmackDown Live.
Below is what WWE posted regarding this storyline:
"Becky Lynch will be looking to go 2-for-2 against The IIconics tonight when she faces Peyton Royce. Though she came up short in the Women's Money in the Bank Ladder Match, The Irish Lass Kicker bounced back with a win over Billie Kay last Tuesday, forcing her to tap out to the excruciating Dis-arm-her.
Can Royce avoid the same fate, or will Lynch continue to push her way back into the SmackDown Women's Title picture?"
• WWE Pays Tribute To Vader At The Start Of RAW
WWE showed a tribute graphic for the late great Vader before this week's RAW began. You can check it out below: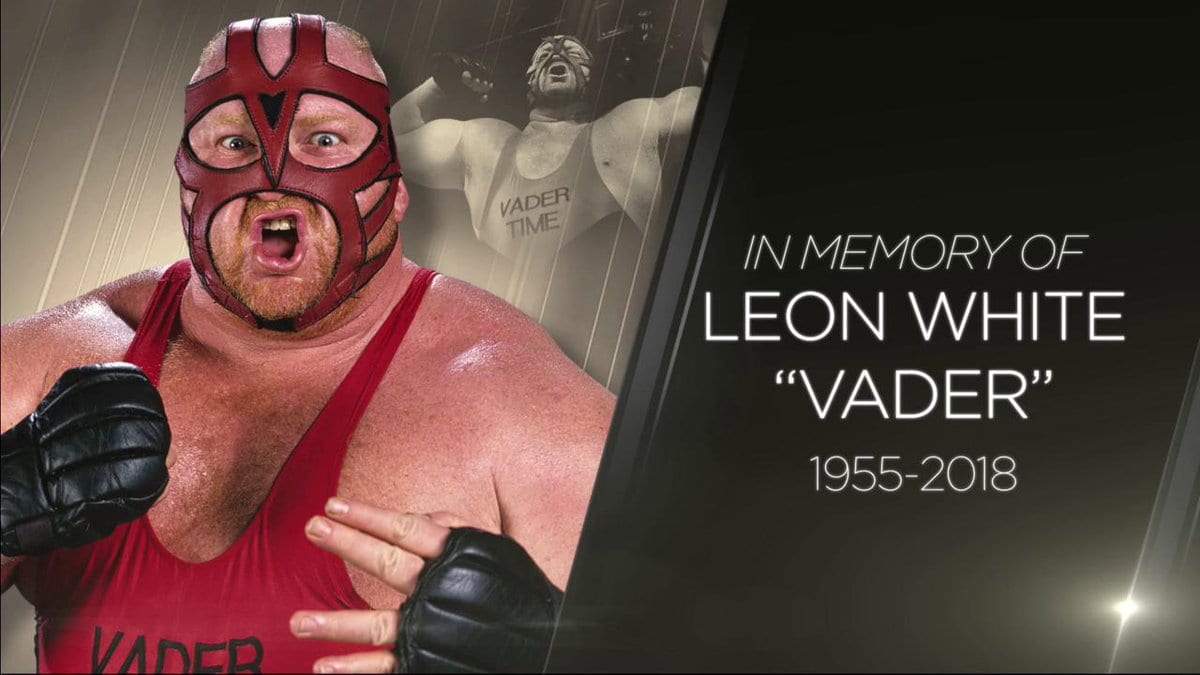 • Cody Rhodes Takes A Shot At Wrestlers Being Excited To Join NXT
Below is a recent Twitter exchange between a fan, Dave Meltzer and Cody Rhodes regarding WWE possibly trying to do something to counter ALL IN:
@davemeltzerWON Do you expect WWE to do anything (outside of regular house shows) to Counter All In on September 1st?

— Zachary Ament (@zach13090) June 24, 2018
Nope and tickets are sold, all they can do it try and sign the talent on the show and pull them, and most are under contract elsewhere past that date. https://t.co/GCHT12AW2X

— Dave Meltzer (@davemeltzerWON) June 24, 2018
That's a possibility. Everybody has different goals. If your goal is to take a meet/greet style handshake photo, and pretend to be excited about going back to wrestling school…that's your prerogative ha. https://t.co/mDMQ6FQNfc

— Cody Rhodes (@CodyRhodes) June 24, 2018
• Referee Tells Bobby Lashley To Flip His Headband For An Interesting Reason (Video)
On last night's episode of RAW, Bobby Lashley & Roman Reigns teamed up once again to face The Revival. During the match, an interesting thing happened – The referee told Lashley to 'flip' his headband.
The referee instructed Lashley to do so because Lashley's headband had NIKE's logo on it and WWE officials don't want any trouble from NIKE by displaying their brand without any official partnership.
You can watch this below:
@iamjohnpollock @wai0937 John notices these things. Wonder if that went unnoticed. Nike logo shown on camera, ref immediately stops submission checking to get Bobby to flip it. @POSTwrestling #Raw pic.twitter.com/CPLClQ29wl

— Stephen Watts (@Stephenmwatts) June 26, 2018