• Rick Boogs Got Injured At WrestleMania 38 Because His Muscles Are Too Strong (Details)
In the opening match of Night 1 of WrestleMania 38, The Usos defeated Shinsuke Nakamura & Rick Boogs to retain the SmackDown Tag Team Championship.
This was Rick's 1st ever WrestleMania match and he got injured during it.
He had one of The Usos on his shoulders and the other Uso also jumped on top of him.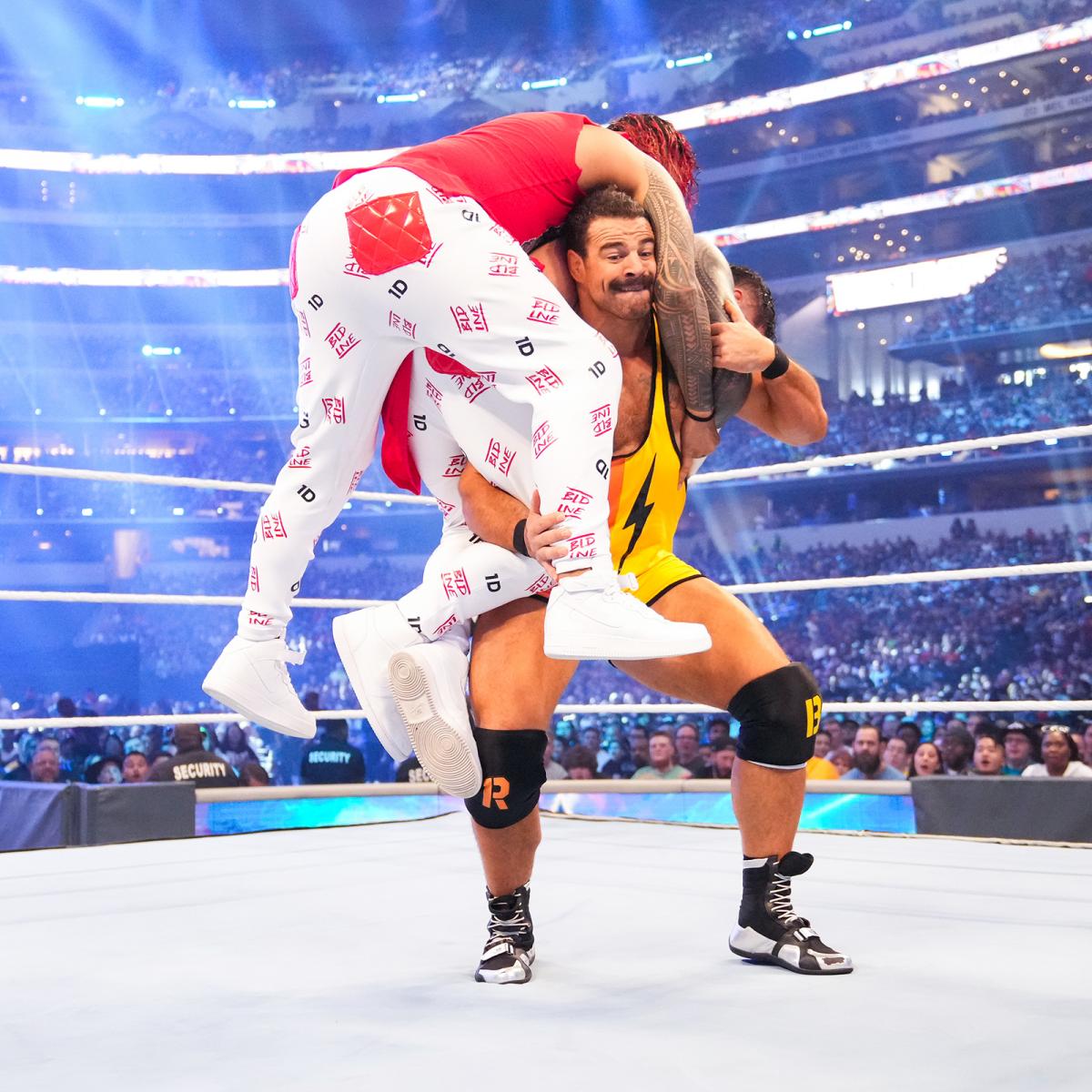 Boogs couldn't handle the weight and went down. He immediately held his leg in pain and the trainers began checking on him outside of the ring.
After the match, he was carried to the back.
Later in the show, Michael Cole revealed that Boogs suffered a torn quad patella and will undergo surgery in the next few days.
Boogs issued the following update on his injury on Instagram:
"From the highest of highs to lowest of lows. Having my beautiful wife with me to experience my first WrestleMania. Getting the incredible opportunity to open the show! Being able to demonstrate brute strength in front of millions of viewers!
Unfortunately, the doctor told me my quad was too strong for the tendon and it was flexing so hard, it ripped the tendon totally off the bone.
I'm still incredibly grateful for the experience and for all the love and support.
History proves I will come back bigger, better, and stronger. IT'S A MINDSET."
Rick Boogs is said to be the strongest pound-for-pound wrestler in WWE in 2022.
WATCH: Lana Kisses Alexa Bliss:
• ON THIS DAY IN WWF HISTORY (April 6, 1985) – WWF All-Star Wrestling
On this day in 1985, the World Wrestling Federation aired another episode of their weekly TV show 'WWF All-Star Wrestling'.
This episode was taped at the Brantford Civic Centre in Brantford, Ontario, Canada and included matches & interviews featuring the 1985 WWF Superstars.
You can find the card below:
"Quick Draw" Rick McGraw vs "Magnificent" Don Muraco
"Mr USA" Tony Atlas & "Master G" George Wells vs Frank Marconi & Gino Carabello
Ron Hutchinson vs King Kong Bundy
Terry Gibbs vs Ricky Steamboat
Goldie Rogers vs Luc Poirier
Mr. X & Matt Borne vs British Bulldogs