• OLD SCHOOL VIDEO HISTORY (August 26, 1996) – WCW MONDAY NITRO
On this day in 1996, Ted Turner's World Championship Wrestling aired another LIVE episode of their weekly TV show 'WCW MONDAY NITRO'.
It was broadcasted from the Manatee Civic Center in Palmetto, Florida and featured matches & storyline segments on the road to 'WCW Fall Brawl 1996'.
The card can be found here:
– Juventud Guerrera Vs. Billy Kidman
– Kevin Sullivan & Big Bubba Rogers Vs. Jim Powers & Marcus Bagwell
– Chavo Guerrero Jr. Vs. Mike Enos
– World Cruiserweight Champion Rey Mysterio Jr. Vs. Mr. JL
– The Giant Vs. Jim Duggan
– Ric Flair & Arn Anderson Vs. The Rock and Roll Express
– Chris Jericho Vs. Alex Wright
– The Steiner Brothers Vs. Dave Taylor and Bobby Eaton
– Sting & Lex Luger Vs. Chris Benoit & Steve McMichael
• Robbin Young Claims The Rock Had An Affair With Her & Committed Adultery In 2004, Says Rock Has A Fetish She Would Never Allow
Old School WWF Legend The Rock finally married his longtime girlfriend Lauren Hashian at a ceremony in Hawaii earlier this month.
Actress Robbin Young posted the following about this on Twitter:
"Congratulations to Dwayne Johnson #TheRock and #LaurenHashian. Hopefully Dwayne will be faithful to Lauren and not commit adultery like he did with me in 2004 while he was married to Dany @DanyGarciaCo."
She later went on to delete this tweet, but you can check out a screenshot below: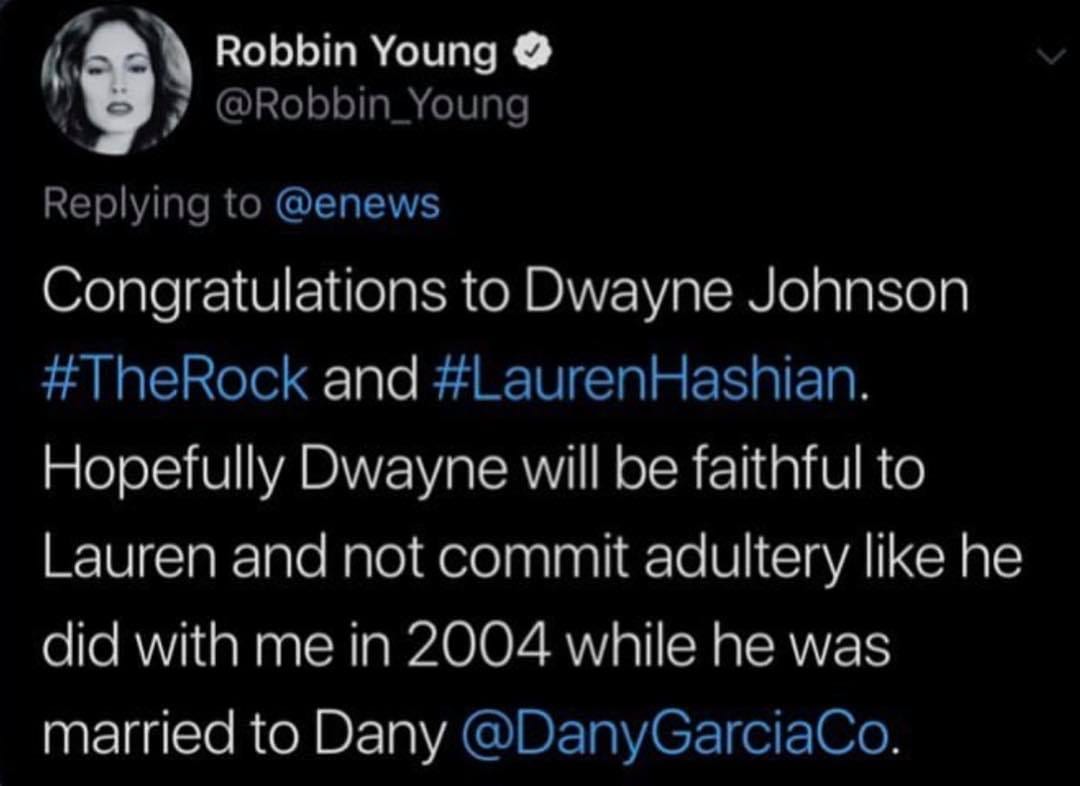 Robbin was then called out for making such a tweet and below is what she tweeted in response:
1. I didn't know Dwayne Johnson was married when we met. He should have told me so I could make the decision if I wished to commit adultery.

2. I'm not "bitter he didn't choose" me, because to be honest #TheRock is a lousy fu*k, and he has a sexual fetish I'd never allow.

— Robbin Young (@Robbin_Young) August 19, 2019
Robbin then made the following tweet and got called out for promoting her autobiography by using The Rock's name in a negative way:
? Those complaining about me mentioning Dwayne Johnson on Twitter and in my upcoming autobiography Nude Christian have never read a tell all autobiography?! ??‍♀️I have no love or malice toward #TheRock, but he was a part of my life and I will be talking about him and other celebs.

— Robbin Young (@Robbin_Young) August 22, 2019
If talking about an affair you had 15 years ago is the only thing that's promoting your autobiography, sis you need to rethink your life ?

— S P A D E ♠️ (@_DementedBeauty) August 22, 2019
This is the most desperate publicity stunt I've ever come across.

— Ramzi (@atRamziMebarek) August 25, 2019
We'll keep you updated regarding this story.
Announcement: Please download our official "WrestleFeed" app for the latest WWE/AEW News & Clash Of Champions 2019 updates!
Below are the download links for our Android/iOS app:
Android – http://bit.ly/2IVQ3yU
iOS – https://apple.co/2Oido0R