• On This Day In Pro Wrestling History (December 19, 1999) – WCW Starrcade 1999
On this day in Pro Wrestling history on December 19, 1999, Ted Turner's World Championship Wrestling aired 'WCW Starrcade 1999' LIVE on PPV from the MCI Center in Washington, DC.
This was the 17th annual Starrcade event out of 18 that aired between 1983 and 2000 with the first 5 being promoted by Jim Crockett Promotions, before Turner bought the company.
Here are the results:
– The Mamalukes defeated Disco Inferno & Lash LeRoux
– WCW Cruiserweight Championship: Madusa defeated Evan Karagias (c)
– WCW Hardcore Championship: Norman Smiley (c) defeated Meng
– The Revolution defeated Jim Duggan & The Varsity Club
– Vampiro defeated Steve Williams via DQ
– Vampiro defeated Oklahoma
– Creative Control & Curt Hennig defeated Harlem Heat & Midnight
– Bunkhouse Brawl: Jeff Jarrett defeated Dustin Rhodes
– Crowbar on a Pole: Diamond Dallas Page defeated David Flair
– Sting defeated Lex Luger via DQ
– Powerbomb match: Kevin Nash defeated Sid Vicious
– Ladder match – WCW United States Heavyweight Championship: Chris Benoit (c) defeated Jeff Jarrett
– No DQ – WCW World Heavyweight Championship: Bret Hart (c) defeated Goldberg
• Ronda Rousey Called "The Fattest Woman On The Planet" On Hulu
There was a mistake made in the closed captioning of this week's RAW on Hulu and it read that Ronda Rousey is "The Fattest Woman On The Planet" instead of "The Baddest Woman Of The Planet".
You can check it out below: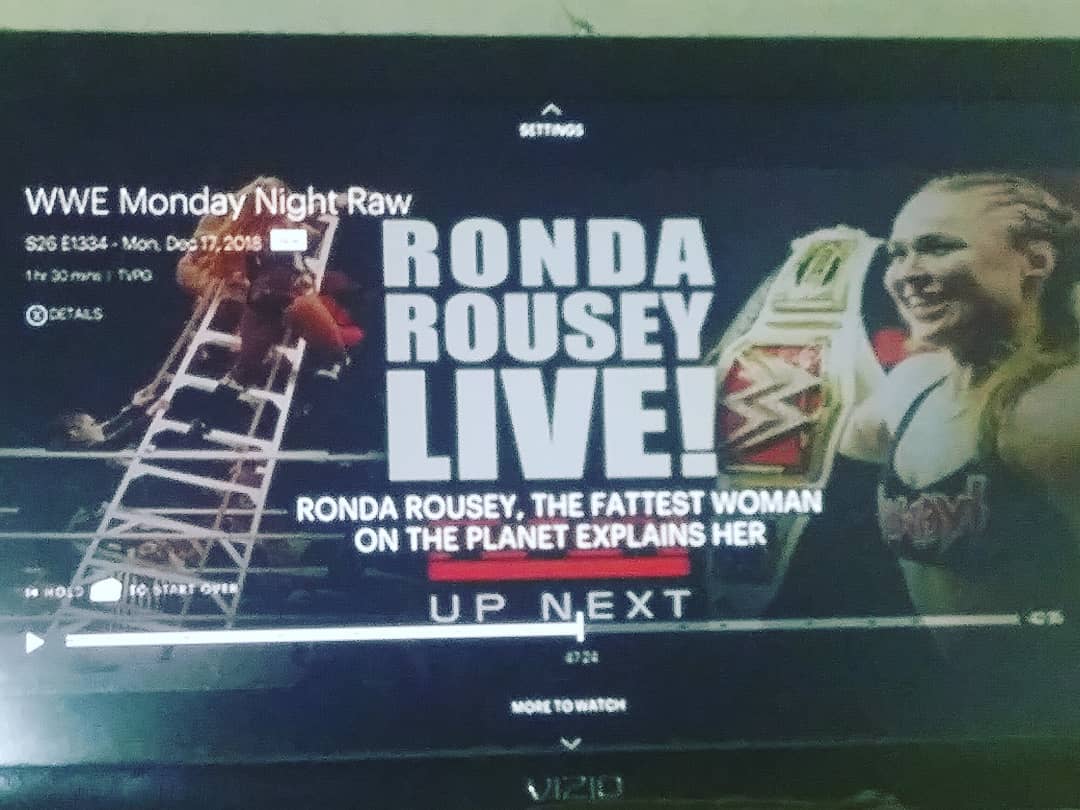 Below is what WWE announcer Corey Graves posted about this on Instagram (as this was his dialogue):
"DEFINITELY NOT what I said, but I'm laughing too hard not to share this!
Please Ronda Rousey, don't hurt me."
WATCH: Liv Morgan's Sexy Pose: