– Jim Ross Recalls Vince McMahon Sending Him A Pep Talk Letter After His Second Bout With Bell's Palsy
During a recent interview with ESPN, WWE Hall of Famer Jim Ross recalled Vince McMahon sending him a letter after his second bout with Bell's palsy:
"I was really in a fragile place, but Vince handwrote a letter to me, and had it delivered to my home in Norwalk, Connecticut. I used the letter in the book. It's pretty amazing. It was a 'Come to Jesus'-type pep talk. I was just so self-conscious with how I looked.
I just thought how I looked, how I sounded with a little bit of a speech impediment because of the Bell's palsy. I was going through a tough time — I was producing announce talent and I was happy to do it. But I really believed that WrestleMania was my last one, and I appreciated the fact that Vince decided to go with me in the main event because he knew that we'd signed two potentially all-time greats.
I thought that would be my swan song, but we talked through it, the match was good, the fans were glad to see me back, so we started up a little run there, but it was very challenging."
You can watch Jim Ross' return for the WrestleMania 15 main event below:

The Rock vs. Steve Austin (WWF WrestleMania 15) by WWFOldSchool
– Spoiler On Top WWE Star's Big Announcement Tonight On SmackDown Live
As we noted earlier, WWE Champion "The Modern Day Maharaja" Jinder Mahal will reveal his Survivor Series 2017 plans on tonight's episode of SmackDown Live. Below is what WWE posted about this:
"After defeating Shinsuke Nakamura to retain his WWE Championship at WWE Hell in a Cell, Jinder Mahal returned to his homeland of India as a conquering hero to promote WWE's December tour there.
Now back on SmackDown LIVE, The Modern Day Maharaja is planning to reveal some big news for his plans at Survivor Series on Sunday, Nov. 19. What does the WWE Champion have in store for the 30th anniversary of WWE's Thanksgiving time tradition?"
The big news is that Jinder Mahal will challenge the Universal Champion, "The Beast Incarnate" Brock Lesnar, to a "Champion vs. Champion" match in the main event of Survivor Series 2017.
– Update On The Currently Planned Survivor Series 2017 Main Event
As we noted before, Wrestling Observer reported that Universal Champion Brock Lesnar vs. WWE Champion Jinder Mahal is the currently planned Survivor Series 2017 main event.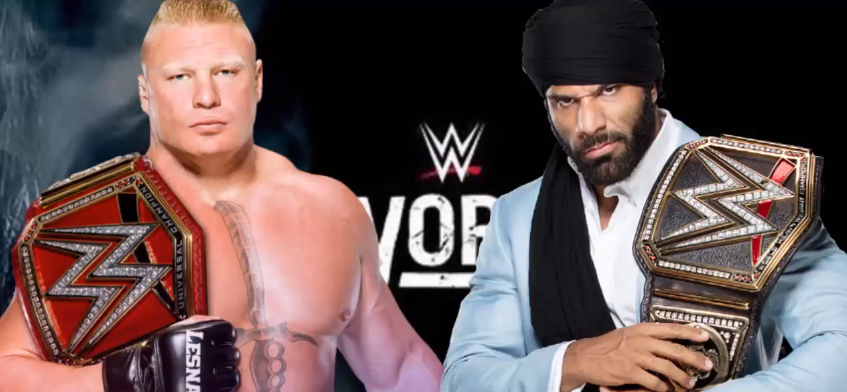 It should be noted that the Titles won't be on the line in this match because WWE just wants to have a "Raw vs. SmackDown Live theme" for the PPV. So one should expect more matches between both brands on this November PPV.