• On This Day In Pro Wrestling History (April 8, 2014) – WWF Legend Passed Away
On this day in 2014, we lost Old School WWF Legend The Ultimate Warrior (Real name: Jim Hellwig) at the age of 54 due to a heart attack caused by atherosclerotic cardiovascular disease.
The Ultimate Warrior wrestled for the World Wrestling Federation from 1987 till 1991 and then again in 1992 and 1996.
Warrior won the WWF World Heavyweight Championship when he defeated "The Immortal" Hulk Hogan in the main event of WrestleMania VI, and is still remembered as one of the biggest draws in professional wrestling history.
In 2014, he was inducted into the WWE Hall of Fame by Linda McMahon.
† REST IN PEACE ULTIMATE WARRIOR
• Sunny Calls Deceased WWE Diva An Escort
WWE Hall of Famer Sunny was released from jail earlier this year.
She was originally scheduled to be released on March 25th, but got released early from the Carbon County Correctional Facility in Pennsylvania.
Sunny was incarcerated last year because of the following:
– Drunk driving offenses
– Missing a scheduled drug test and not reporting to her parole officer
– Not paying court costs
– DWI
– Open container and consuming alcohol in a motor vehicle
– Reckless driving
– Driving with a suspended license
Sunny's latest DWI was her 6th in the last 4 years.
Sunny is now back to posting revealing photos of herself for the fans, in return of money.
Good morning!!! My CORONA VIRUS SPECIAL is still up and running for my SNAPCHAT MEMBERSHIP!!! Be a part of my PREMIUM SNAPCHAT while you're stuck in the house with nothing to do!!! Email me at [email protected] for all the deetz! Here's what you've been missing… pic.twitter.com/3GZBLXpaVf

— Tamara Sytch (@WWEHOFerSunny) March 26, 2020
Email me at [email protected] to find out how to become one of my PREMIUM SNAPCHAT MEMBERS and join us in all the sexy fun!!! pic.twitter.com/YQTLVcUMgz

— Tamara Sytch (@WWEHOFerSunny) April 5, 2020
However, some fans began annoying Sunny and this led to her posting the following on Facebook:
"If I get one more email asking me to 'meet up' or 'date' for money, I swear I'm gonna get the Coronavirus in one of those t-shirt shooters and spread it to all of them…
Just because I'm famous doesn't mean I'm an escort. You must have me confused with Ashley Massaro…. and she doesn't do it anymore…."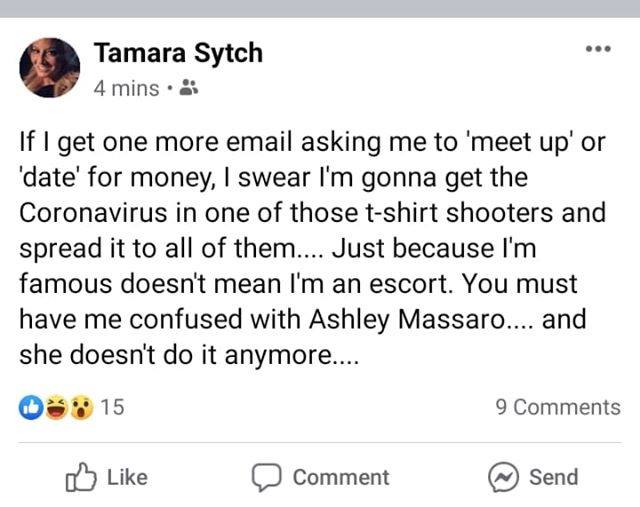 For those who don't know, Ashley passed away in May 2019 at the age of 39. Her cause of death was suicide by hanging.
Also Read: Sunny Reveals The Story Behind Shawn Michaels Banging Her "Good" In The WWF Locker Room
WATCH: WWF Diva Sunny Shows Off Her Bare Buns: