6. "The Hornswagglin' Hillbilly" Haystacks Calhoun Jr.
658 lb / 298.5 kg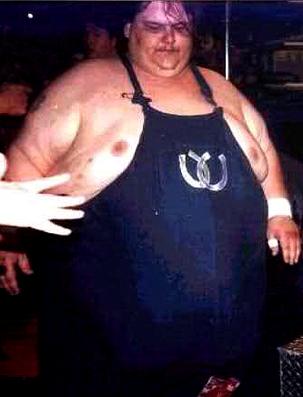 And here's the second of only 2 'Indy Wrestlers' on our Top 12 list, "The Hornswagglin' Hillbilly" Haystacks Calhoun Jr.!
Some fans of the 90s Japanese Hardcore Promotion FMW Frontier Martial-Arts Wrestling promotion might remember him competing over there as early as 1992 and 1993, where he wrestled the likes of Sabu, Tiger Jeet Singh, Big Titan (Fake Razor Ramon), and The Original Sheik.
Other than appearing for ICP's JCW Juggalo Championship Wrestling and some smaller indy appearances, very little information is out there about the later career of Haystacks Jr., but it's said that he lost a notable amount of weight over the past few years, thus got himself into a much more healthy shape.
Haystacks Calhoun Jr. is the second out of 2 Wrestlers on our Top 12 list, who's still alive, and we hope that isn't going to change any time soon.
5. Giant Haystacks
690 lbs / 313 kg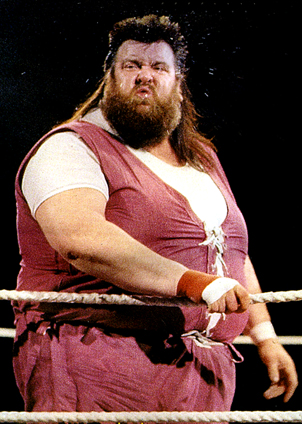 6-foot-11 Wrestler Giant Haystacks started his Professional Wrestling career during the mid-60s in his home country of England.
British Wrestling fans mainly remember him for his legendary battles with fellow UK Legend Big Daddy.
Haystacks also wrestled in Canada and Japan, but American wrestling fans will remember him as WCW Superstar Loch Ness in 1996, where his career was already coming to an end.
Rest In Peace Giant Haystacks
October 10, 1946 – November 29, 1998
*Go to the NEXT page to continue reading this article